If you're an American who likes bargains, health foods or shopping with a Hawaiian theme, you're probably already buying Trader Joe's products. Backed by a long list of items with near-cult followings, this store is the grocery that keeps us all coming back—and loving it. Here's what readers recently had to say on an Instagram survey!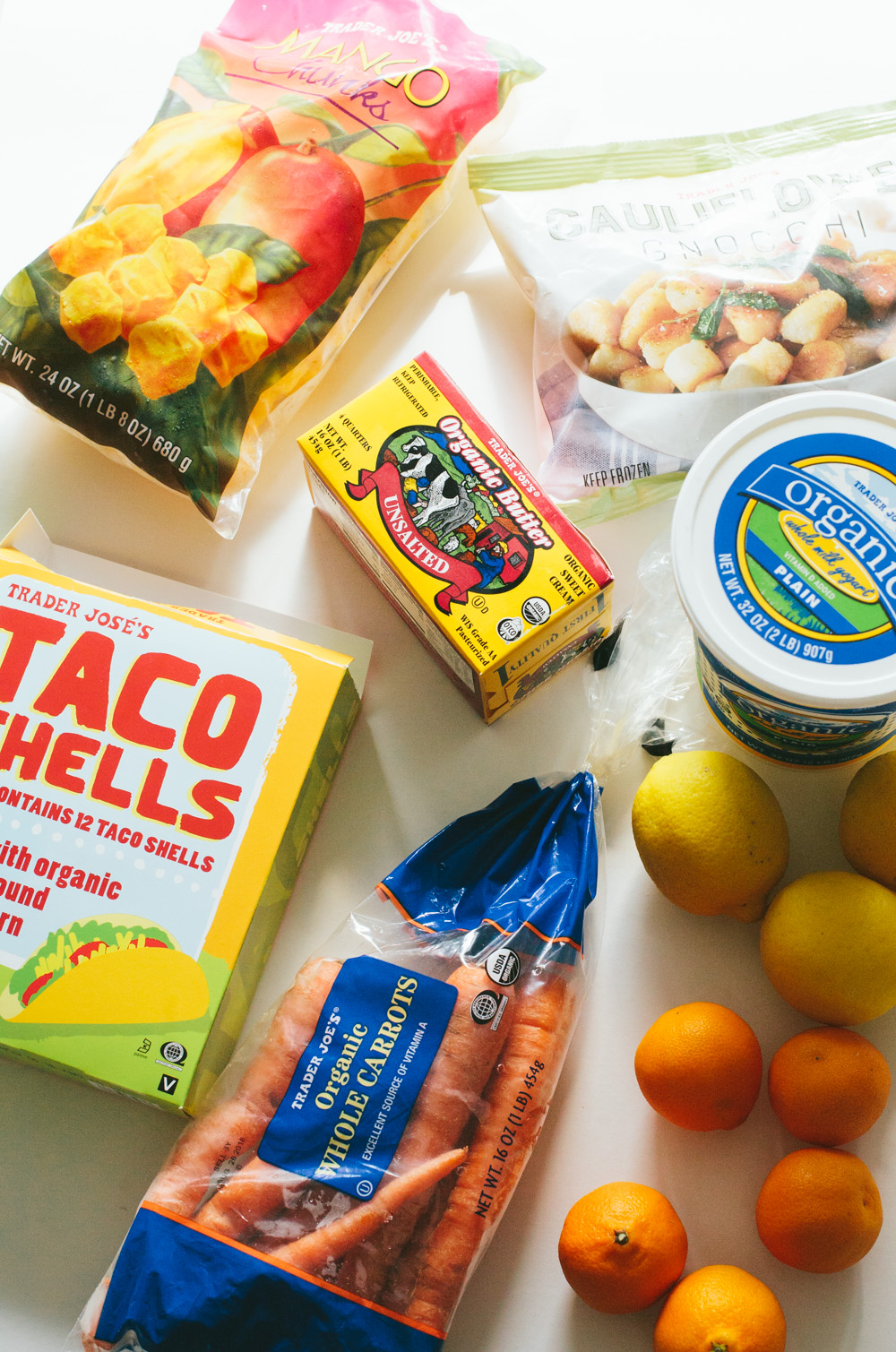 Trader Joe's has come a long way since founder (Trader) Joe Coulombe first launched it in 1958. At the time, it was just one store, in California, and he called it Pronto Market—but: it was the beginning of an empire. Today, Trader Joe's has over 470 locations, spread throughout the United States, including one here in Nashville on Hillsboro Road in Green Hills. Maybe more notable than its growth, however, is its popularity, with fandom bordering on zealotry. Trader Joe's is one of the few American grocery stores shoppers call "fun," for example, a word actually chosen by at least five different respondents in a recent informal Instagram survey.
So what is it about Trader Joe's that makes us all willingly wait for parking spaces and join the crowds to buy groceries? Why do we go there when "there's a good chance you [have to] supplement your trips with at least the occasional one to a conventional grocery store," as The Washington Post notes? How does Trader Joe's keep us all coming back?
Less Is More: What Trader Joe's Teaches Us All about Life
If you find Trader Joe's smaller and more manageable than a traditional grocery store, which was what a handful of survey respondents said drew them in, there's a reason for that. This chain carries about a tenth of what an average supermarket offers. According to The Daily Meal, while an average grocery carries up to 50,000 different items, Trader Joe's stocks just 4,000. In other words, Trader Joe's is the grocery that believes less is more. It streamlines, focuses, eliminates all the options and minimalizes the shopping experience. According to one survey respondent, this is key. "I LOVE not having to choose between brands."
Private Label: The Key to Lower $$
Using the same philosophy as online grocery Brandless, Trader Joe's makes its own products. So, while it does sell some other brands, the vast majority of its products are its own label, priced low without any need for sales or coupons. Why? Manufacturing in house cuts out the need to jack up prices, while also allowing the store to control quality. Likewise, when TJ's does buy, it does so only from manufacturers or growers directly—no middlemen.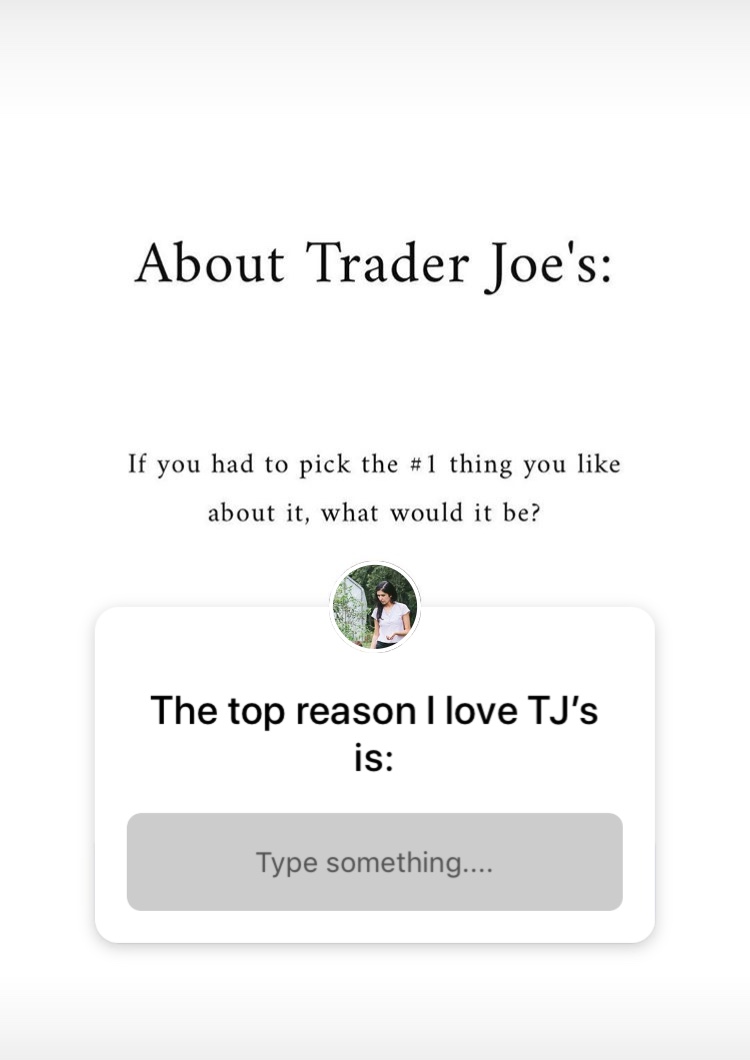 What You Had to Say: Instagram Survey Results
So what do regular shoppers say pulls them to Trader Joe's week after week? Why do they  love it? In an informal survey on Instagram this Monday, a polled audience of roughly 200 users had the following feedback on Trader Joe's:
Q1: What is the top reason you love Trader Joe's?
When asked an open-ended question on what's most appealing about Trader Joe's, most people gave answers within the following three categories:
Price for the Quality: "Produce and cheese prices," "good prices for good quality," "cheap prices," "affordability," "great prices for clean eating," "affordable healthy options," "high-quality organic products at great prices," "things I cannot get other places for good prices" and "cheaper gluten-free options."
Smaller Selection of Products: "Size of store," "atmosphere" and "not having to choose between brands."
Interesting, Healthy and/or Fun Product Selection: "They make it fun–like a game!," "healthy and interesting convenience foods," "convenience foods that are often simple and organic without crazy ingredient lists," "there's always something fun and new to try," "fun products," "healthy shortcuts like prepackaged salad mixes," "fun selection compared to what's in my small town," "products with fewer preservatives and artificial ingredients," "knowing I'm getting good food: enjoyable or healthy or hopefully both!" "the treats," "the snacks" and "frozen stuff."
One additional commenter said, "food portions for single people," demonstrating again the wide demographic Trader Joe's draws: it's families and singles, health-conscious and budget-conscious, trendy and traditional.
Q2: Say you could only pick one, what one item would you recommend?
Finally, as a testament to the fanatic love people have for this grocery store, survey respondents had a lot to say about their favorite Trader Joe's products. When asked to pick just one item, some people couldn't even narrow it down: too hard to choose. So here is a breakdown of beloved items, organized by store section–see if you find something new to look for next time you go!
PRODUCE
General mentions of produce and frozen produce; and the Southwest salad mix
DAIRY + MEAT
All the cheese, cheese selection
Pastures of Eden feta
Parmesan
Riesling soaked cheese
Unexpected cheddar (cheddar + parmesan)
Black pepper Toscano
Goat cheese brie
Heavy cream with no additives
Applewood smoked bacon
PANTRY ITEMS
Nothing-added dried mango (multiple respondents)
Cheap nuts
Spiced pecans
Nuts/dried fruit selection
Chocolate
Triple ginger cookies (one of the chain's best-selling items)
Plantain chips
Turkish flower honey
Whole wheat/multigrain selection
10-minute farro
Olive oil
Coconut oil
Balsamic vinegar
Balsamic reduction
Organic ketchup ("Sometimes that is the only reason I go in there!")
Everything but the Bagel seasoning
The coffee, their coffee beans!
Bolivian blend coffee
Organic wakeup blend coffee
OTHER
Skincare and body products
Wine
Flowers – "best price and selection"
Greeting cards
Frozen tikka masala
GF waffles
When it comes to grocery sources, Trader Joe's is the place people will drive across cities, commute from small towns and get excited about shopping to visit. So what about you: are you a Trader Joe's loyalist? If not, there's a long list of Trader Joe's products with mass appeal that say, maybe, it's time to start.
This post is one in a series of articles on Grocery Sources: where do we shop for our food and why? Also featured in this series are Thrive Market, Kroger and Brandless. If you have a favorite grocery store or food source you'd like to tell the world about, contact me anytime!