Keep cool in the August heat with this iced turmeric basil green tea–a potential powerhouse of health-boosting nutrients! As golden as the summer sunshine, this drink is a "superfood" seasonal sip. Think of it as the golden milk latte gone tea.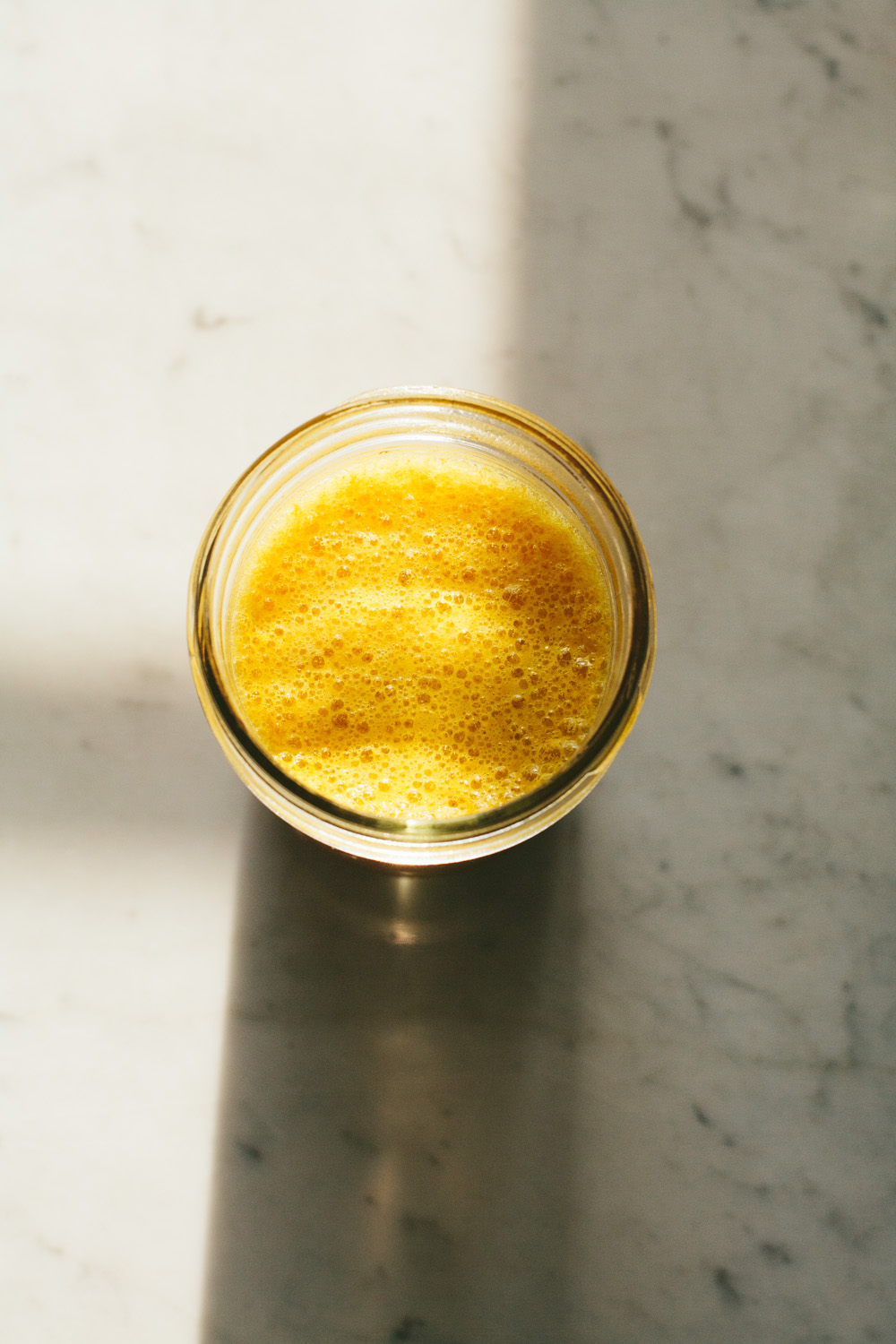 While, decades ago in America, this golden spice was known for little more than giving mustard its hue, today turmeric is ubiquitous. It's in juice bars and coffee shops and thrown into grain bowls. It's spicing lentil soups and yellow curries and popping up in fancy cocktails. Turmeric's been on trend for years–at least since 2015, when US News & World Report published an article on getting to "the root" of its popularity. The next year, the Guardian called a turmeric latte, essentially, the It Drink of 2016. Adoptees cite its anti-inflammatory benefits and immunity-boosting powers. In a Bon Appetit article, one author says it was to her family what Windex was to the big, fat Greeks.
Health Benefits of Golden Tea: Hyped or Legitimate?
Still, despite its current mass appeal, turmeric's not without its critics. Some sources claim turmeric's no miracle food, just a marketing trend. Others say that's only because of the type of research they're using–and not due to the lack of power in the spice. "It's important to know that the vast majority of studies on turmeric have not examined the spice itself, but rather one of its constituents called curcumin," says The George Mateljan Foundation, the not-for-profit organization behind WHFoods.org. "When you hear about the benefits of turmeric on a website or on a health news report on television, you are mostly likely hearing about the benefits of curcumin. This aspect of the health research can be very confusing!" The main takeaway here is that whole turmeric, by contrast, has a different set of benefits than its most-studied component.
So, if you aren't sick of everybody's favorite golden spice just yet, here's a look at what it offers, with one new way to enjoy it.
A Nutritious Twist on Southern Sweet Tea
Here in the American South, sweet tea's a staple. It's what generations have sipped on front porches, surviving the region's blazing heat. It's what Dolly Parton's character calls "the house wine of the South" in the 1989 movie Steel Magnolias. Given this heritage, spicing green tea with turmeric and basil may seem a sacrilege. This is especially true when the bitter punch of turmeric first hits your lips. Still, though, it's a tea worth trying. Why? Unlike traditional sweet tea, heavy on sugar (or artificial sweeteners), golden tea is a refreshing drink that's all about the nutrients.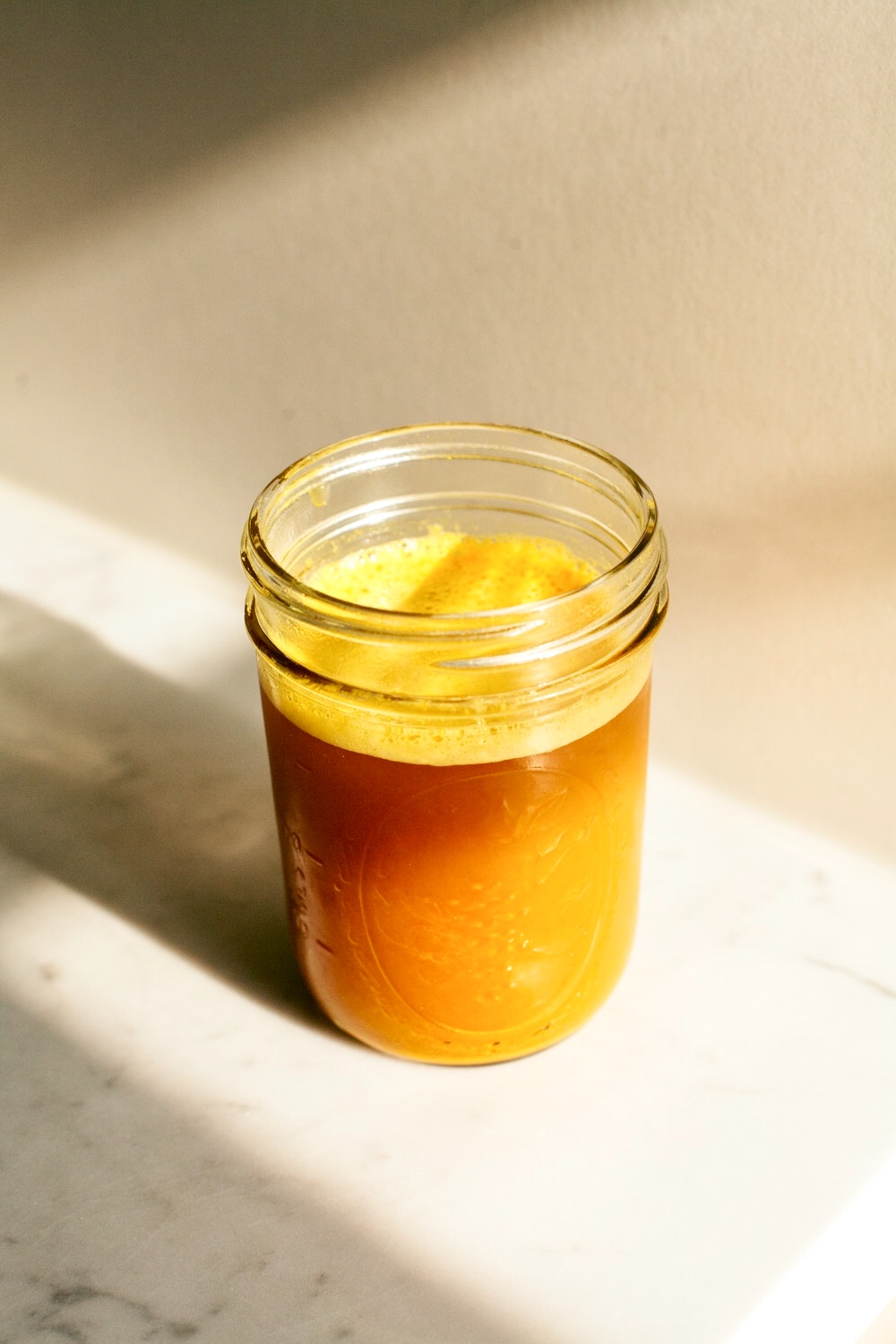 The Health Benefits of Iced Turmeric Basil Green Tea
Iced turmeric basil green tea, or iced golden tea, starts with a basic brew of green tea. For four cups of tea, you'll need four plain green tea bags, such as this Prince of Peace organic option on Amazon (affiliate link). (Alternatively, you can brew four cups of looseleaf green tea or another unflavored favorite.)
What's Great about Green Tea?
Going with green tea ups the health benefits, laying the foundation for a golden tea that's at once a refreshing drink and a healthy tonic. Why is green tea good for you? Called the "healthiest beverage on the planet" by Healthline, green tea is a brew high in antioxidants. As such, it's cited for improving brain function, suppressing appetite (for weight loss), lowering risks for cancer and more.
So Let's Talk about Turmeric Again.
In a four-cup measuring cup or pitcher, to your four cups of brewed tea, you'll add turmeric powder, coconut sugar and a big handful of fresh basil, the smell of summer. Each component offers its own nutrients, starting with turmeric.
It's not all about the curcumin. According to WHFoods.com, the widely studied curcumin only accounts for about 2 to 5% of the root weight of turmeric–even less sometimes. The other components of the root include bisdemethoxycurcumin and demethoxycurcumin, as well as volatile oils like tumerone, atlantone, and zingiberone. "These different substances are all associated with their own unique health benefits," says the site.
Potential health benefits of turmeric. Among the cited benefits potentially found from whole turmeric are decreased cancer risks, better heart health and potential for help with digestive problems such as Crohn's, ulcerative colitis and irritable bowel disease.
A caution. Still, though, according to NBC News, turmeric's no cure-all. It's good for you, sure. You should add it to your diet, okay. But if you're going to take it medicinally, especially if combining it with other medications, proceed with caution. Turmeric's a food–and a good one–but it's meant to be enjoyed as part of a complete whole-foods diet for best benefits.
What Does Basil Contribute?
Beyond being in season during summer months, basil is a great addition to this tea because it offers health benefits in its own right, according to research published in Nutrition Today. Among them, says the study, are improving "glucose homeostasis and lipid profiles for patients with diabetes, strengthening of the immune system, alleviating stress and anxiety, and enhancing memory."
Likewise, it says, basil has been shown to offer help for oral and skin healing.
To make your own version of golden tea, for health or for pleasure, all you need are a handful of ingredients and a few minutes of time. So beat the heat of August this year with a sort of tea that's loaded with what many consider immunity boosters! As generations of locals would tell you, there's nothing like a cold, frothy beverage to take the edge off the sticky South.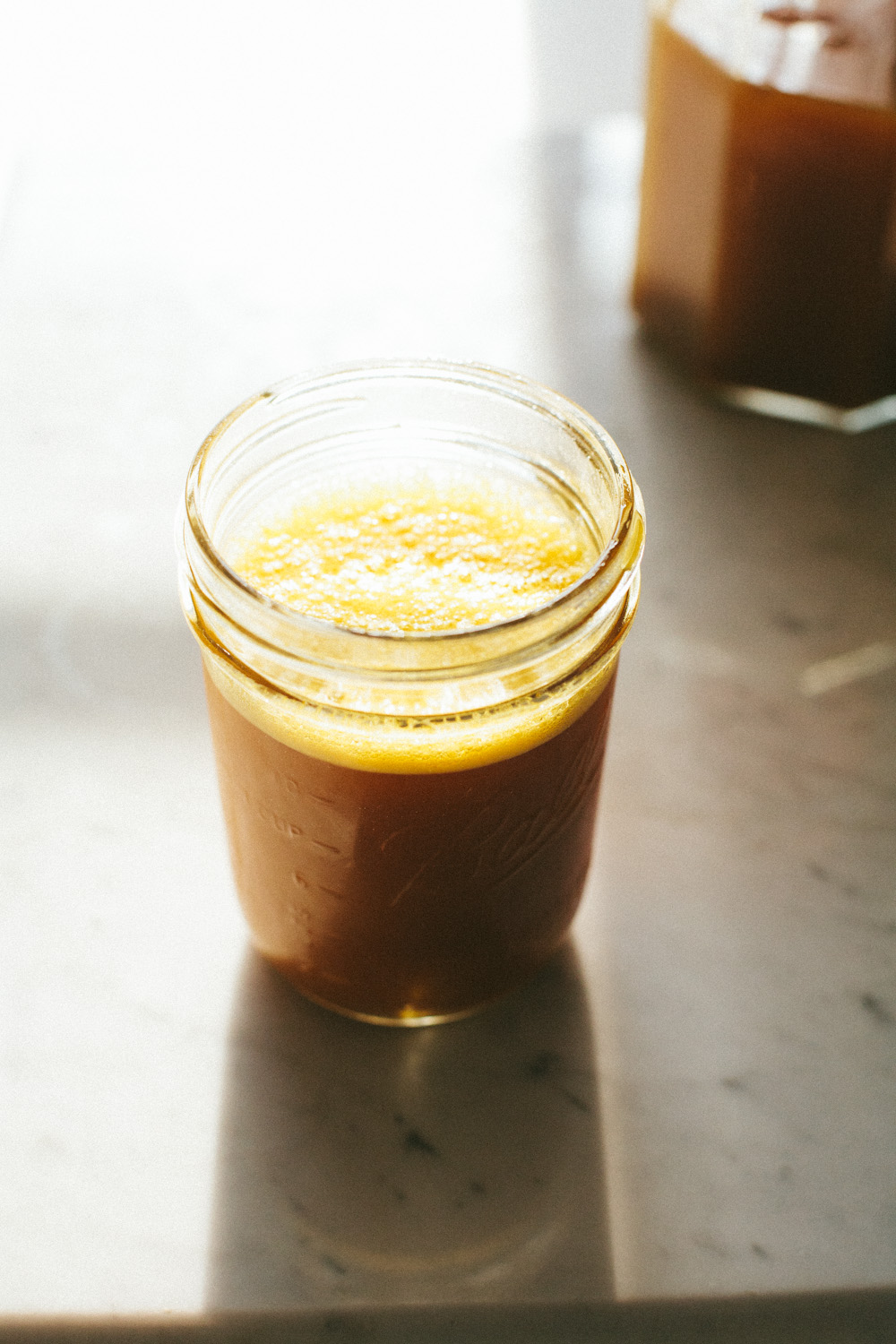 Iced Turmeric Basil Green Tea
Makes four one-cup servings
Sweetened solely with coconut sugar, this tea couldn't quite pass for Southern sweet tea; in fact, the strong turmeric makes it more akin to a golden latté. Still, poured into a mason jar, shaken until frothy and topped with ice, it's a bold, cold, spicy drink you can feel good about sipping this season.
Ingredients:
4 cups boiling water
4 green tea bags
3 tablespoons coconut sugar
1 tablespoon turmeric
22 leaves (or a big handful) fresh basil leaves
Directions:
Combine boiling water and tea bags in a saucepan and let steep a couple minutes. Remove tea bags and combine brew with coconut sugar, turmeric and basil. Stir until sugar dissolves and pour entire mixture into a pitcher or jar. Serve tea over ice. Recommended method: pouring individual servings into mason jars, covering and shaking until frothy; then adding ice.