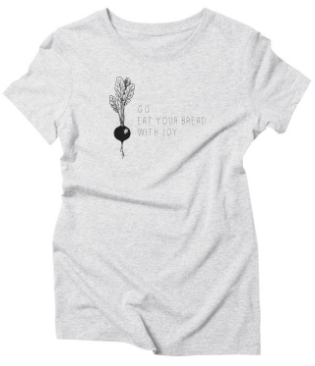 The inspiration for this site comes from Ecclesiastes 9:7, where Solomon writes, "Go, eat your bread with joy, and drink your wine with a merry heart, for God has already approved what you do." The idea is that food, like all good things, is a gift from God for us to enjoy and, as such, glorifies Him. Anyway, we thought it'd be cool to put that idea onto a t-shirt as well as into a blog logo, so we turned it into a fun food shirt on Threadless. Click over there, and you can order it in your choice of styles and colors.
About the Shirts and Other Products
Threadless makes it easy to buy shirts (and sweatshirts, mousepads, etc.) on demand. It only takes a few minutes to place an order, and we make a small commission on each sale.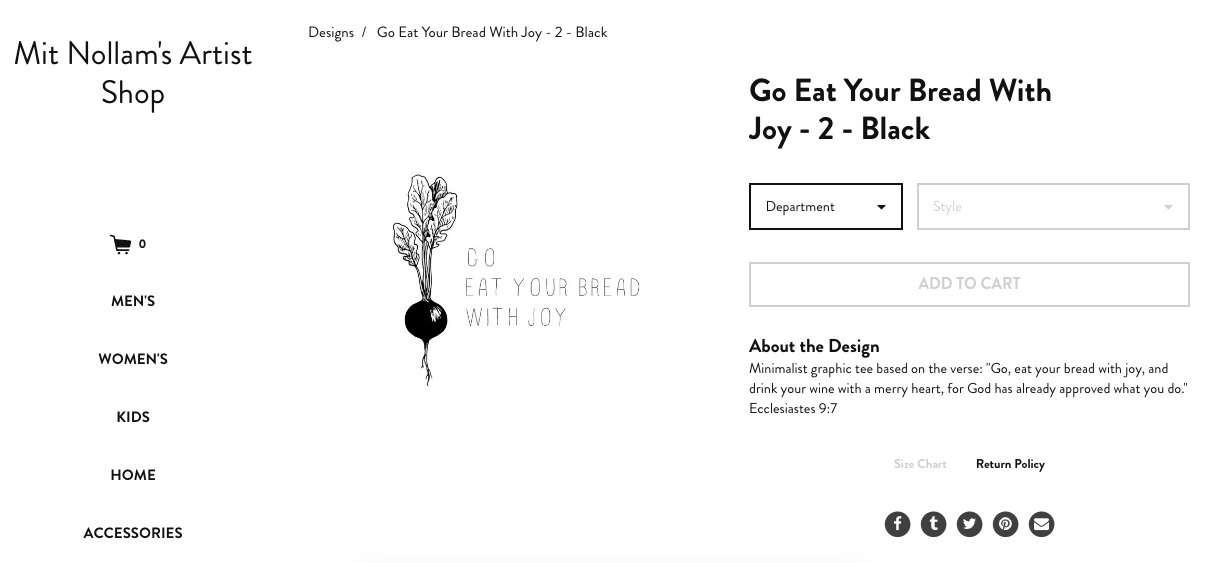 How to Order Your Own Fun Food Shirt
If you're new to Threadless, it can be a little confusing. Whether you want an Ecclesiastes shirt or a branded tank, here's how it works:
Go to the "go eat your bread with joy" page, and you'll see a dropdown menu labeled "Department."
Click "Department."
Choose the product category you like.
Choose the product you like from the dropdown menu on the right.
If it's an item of clothing, select your size.
Click "Add to Cart."
Got More Questions? Let Us Know
If you want to order one of our shirts, the above instructions should help. However, if you still have problems or questions, let us know. We'll be happy to help you with anything if we can! Thanks for your support.