Speaking of everybody's favorite grocery store, have you tried Trader Joe's cauliflower gnocchi yet? Priced under $3 for a 12-ounce bag, it's a meal option that's free of gluten, wheat, sugar, dairy or eggs. It's also only good when you know how to cook it. So, five bags in, here's a fresh take on the easiest, foolproof way to make it.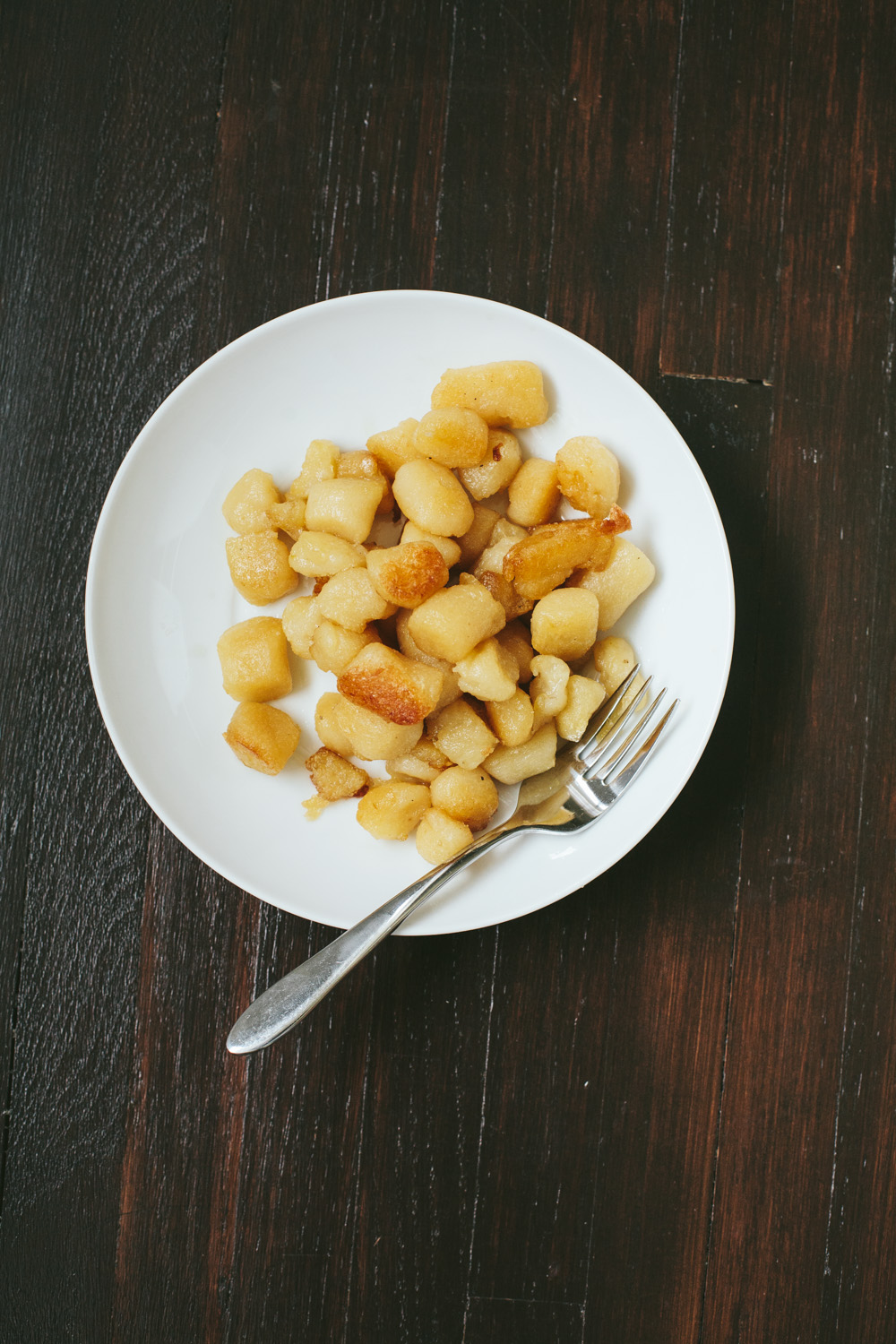 You don't have to be gluten-free to see the appeal of Trader Joe's cauliflower gnocchi. Roughly 75% cauliflower, according to the store's blog, this trendy product is mostly vegetable, with the remaining 25% made of cassava flour, potato starch, olive oil and salt.
In other words, it's a whole-food convenience food. You can eat it if you're skipping wheat; you can eat it if you're doing Whole30 (although some sticklers might protest); you can make it when you're in a rush and looking for a healthy dish. As such, it's got real potential to provide a grab-and-go dinner reminiscent of pasta pillows, perfect for combining with roasted vegetables and olive oil or maybe marinara sauce and meat. At the very least, it's a way to have grain-free gnocchi at home without covering the counter with dough.
So is it worth it? Social proof says yes. While Trader Joe's cauliflower gnocchi has only been around since this spring, it's all over Instagram, reviewed by both bloggers and news outlets, yielding over 4 million results in a simple Google Search. Here in Nashville, notably, the narrow section it's been given in the freezer aisle is usually empty, sold out.
The big issue, according to reviews, is how you cook it. Follow the bag directions, and you'll want to spit the gnocchi out. So, with that in mind, here are two better ways. The first is a fan favorite online. The second is my favorite–easier, more hands-off, fairly foolproof.
Reliable Cooking Option #1: Sauté
When it comes to this Trader Joe's fan favorite, crowdsource from the masses. Everyone says the bag instructions will fail you. So go rogue to make Trader Joe's cauliflower gnocchi. Instead, do this, recommend by several sources:
If you have a nonstick pan, heat oil over medium heat, add gnocchi, cook until browned; flip, cook until browned; you're done.
If you're like my household and don't have a nonstick pan, it's a little trickier, but you can still do it. Heat oil over medium heat, make sure the pan is very thoroughly coated with oil, add gnocchi, turn on the vent hood (!), cook until browned; flip, etc. After using this method four times, I've found it to be a little hit or miss. Sometimes: browned gnocchi perfection. Crisp outside, soft inside. Other times, browned or burned bits breaking off the dough, kind of a mess.
That's why I wanted another way.
Reliable Cooking Option #2: Roast
If you aren't in a hurry and are willing to wait for your gnocchi, here's the option that's less messy, less stressful and so basic you'll wonder why you didn't try it right away. Preheat the oven to 375F. Coat a rimmed baking sheet with oil. Top it with gnocchi, salt and pepper. Cook for 20 minutes; remove pan; use tongs to flip the gnocchi (some will stick a bit, just give 'em a push); and return pan to oven for another 20 to 30 minutes, until everything is browned. Not all the gnocchi will evenly brown, but the process is fairly hands-off.
Even better, the results are golden, firm and ready for dinner.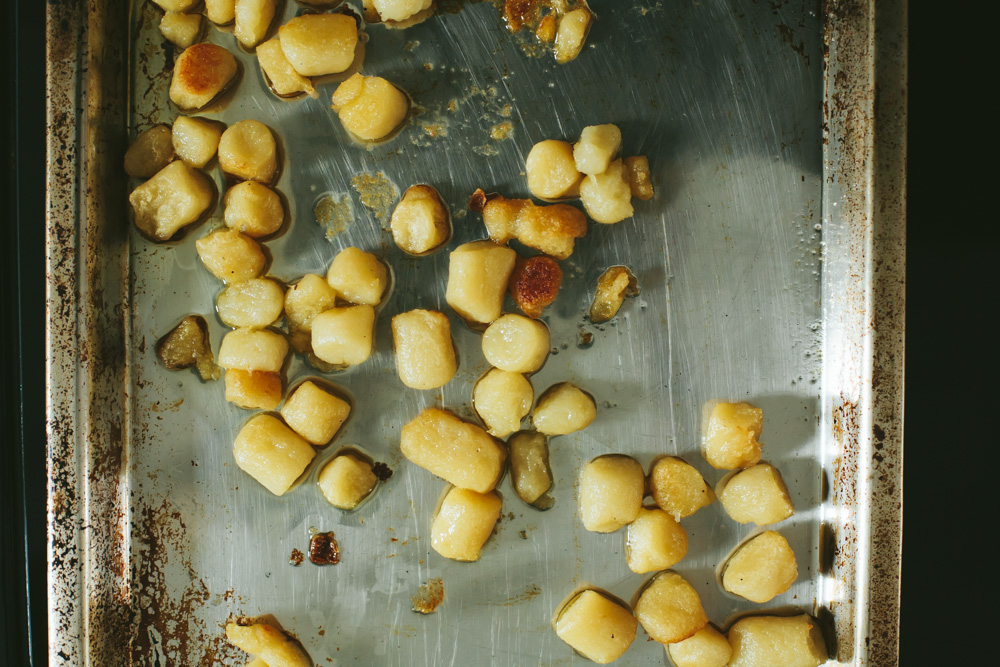 FAQ
Q: Do I need to thaw the frozen gnocchi before cooking?
A: No! Use them straight out of the bag, frozen solid.
Q: How should I serve them?
A: Anyway you like regular gnocchi, you can try with these cauliflower gnocchi. I tested red sauce, olive oil and Pecorino, just plain with salt and pepper–and I liked all of them. If you are at all nervous about the hint of gumminess from cassava-laden gnocchi, opt for a heavier sauce to mask it.
Q: What are some inspiring ideas for serving the gnocchi at home?
A: I'm glad you asked! See below. And if you have any other ideas, message me anytime!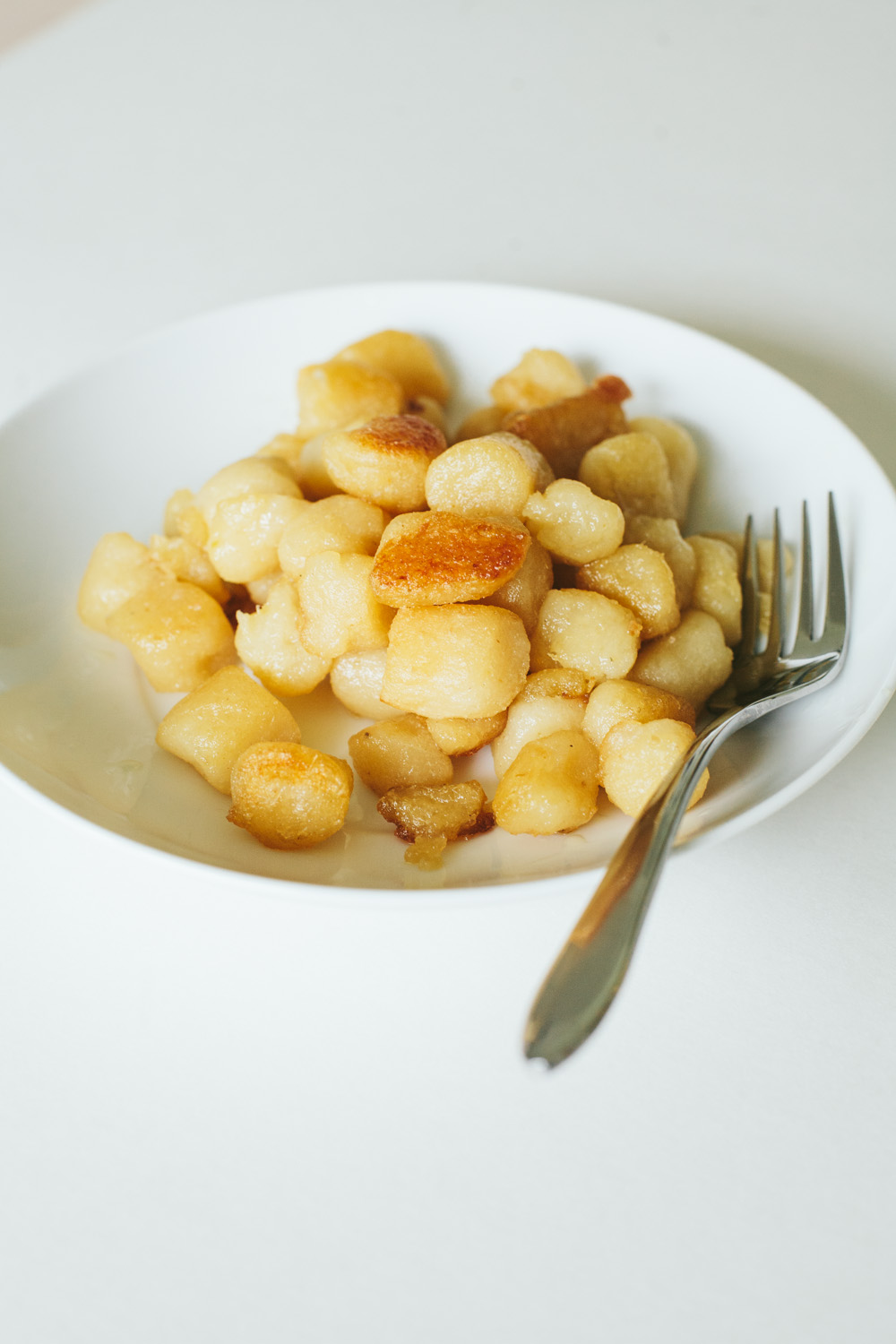 Inspired Ideas for Serving Trader Joe's Cauliflower Gnocchi, via Instagram
1. With sautéed vegetables and a white sauce, garnished with Parmesan and crushed red pepper / @ChansKitchen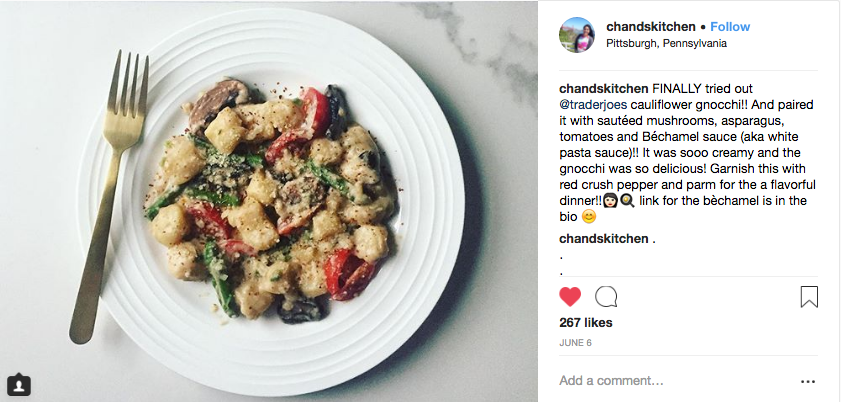 2. Tossed with vegetables and olive oil / @michelecfit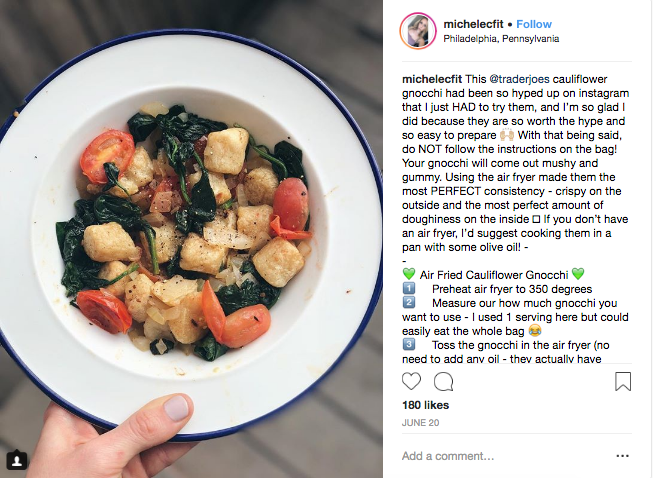 3. Tossed with kale pesto, sun-dried tomatoes and fresh herbs / @mostdefvegan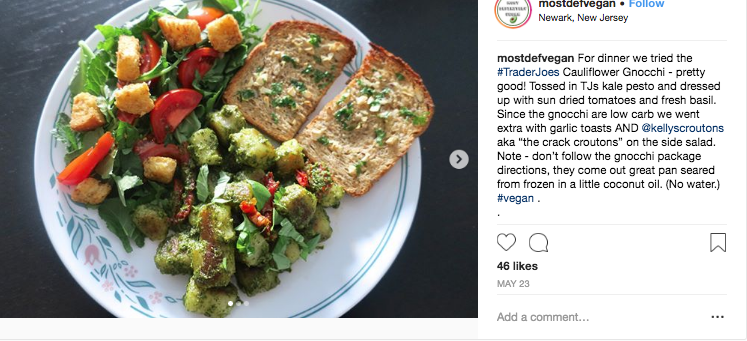 4. Cooked with garlic, lots of herbs, spinach and walnuts / @simplyshannonagins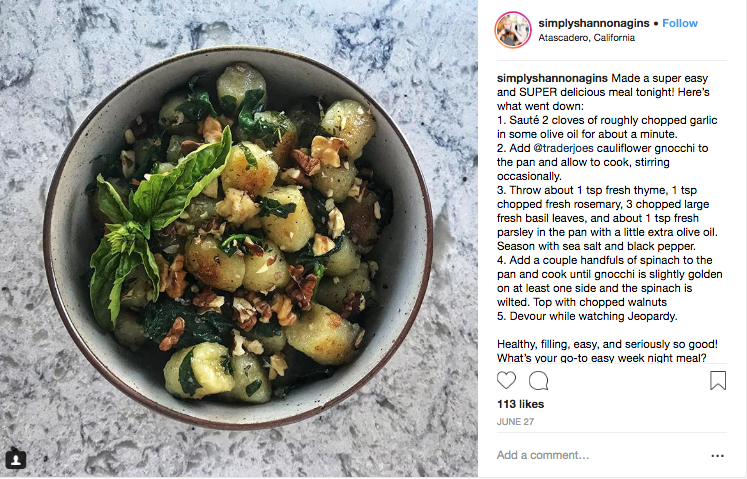 This post is part of a week dedicated to Trader Joe's shopping. Learn more via the survey results of fan favorites, and get inspired with other great TJ's finds.
I'd also love to have you come visit me on Instagram, or you can follow along with new posts by subscribing to the blog via the form in the sidebar.