UPDATE December 2019: Brandless no longer sells food! I still recommend their diapers ($11), to-go beverage cups ($3) and kitchenware.
Last January, I posted the first of my reviews on Brandless, the $3 grocery that sells everything from organic coconut oil to disposable paper products sans branding. One year later, here's a fresh analysis: the company's added new products, developed a referral program and now offers coupon codes to save you even more dough. Read more below!
It's been almost a year since I first learned about Brandless, the online food retailer that eliminates unnecessary markups by going without a brand and selling direct to customers. For a company known by ditching branding, its products are remarkably consistent in packaging and style: they all feature the same simple font, white label and essential information that customers need to understand what's inside.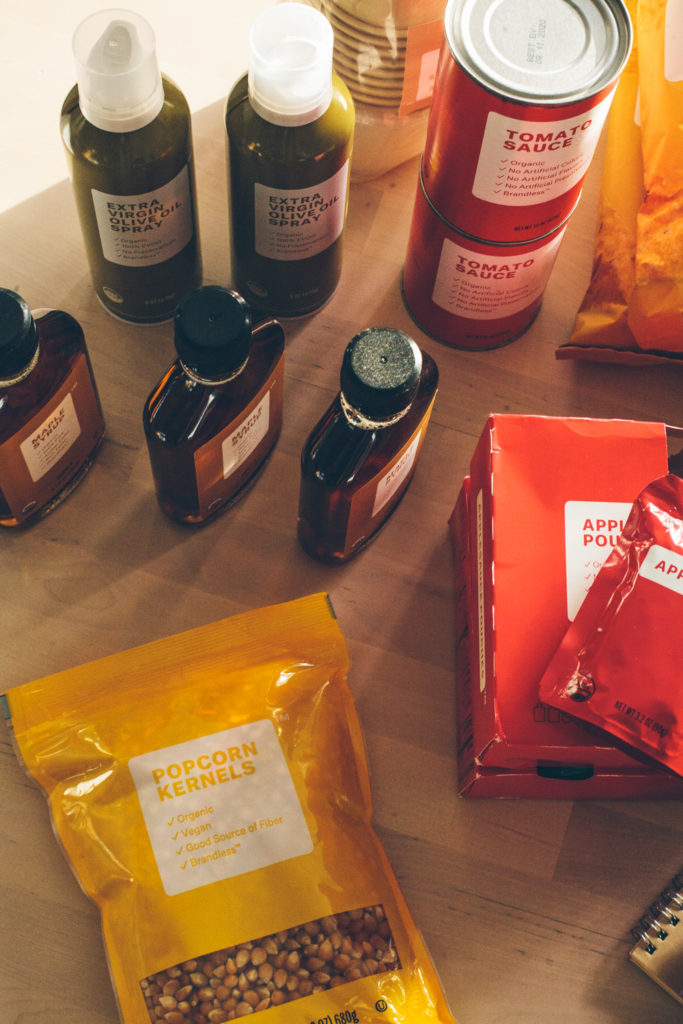 Last January, it was but an infant company, in existence a cool six months, but already there were reviews. Brandless listened to feedback, adjusted and, in the time since, has continued to do more of the same. The result is an even better brandless brand for sourcing essentials.
Here are some new developments:
Update #1: Better Shipping Prices
Initial buyers had disliked shipping prices (originally $9; $5 by last January). But, update! Today, there are several ways to get FREE shipping: buy a yearly membership (free shipping on all orders) or, spend at least $39 (free shipping on that order).
Update #2: More Products
Explore the Brandless website to see how its product line has expanded. New items include organic coconut flour, organic coffee, organic tahini, organic coconut sugar (a pound for $3! That's $1 lower than Trader Joe's) and more. Note, also, however, some items may have since changed or been retired, such as the two-pack of eight-inch porcelain-rim soup bowls I still use every week; however, a similar single bowl is listed as coming soon.
Update #3: A Referral Program and Coupon Codes
Last January, Brandless didn't have a referral program, and coupon codes weren't easy-flowing like they have been lately. But! Now there are even more ways to save. If you've never ordered from Brandless before, you can use this link to get $6 off your first order: go order from Brandless now! It's a referral link, so I'll also earn $6. But note: pair this with an order over the $39 threshold and you're looking a $33 pricetag for 13 or more different items of your choice.
What can $50 buy you at Brandless?
Brandless recently ran a one-day special for $10 off any $50 order, in addition to the free shipping. So, to give you an idea of how far your money can go with this store, here's a look at my order:
16 oz coconut sugar (3)
6.7 oz organic maple syrup (3)
6 oz organic olive oil spray (2)
15 oz organic tomato sauce (2)
4-pack of 3.2-oz organic applesauce pouches (2)
10 oz organic raisins (2)
24 oz organic popcorn kernels
9 oz organic yellow corn tortilla chips (2 for $3)
1 hardcover spiral notebook
10-pack of disposable hot beverage cups (compostable)
Seeing it all laid out on my dining room table, I'll admit I was impressed. As I wrote last year, Brandless isn't a replacement for your regular grocery provider, but it is a smart, savvy way to get dry goods cheaper and easier.
If you're new to Brandless and want $6 off your first $39+ order, use my affiliate link: https://refer.brandless.com/s/nztbf. I'll also get a credit when you do.
disclaimer: as stated above, this post uses affiliate links, through which I may earn a small commission on products purchased.