UPDATE December 2019: Brandless no longer sells food! I still recommend their diapers ($11), to-go beverage cups ($3) and kitchenware.
This post on Brandless benefits is the first in a series of posts examining grocery sources (see also later posts on Thrive Market and Kroger). When you want to find good food without breaking the budget, is Brandless the answer? Here's a look.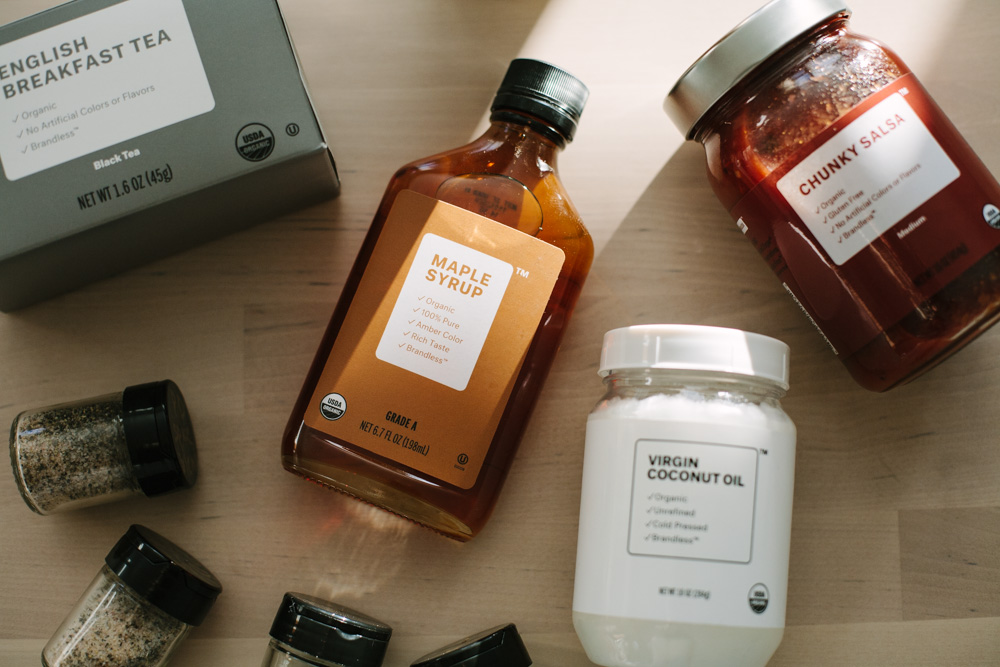 Just launched this past July, Brandless is a new online grocery store with one unique shtick: everything is $3. From organic food to acacia wooden spoons, there's only one price. Likewise, now, no matter how much you order, there's one flat shipping cost ($5 per order, or $1 on your first order with the code "hello"). The company does this, it says, by eliminating what it calls BrandTax™, i.e., the hidden costs that go into making a brand. Instead, it focuses on quality—"where it matters, our products are non-GMO, sometimes organic, fair trade, kosher, gluten free, no added sugar and more," according to the Brandless About page. And in place of a brand, one could argue, Brandless offers something just as identifiable: a super minimal, clean look you could pick out of any product lineup.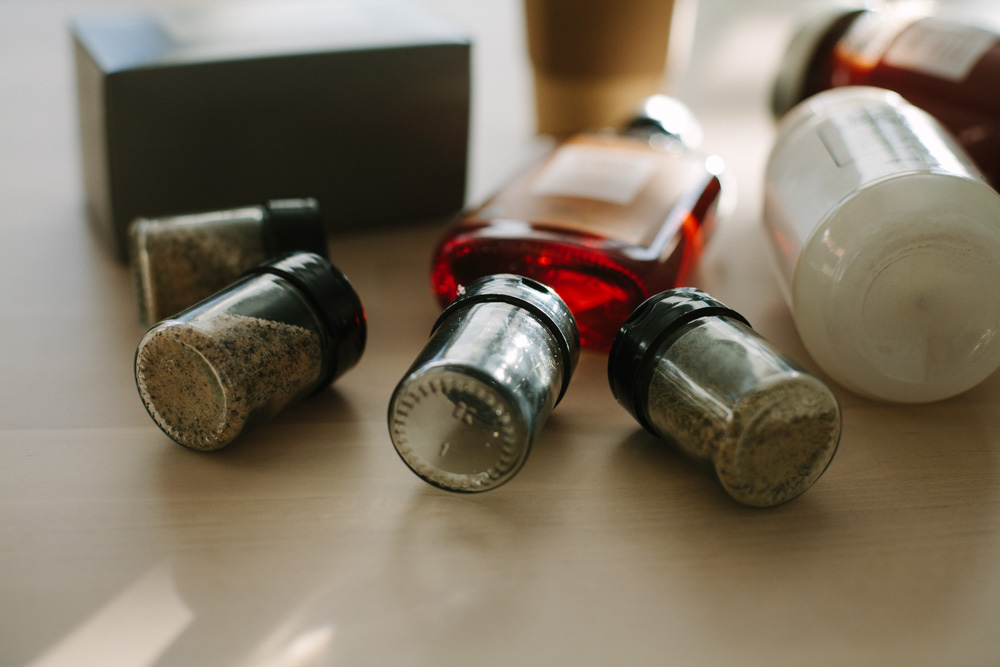 So Is Brandless Worth Trying?
As soon as I hear about it (from guest editor Cadence Turpin at the Garden Variety Newsletter), I'm curious. I click over to Brandless.com and my shopping cart of nine items–among them, organic animal crackers, 16-ounce hot beverage cups, organic salsa and glass spice jars–totals $26.50, including shipping, and the order arrives two business days after it's placed.
I spend a few weeks evaluating: I taste the tortilla chips, give my toddler animal crackers, take my tea to go and, along the way, read a lot of reviews. While Brandless doesn't cross my path until now in 2018, turns out it made a big impression online when it first launched last summer. Articles pretty consistently:
Compare costs with other stores, especially Trader Joe's
Praise the Give Back program (in which Brandless donates a meal to a family in need with each order)
Complain about high shipping–at the time, $9 an order
Shipping is now $5, or free with a $36/year membership, which shows the non-brand is listening to feedback. And while Trader Joe's has some better prices, it's not online.
I like the Brandless chips enough to eat almost an entire bag in one sitting with my family, and as soon as I open the spice jars I think they alone were worth the order. Brandless may not be the only place to buy groceries, but it is a fun one. As I start filling up my next shopping cart, I note what items are worth buying again.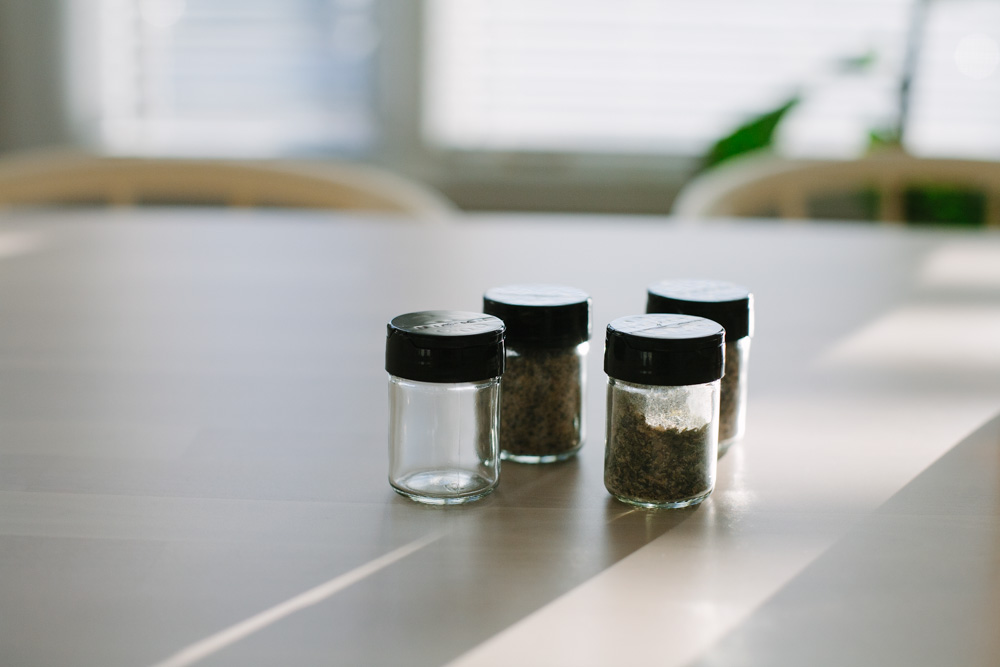 Brandless Benefits: 6 Products I'd Buy Again + a Few Others
Beyond convenience and minimal style, the biggest Brandless benefits are the $3 products. Of the nine I tried, here are six I'd buy again, as well as a few more I'm trying next time.
Disposable Coffee Cups. Ceramic coffee cups that you can wash and reuse are great and all, but every now and then you want to take your coffee or tea in a to-go cup you can throw away when you're done. This $3 pack of 10 from Brandless features a simple, minimal design. It's also completely biodegradable, with compostable lids and cups and recycled paper sleeves. Biggest benefit: at $0.30 a cup, a cheap alternative to hitting a local coffee shop in the morning.
Glass Spice Jars. Do you buy your spices in bulk? Have you ever made a recipe that called for extra spice blend to be leftover for later? Clean up your cupboards with a pack of these four glass spice jars. The jars are reusable, recyclable, dishwasher-safe and equipped with BPA-non-intent (i.e., BPA has not been intentionally added) lids. Biggest benefit: kitchen organization that's cheap, convenient and easy to customize—say with these markers recommended by organization pros the Home Edit.
Organic Tortilla Chips. It's not hard to find cheap organic tortilla chips, which tend to be about $2 at Kroger or Aldi. But Brandless makes a 9-ounce bag for $1.50 (i.e., two for its signature $3 price), and the chips are light, nicely salted and crunchy. Biggest benefit: cheap chips that taste good.
Organic Tea. If you're a tea drinker, Brandless offers four different packs of 20 bags that are fully organic, free of artificial colors and flavors. Biggest benefit: $0.15 per tea bag is cheaper than, say, a $0.23/bag option on Amazon or the $0.20/bag store-brand option at a Nashville Kroger.
Organic Maple Syrup. Anyone who cooks or bakes with alternative sweeteners knows the appeal of maple syrup. The only problem? It's pricey. Even at Trader Joe's, you'll likely pay about $5 for an 8-ounce jar ($0.62/ounce). Brandless beats this price with $3 for 6.7 ounces ($0.44/ounce). Biggest benefit: a way to make your favorite avocado mousse, chia pudding, refined-sugar-free cookies or, you know, pancakes at a better cost.
Organic Coconut Oil. It can fry potatoes, roast vegetables, replace butter in a recipe or even moisturize your skin—so of course everybody's buying coconut oil these days. If you're used to buying it in bulk at Costco, Brandless offers roughly the same price per ounce ($0.30) without forcing you to buy 54 ounces at a time. Biggest benefit: the same cost savings of bulk coconut oil, in a smaller, counter-friendly 10-ounce jar.
Also intriguing are the organic olive oil cooking spray, the organic broths (same prices as Kroger or Aldi brands but cooler packaging) and the wide, white soup bowls, which are part of the store's full line of plates, bowls and mugs.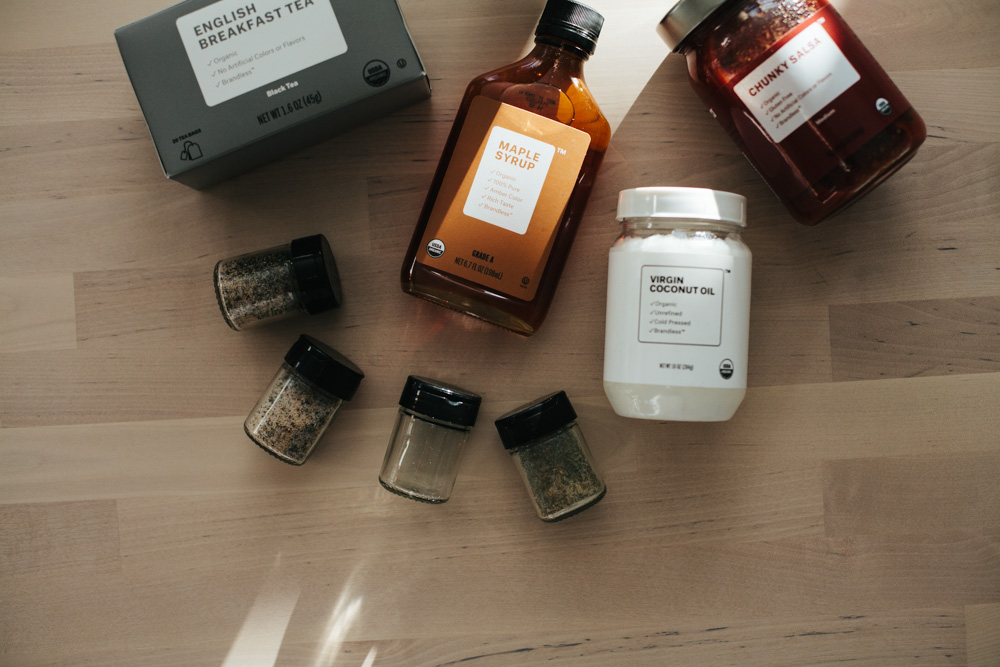 The Verdict
So is Brandless worth a try? Definitely.
Will it replace your regular grocery needs? No. Think of Brandless more as a fun, high-quality, affordable dry-goods provider that meets you in your PJs and less as a way to skip going to the grocery store altogether. It's fairly priced, cheap to ship and inspiring to look through—a way to buy quality products from a brandless brand.
If you're new to Brandless and want $6 off your first $39+ order, use my affiliate link: https://refer.brandless.com/s/nztbf. I'll also get a credit when you do.
Note: As always, Amazon links contain affiliate links.