This roundup of 11 kids' books about food is part of a series of articles on cooking with kids. Reading kids' books about food with a child you love is a great way to inspire cooking projects and provide a roadmap for spending time in the kitchen together. With that in mind, here are 11 books worth exploring. If you have your own story or experience to share on the topic of cooking with kids, contact me here.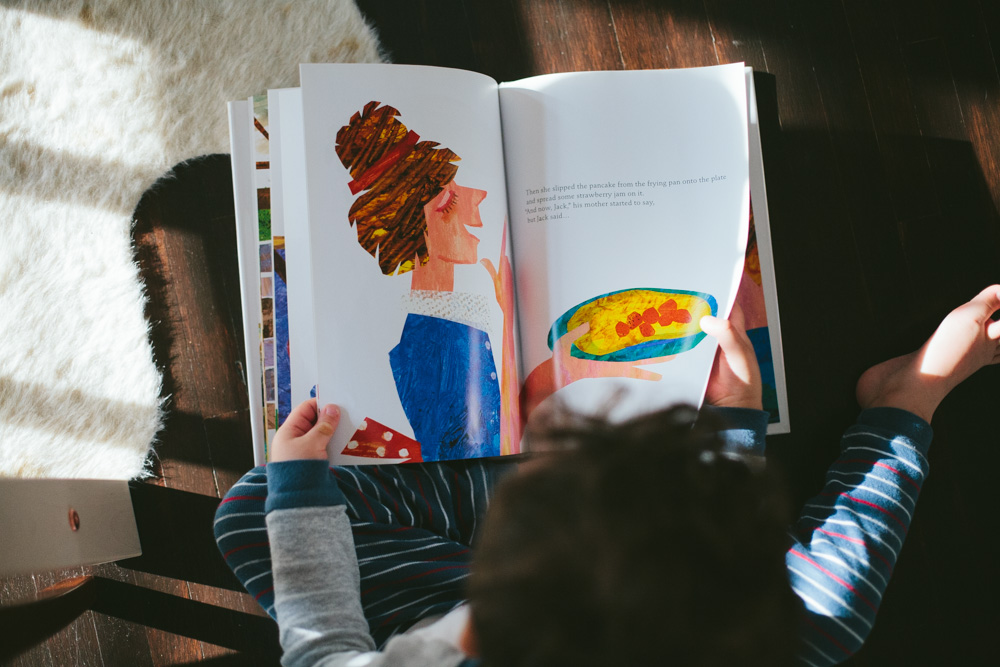 As recently explored in the post, "5 Reasons to Bake Pretzels with Walter the Baker," there are so many reasons to cook with kids, from growing life skills to educating about healthy choices. But pair this activity with books about food relating to your cooking projects, and it's doubly valuable.
That's because, according to Casey Byrne, Reading Recovery teacher at Glenview Elementary School in Nashville, when it comes to literacy, the more exposure you give a child to books, the better.
When they're used to reading with their parents or caregivers, Byrne says, kids "seem to enjoy reading more, as it's like an old friend instead of a chore once they are school-aged and reading becomes one of the big focuses."
More than that, "spending time with parents in books gives kids a chance to see how books work long before they are ever taught. … Children who have been read to typically already have an awareness of seemingly simple things like which way to hold a book and turning pages from front to back, moving across words from left to right and that words tell the story along with pictures."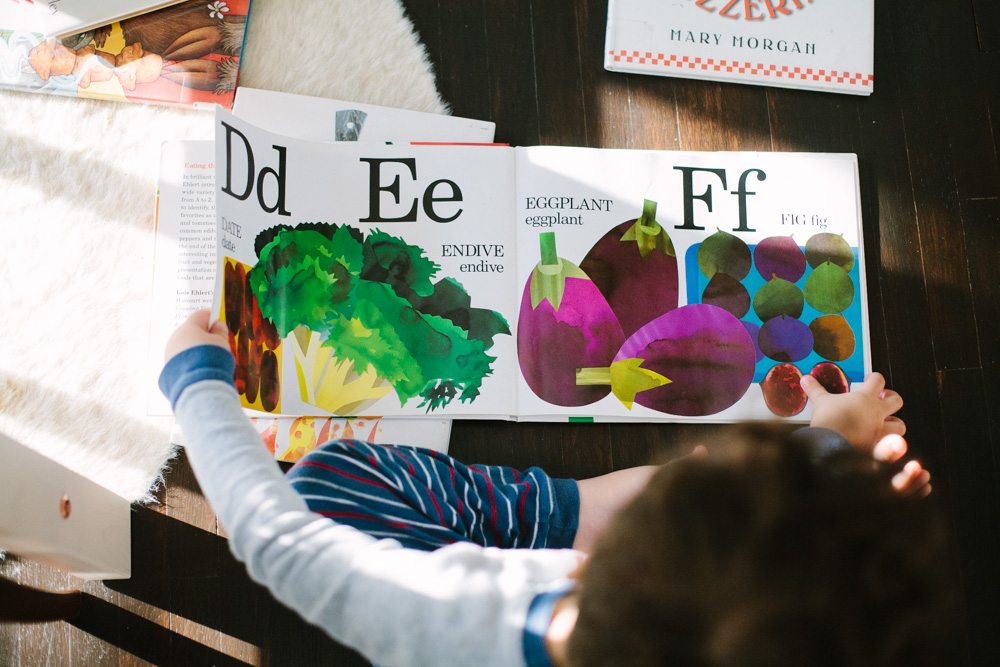 Interested in helping a child in your life build a solid foundation for lifelong learning as well as kitchen enjoyment?
Here are 11 kids' books about food that can inspire enriching quality time together:
1. How to Make an Apple Pie and See the World, Marjorie Priceman
Explore the world through the lens of food in this sweet book that travels to Italy for flour, England for milk and Vermont for apples. The book includes a recipe for apple pie, but if you're looking for a good pie crust, check out this post comparing pie crust ratios.
2. The Great Pasta Escape, Miranda Paul
Pasta gets personified in this story that imagines the perspective of fettuccine and ramen. When they realize their future means getting cooked, the pasta plan a getaway. To pair this with a recipe, any favorite pasta would work, but this Epicurious roundup of 41 kid-friendly pasta recipes is a great place to start.
3. Rah, Rah, Radishes, A Vegetable Chant, April Pulley Sayre
Reading this rhyming vegetable chant is a great way to familiarize your child with vegetables. The pages feature photos of colorful carrots, Brussels sprouts, cauliflower, bok choy and more to make the world of produce more approachable and fun. Read this book before a trip to the farmer's market or a project making salad or roasted vegetables.
4. If You Give a Moose a Muffin, Laura Numeroff
Author Laura Numeroff has a series of children's books revolving around the "if you give a ______ a ________" theme. My toddler and I like "If You Take a Mouse to School," which tells the story about a mouse who hops in a little boy's lunchbox to go to school. In the moose story, a little boy entertains a moose looking for some food, giving him a muffin and jam before needing to run out for more muffin mix. After reading this story, it's only natural to head to the kitchen for muffin baking, and if you're looking for a healthy, toddler-friendly recipe that's gluten-free, try these pumpkin muffins inspired by a Margaret Rudkin cookbook.
5. Pancakes, Pancakes, Eric Carle
Fans of Eric Carle have another great food book with Pancakes, Pancakes, the story of a boy named Jack who wants a giant pancake for breakfast. Read this book before traditional weekend pancakes or as inspiration for a Dutch baby baking project with your child.
6. Dragons Love Tacos, Adam Rubin
It's a funny story. It's about tacos. Adam Rubin's book is also the number-one bestseller in dragon stories on Amazon. But what's especially likable is having an easy segue-way into making your favorite tacos for dinner. Recommended tacos to try: these easy black bean vegan street tacos from Edible Perspective
7. Stone Soup, Ann Mcgovern
This classic story about a soup that needs more and more ingredients is the perfect intro to a dinnertime project with kids. Just as the young man in this story suggests items to add to the pot, you and your child can talk about ingredients for a soup you love. If you want a hearty soup with lots of add-ins, you can't go wrong with this venison vegetable soup, also easily adaptable to beef.
8. Every Color Soup, Jorey Hurley
One more soup book is the enchanting Every Color Soup, a minimally illustrated picture book that walks the reader through soup recipe ingredients by color, purple all the way to black. Then it shows three simple recipe actions (chop, drop, bubble), and, at the end, includes a recipe. Count this book as a two-for-one picture book and cookbook, inspiring you and your toddler towards making a soup loaded with vegetables and (blue!) lentils.
9. Eating the Alphabet, Lois Ehlert
In the same vein as the Rah, Rah, Radishes book, Eating the Alphabet is a best-selling children's book that walks you through a rainbow of fruits and vegetables. Beautiful watercolors make this book a visual pleasure as much as a vocabulary builder for kids. For kids who still struggle to help much in the kitchen, Eating the Alphabet is a great introduction to the world of food and a way to build interest in fresh produce.
10. Bread and Jam for Frances, Russell Hoban
If you're looking for a book to gently combat picky palates, it's this sweet story from Russell Hoban. The main character, Frances, is a hard sell on anything but bread and jam–but eventually learns how fun other foods can be, too. Take a cue from the Amazon reviewer who says, "It is cute to refer to Frances and how she realizes that variety in trying new foods makes life interesting!" Make it a goal to try one new thing after reading this book together.
11. Cloudy with a Chance of Meatballs, Judi Barrett
If the idea of food dropping from the sky sounds as fun to you as it has to three decades of children, you'll enjoy Cloudy with a Chance of Meatballs. You can use this recipe to inspire an afternoon of meatball-making, but this book references so many items, you have other options, too.
disclaimer: This post includes Amazon affiliate links, from which the site may earn affiliate income for purchases made.