This easy fried rice is part of a series of articles on cheap dinners made from pantry staples. When you're at the end of your food budget, you've to work with what's available. Enter the budget-bottom meal. Got an idea for this series? Contact me.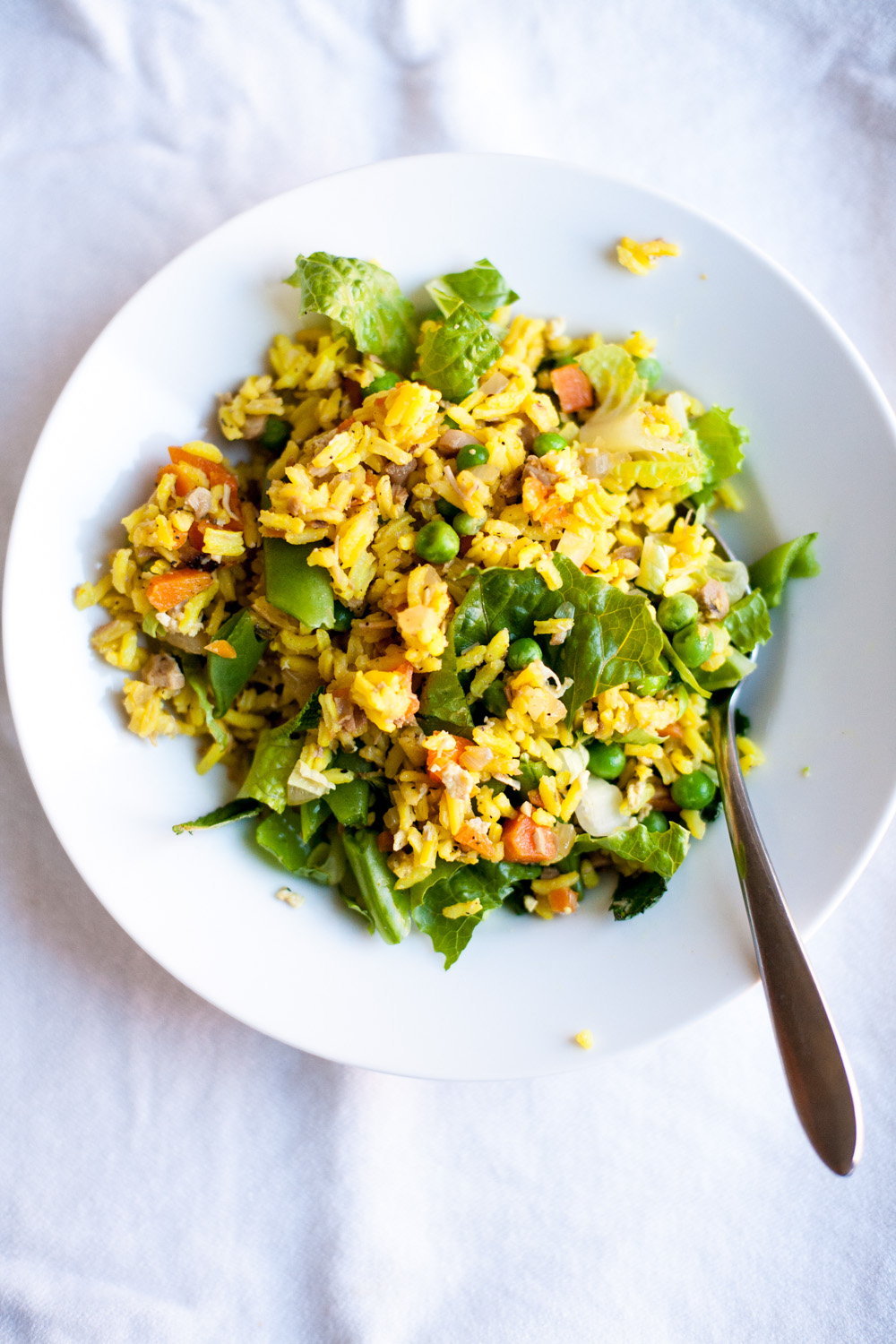 It's the end of the month. Your fridge pickings are sparse. But, before you bust the budget back at the store, consider this: if you've got carrots, an onion, an egg and leftover rice, you've already got the makings of a good, cheap meal. Take a page from Chinese restaurants worldwide and transform leftovers into a standout dinner. Quick and easy, fried rice is as gentle on your budget as it is on your time. It turns a meal that saves money into a meal that you look forward to making.
Benefits of Easy Fried Rice
Fried rice is made up of cheap ingredients; it's good for the budget.
Its components are highly adaptable; you can use up what you have.
Best of all, making easy fried rice takes little time to yield results that are as good as takeout.
The Must-Have When Making Easy Fried Rice
So what's the secret to getting this recipe right? What's the difference between fried rice that's ho-hum and fried rice that's a staple? According to Rhonda Parkinson at The Spruce, it's all about the very element you're trying to use up: leftovers.
"The key to making fried rice is using rice that has been previously cooked," she writes. "Older rice is drier, reducing your chances of ending up with a dish that is wet and gloppy. Day-old rice is fine, but rice that is two or three days old is best."
What to Do If You Don't Have Leftovers
If you've got all the makings of fried rice on hand except the most-important component, here's what to do: cook up a big batch of rice and wait until tomorrow, or cook up some rice and freeze it for half an hour. Either option yields sufficiently ready rice, ideal for incorporating into your dish.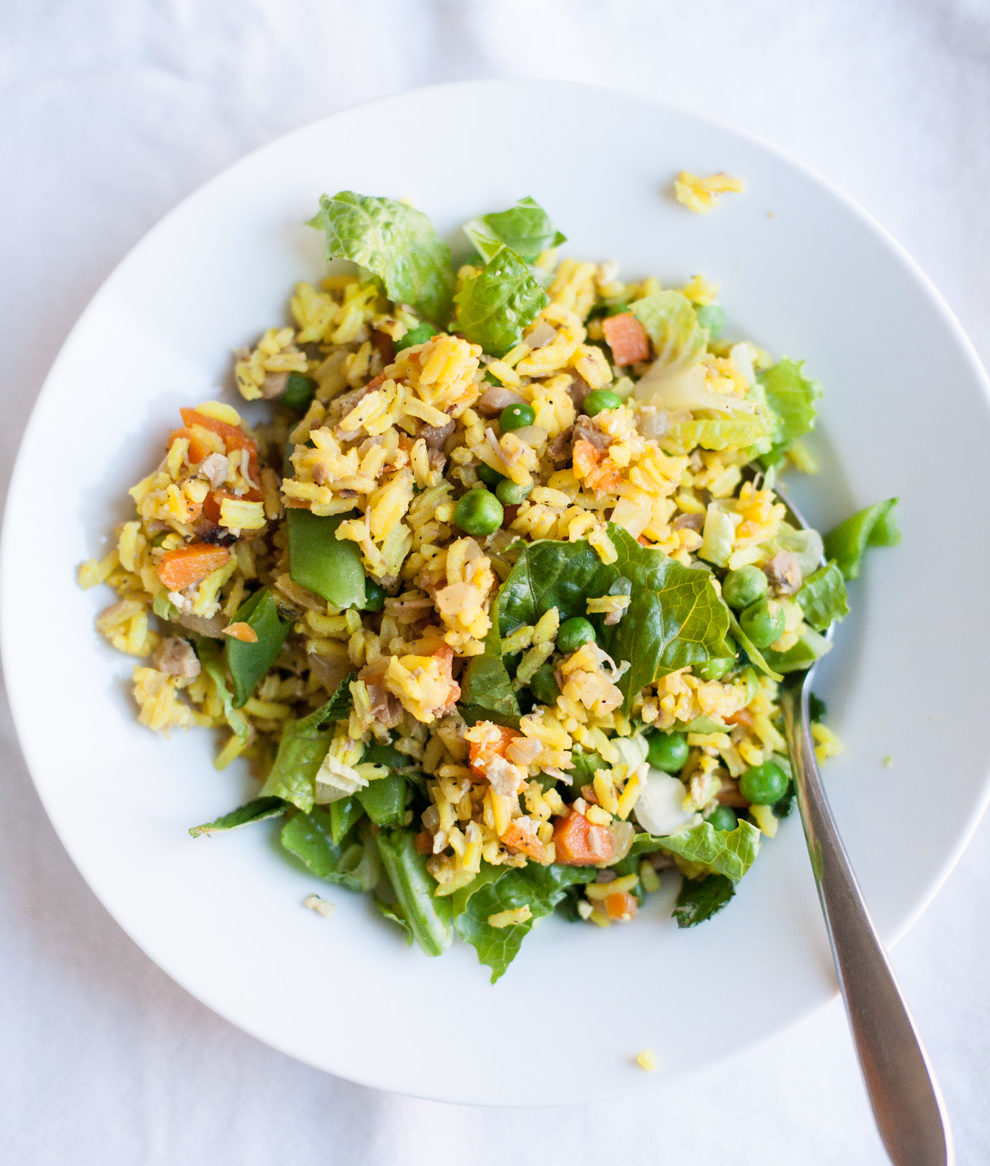 The Basic Recipe: Easy Fried Rice
Here are the basics of what you'll need, in a list short enough to memorize and remember long after you've forgotten this post.
Oil: Start by warming your favorite oil in a wide saucepan or stockpot. You can use coconut oil, olive oil, butter, avocado oil or another favorite fat. For this recipe, I used about a tablespoon of coconut oil (from a $3 10-ounce jar).
Chopped, sturdy, raw vegetables: Once the oil is shimmering, add in chopped vegetables such as garlic, onion, carrots, broccoli or even sweet potatoes. For this recipe, I threw in two chopped cloves of garlic ($.15/ea), one chopped onion ($.30/ea) and two chopped carrots ($.20/ea).
Herbs (optional). If you like, add in some dried herbs along with the vegetables. I scattered in some basil, parsley and cilantro.
An egg. Once the vegetables are looking soft and the onions, translucent, scoot them over to one side of the pan. Then, crack an egg into the empty side, immediately scrambling it in the pan and combining it with the vegetables. I used one egg ($.50) for this dish.
Rice. Add your leftover, cooked rice to the vegetable/egg mixture and toss everything together to warm the rice. How much rice you use is adaptable to what you've got on hand; I added around three or four cups ($2, not counting spices used in rice).
Other cooked leftovers (optional). Any other meat or vegetable leftovers you've got lurking in the fridge and wouldn't mind eating in your rice can work here. Chop them up into small pieces and throw them into the pan. I added leftover chopped chicken and a handful of frozen peas.
Soy sauce (optional). Add soy sauce to taste, testing the mixture after each small addition.
Fresh herbs, lettuces, etc. to finish (optional). Any other fresh odds and ends you have on hand can go in here: chopped lettuce, fresh herbs, etc. I tossed in some leftover chopped lettuce from burrito night, a handful of chopped snap peas and some fresh mint.
With a base cost of around $3*, not counting extra leftover add-ins, easy fried rice is a cheap, fast meal filled with flavor. What's not to love? So when you're at the end of the month and end of your food budget, put a pin in those expensive dinner ideas, and try this. Based on what's leftover, it'll be different each month; likewise, it'll use up what you have. After all, it'll be another new month tomorrow.
*These prices are based on local grocery store rates in Nashville, Tennessee. Costs will vary depending on quality of items, source and location.