This is part two in a Cook the Cookbook series featuring Margaret Rudkin's The Pepperidge Farm Cookbook, published in 1963. Read the intro to this cookbook's series here and part one here.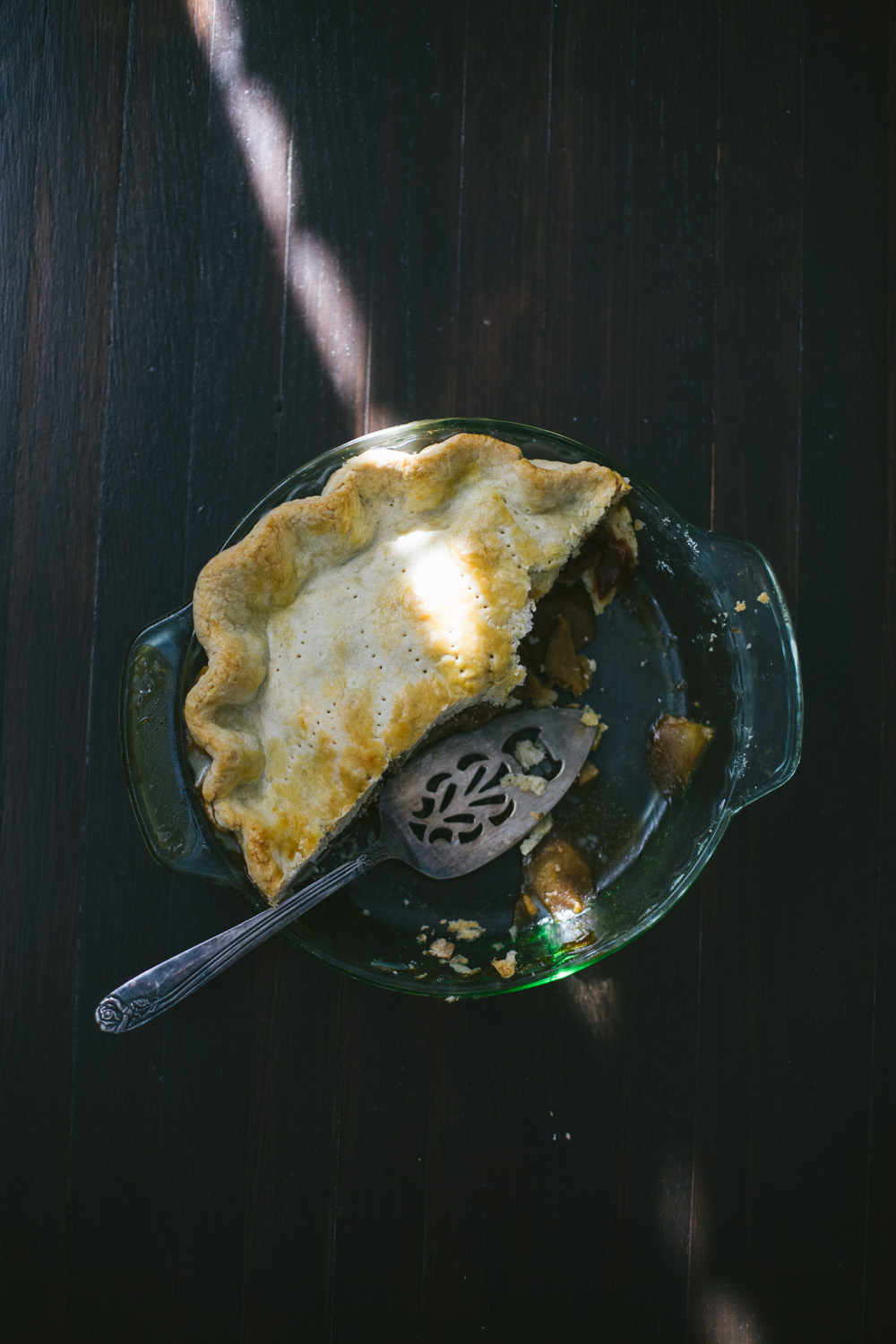 Before Margaret Rudkin wrote the world's first cookbook to land on the New York Times Bestseller list, she was a mathematics and finance major who joined the working world and met the man she'd marry, Henry, at a job. They wed in 1923, three years before they'd, "to live a real country life," buy 125 acres of land in Connecticut and name it Pepperidge Farm.
On this land with its orchard of five hundred apple trees, vegetable gardens, poultry, pigs, steer and Pepperidge trees, Rudkin honed her skills in the kitchen. She made sauerkraut and butter and stocked a storeroom with jams and jellies. She was particularly proud of her mincemeat, which "always turned out well." And like any good home cook, she baked pie.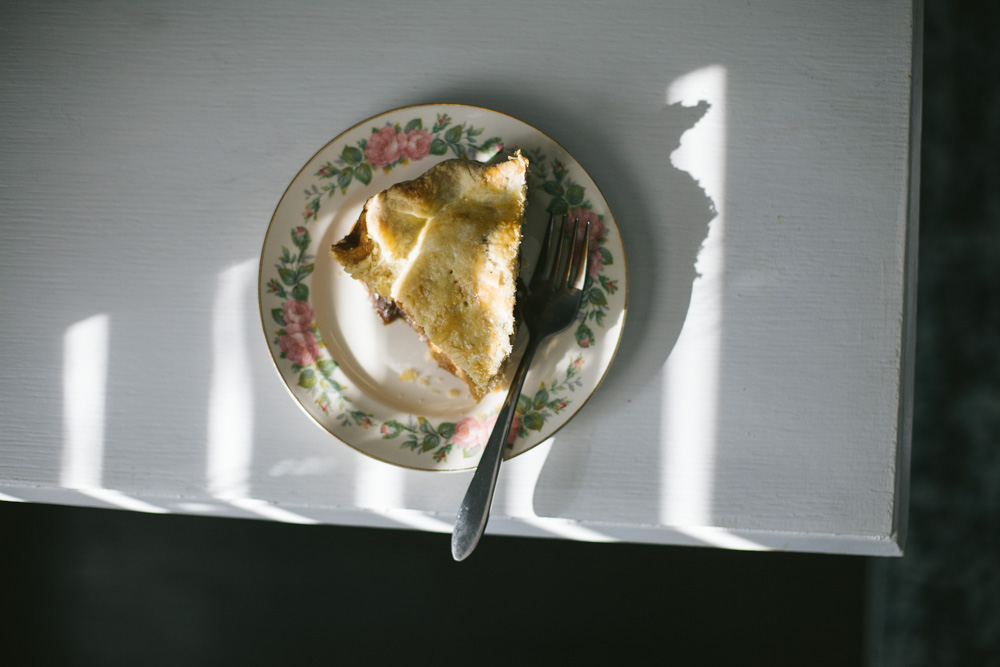 Pie crust, at its most essential, is three simple ingredients: flour, fat and water. Yet Google "pie crust," and there are over a million results. The proportions change, people argue about which fat to use, most recipes add salt and a few add sugar, and then there are the frills of Vodka, sour cream, apple cider vinegar or lemon juice to dress it up.
Plus, beyond the ingredients, there's the technique. Do you cut the fat into the flour with your fingertips (Rudkin's suggestion), a pastry cutter or a food processor? Do you chill the dough after forming it into a ball, and for how long? Do you chill it again after forming it in the pan? What do you brush it with–egg white, egg, milk, yogurt?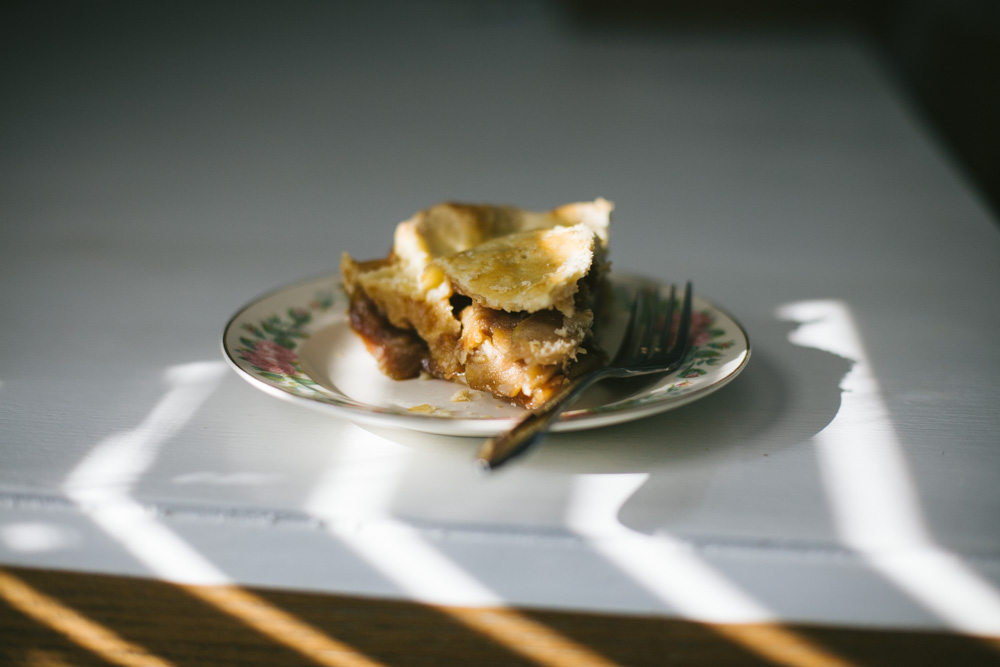 Here's what Rudkin did: For the recipe she calls "Plain Pastry with Butter," she sifts together two-and-a-half cups sifted all-purpose flour with a teaspoon salt. Into this, she uses her fingertips to work six tablespoons of unsalted butter and six tablespoons vegetable shortening, until it's "mealy in consistency." She adds six tablespoons ice water and forms the mixture into two flat balls, wraps them in wax paper and chills "until ready to use."
How Rudkin's Pie Crust Stacks Up to Other Standbys
In Michael Ruhlman's book, Ratio: The Simple Codes Behind the Craft of Everyday Cooking, he suggests the basic ratio of flour:fat:water for pie crust is 3:2:1. In other words, for a classic pie crust, you'd use twelve ounces flour, eight ounces fat and four ounces water. After making Rudkin's crust two times, I wonder about this principle. How would the Ruhlman's classic ratio compare to Rudkin's proportions? What about Martha Stewart's? And, personally, how would it compare to the family pie crust recipe I've been making for more than seven years, which we adapted to einkorn flour in The Einkorn Cookbook?
While the logistics of testing every variation of pie crust on the Internet are outside my capabilities, the logistics of testing, say, four pie crust recipes are doable. I decide to do it. I'll spend a single afternoon in the kitchen, making four different pie crusts, using the same basic ingredients, using the same basic glass pie pans, filling them all with the same basic apple filling from Rudkin's book. Will the differences in the crusts be negligible or significant? Will one stand out above the rest? What will I learn? Mostly, how will we eat this much pie?
A Tale of Four Pie Crusts


For the sake of controlling variables, I decide to eliminate any pie crust recipe that uses ingredients beyond the basics. Flour, fat (butter and coconut oil), water, salt and sugar are in; yogurt, vinegar or alcohol are out. I spend more than a few afternoons reading pie crust recipes, analyzing their ratios, comparing their techniques. In the end, I choose:
1. Margaret Rudkin's Plain Pastry with Butter
2. J. Kenji Lopez-Alt's Easy Pie Dough Recipe from Serious Eats
3. Martha's Stewart's Our Favorite Pie Crust
4. Michael Ruhlman's 3:2:1 ratio
Making the Crusts
I clear my schedule for an afternoon, gather all my ingredients and recipes, and form each pie dough, one by one. First is Margaret Rudkin's, the recipe we've already made twice to test. Today, it's just as quick and simple as it's been before; I blend the fat into the flour with my fingertips; I form the dough into flat discs and wrap them in wax paper. One down; three to go.
J. Kenji Lopez-Alt's crust is the one I'm most curious about because of the research behind it. "The underlying difficulty in [typical pie crust] technique comes during the first stage of cutting the butter into the flour," according to Lopez-Alt. "It's simply impossible to accurately cut butter into flour to the same degree on a consistent basis." To solve this problem, he takes the guesswork out of the mixing by using a food processor in the beginning–but, because a flaky pie needs some flour that hasn't been coated in fat, he adds 1/3 of the total flour after that initial processing. The result, he claims, is a foolproof, always-needs-the-same-water, always-needs-the-same-flour pie crust recipe. I follow his instructions to the letter and, as I'm pushing together a ball of dough, I think how much like cookie dough this pie dough feels.
Next is Martha Stewart's recipe, similar to the last in that it uses a food processor–but different in that it combines all the flour with all the fat upfront, then has you add the water straight in the machine. Maybe it's because I form this dough immediately after the Serious Eats version, but it feels crumbly and harder to control. I form it into the recommended 3/4-inch-thick rounds and place them, too, in the fridge.
Last but not least is Ruhlman's ratio. Of all the recipes, this feels most familiar as it's most similar to the one through which I learned to make pie. Flour and salt go into a bowl. I use a pastry cutter to mix in cubed, cold butter chunks. Cold water comes last, and I use my hands to push and form the mixture into a ball.
Looking at the four stacks of pie dough in the fridge–different widths, different heights, different colors–I'm amazed at how much they vary, already, unformed and unbaked.
What will happen in the oven?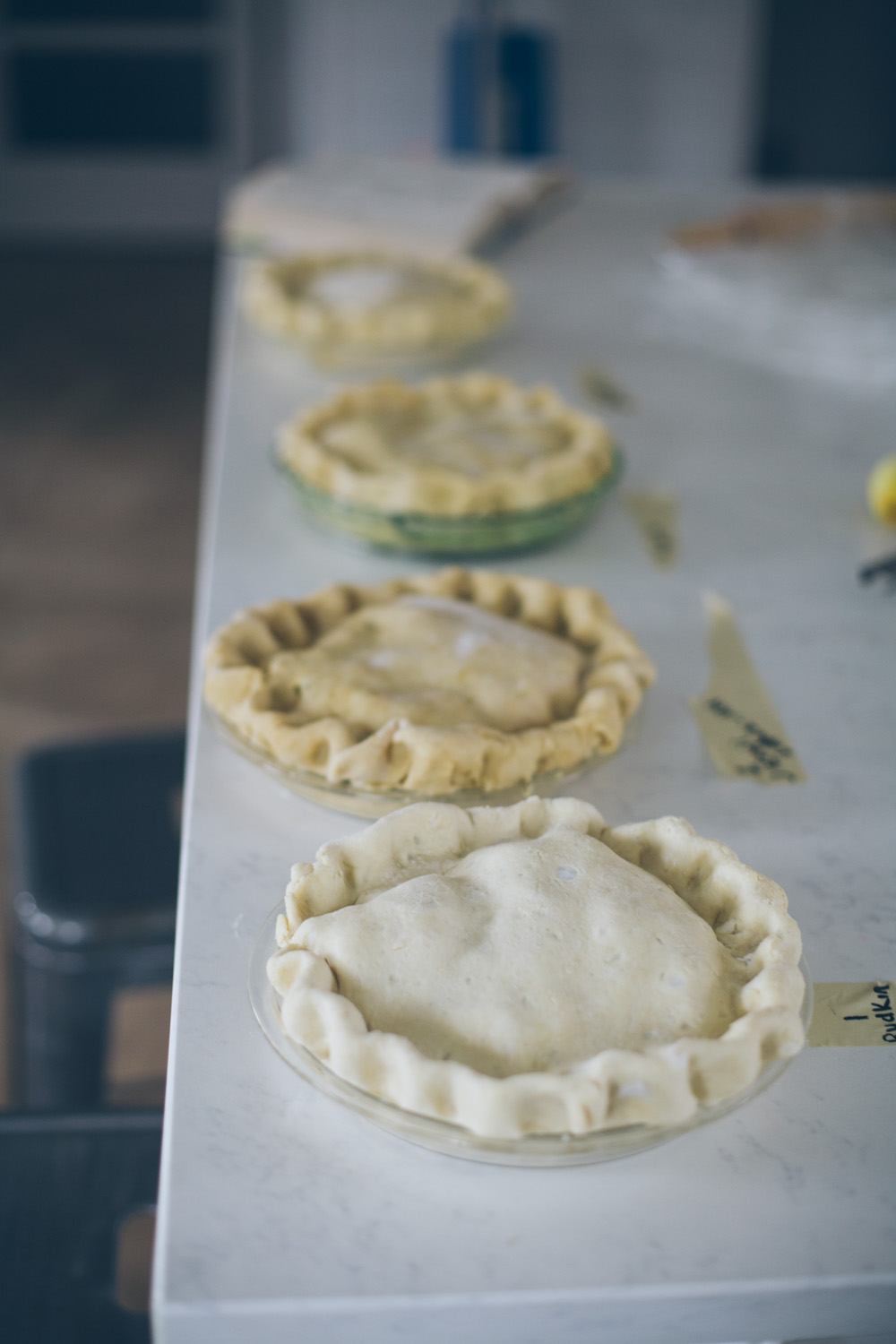 The Results
All four pies emerge from the oven looking golden and firm. Rudkin's pie (top left below) held its shape the best, as the blend of butter and oil seems to have made it more malleable and easier to decorate. Martha Stewart's crust (bottom left, below) is the bumpiest and most broken in spots, but that makes sense with the trouble it caused while I was rolling it out.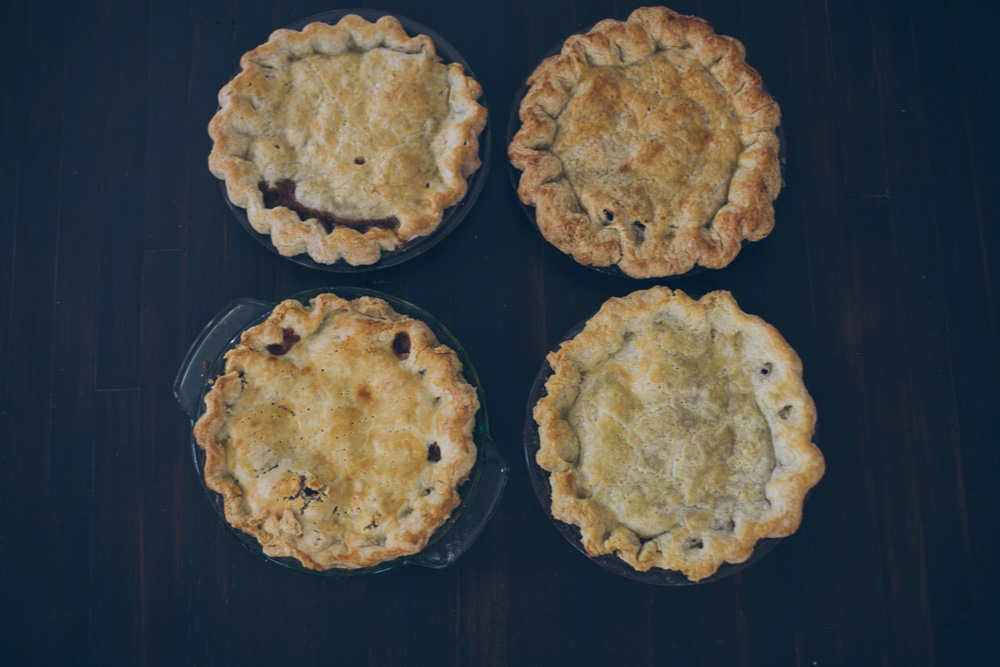 After letting them cool, I slice one piece from each dish. Immediately, Rudkin's butter/oil combination pales in comparison to the all-butter crusts. Alone, I liked it fine; against the the butter crusts, it can't compete for flakiness or flavor.
Of the remaining three, Martha's and Lopez-Alt's (top right above) are a little drier than the 3:2:1 version; however, Lopez-Alt's, I will say, was only dry like a dry cookie, not at all unpleasant, probably thanks to the tablespoons of sugar in the dough. Also, because it was so easy to assemble, it wins the award for most foolproof and best for new pie bakers.
Overall, in terms of taste and texture, the 3:2:1 (bottom right above) is the final winner. It's possible we like its flaky texture because it's most similar to the pie crust we usually make, or maybe it's because it's such a classic ratio.
Whatever the reason, its sample plate is the first one we empty.
Margaret Rudkin's Apple Pie and Pie Crust Recipe
For all the pie crusts tested in this post, the filling was Margaret Rudkin's apple pie filling, posted below. In place of sugar, we used coconut sugar, which did give the pies a richer, caramel flavor, lightly kissed with a reminiscence of alcohol. Below that filling recipe, I've posted both Rudkin's pastry recipe and the 3:2:1 method with our adaptations.
Rudkin's Apple Pie Filling
Ingredients
1 two-crust recipe for pie dough (see two options below)
egg white, for brushing pie dough
6 to 8 tart apples (I used Granny Smith)
1 tablespoon flour
3/4 cup coconut sugar
1/4 teaspoon nutmeg
1/4 teaspoon salt
1 tablespoon butter
grated rind of 1/2 lemon
egg wash or milk (see note in directions)
Directions
Preheat oven to 450F. Roll out the pastry dough for the bottom crust and use it to line a 9-inch pie plate.
Brush the pie dough with egg white.
Peel and slice apples into a bowl. Combine with flour, coconut sugar, nutmeg and salt.
Place the sugared apples in the pastry; dot them with butter and lemon zest.
Wet the edge of the pie crust (I dipped my fingers in flour and ran them along the dough's edges. Roll out the top crust and place it over the apples; press the edges together and crimp them as you like.
Prick the top of the dough in several places and brush with beaten egg or milk. (I used the leftover egg white from brushing the bottom crust, mixed back with its yolk and a little milk.)
Bake in oven for 15 minutes; then, reduce heat to 350F and bake for 45 minutes more.
Rudkin's Plain Pastry with Butter or, Basic Pie Crust
Ingredients
2 1/2 cups sifted all-purpose flour
1 teaspoon salt
6 tablespoons coconut oil (Rudkin uses vegetable shortening)
6 tablespoons (3/4 stick) unsalted butter, cold and cut into small pieces
18 tablespoons ice water (Rudkin called for 6)
Directions
In a large bowl, sift together the flour and the salt. Use your fingertips to cut the oil and butter into this mixture, working quickly to get the fat broken up throughout. Rudkin says you're going for "mealy" consistency, which essentially means tiny pieces, like granules. Next you add six tablespoons ice water, start mixing the dough together with your hands,; add another six tablespoons and mix again. I needed a total of 18 tablespoons water to get the dough workable and able to be smooshed into a ball; use what you need. Place the flat balls in wax paper and store them in the fridge until you're ready to use. For me, that was about 20 minutes.
The 3:2:1 Method for Pie Crust
Ingredients
12 ounces flour
1 teaspoon salt
8 ounces (2 sticks) butter, cold and cubed
4 ounces cold water
Directions
In a large bowl, combine flour and salt. Cut the cubed butter into this mixture using a pastry cutter. Keep cutting and pushing it in until all the butter is in small to medium chunks. Stir in the cold water. With clean hands, press and work the dough into a cohesive ball. Split that ball in half and flatten each half into a disc. Wrap it in plastic or wax paper and set it in the fridge until you're ready to use it.
Next up: Pepperidge Farm: The Bread That Launched a Business