Take your roses and / fancy rings, I just want all / of the heart-shaped things! It's almost Valentine's, and here's the truth: whether you're nine or 99, cutting food in heart shapes is a great way to celebrate. So come get inspired! From pizza to PB + J, here are eight creative Valentine food ideas shaped in hearts!
Is food more romantic when it's cut in a heart shape? Who knows, but it sure is more fun. Wherever you find yourself this Valentine's Day–in a relationship or not, with a group of friends or home with Netflix–if you have to eat on February 14, you may as well smile as you do. Grab a cookie cutter or get creative: plan to try any of the below Valentine's food ideas you can cut in heart shapes!
1. Heart-Shaped Pizza: Bought or Made
Several big chain restaurants have, historically, offered heart-shaped pizzas for Valentine's Day (Pizza Hut, Papa John's, California Pizza Kitchen), so it's worth checking your area to see what's available near you. Or, for an even better option, you can do the same thing yourself with dough at home. Grab a bag at the grocery store or find a good recipe (May I recommend Min Kim's sourdough bread dough, halved and shaped into a ball in the fridge a day ahead of time?), and stretch it into a heart before topping and baking! Here's a great example from a Couple Cooks. Good for: couples, families, big groups, solo movie nights.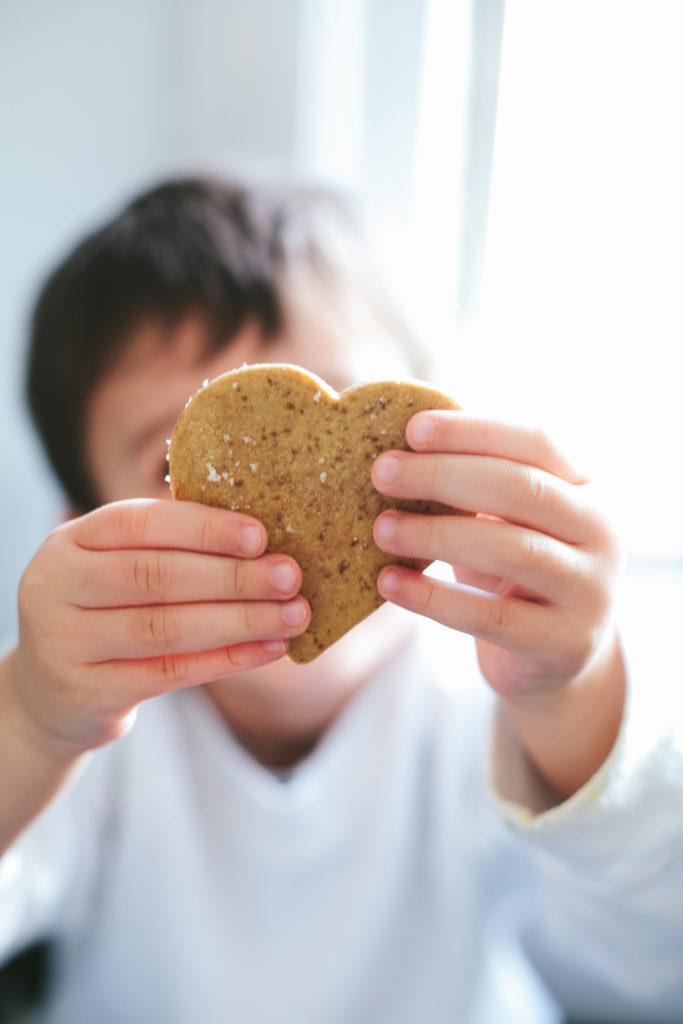 2. Heart-Shaped Cut-Out Cookies
The heart-shaped cookie cutter in your baking drawer is practically designed for February 14, so get it ready! Make your favorite cut-out cookie dough (such as this simple, no-chill sugar cookie made with unrefined flour and sugar or here's a highly rated GF option from AllRecipes) and use your cutter (here's a steel $6 one on Amazon) to make festive hearts sweet enough for the season. Good for: class treats, Valentine's parties, dessert.
3. A Homemade Heart-Shaped Cake
You don't even have to have a heart-shaped pan (although it's handy, if you're interested) to bake a heart-shaped cake. Here's what to do: Take your favorite cake or brownie recipe (or boxed mix, here's one from Simple Mills) and bake a double batch. Pour one batch in a square pan and one in a round pan. Once baked, cut the round cake in half. Set the square cake in front of you like a diamond, and set each half circle on the top sides. Here's a post from Fabulously Frugal that explains it in detail! Good for: big celebrations, as a decadent dessert, galentine's parties.
4. Roasted Heart Potatoes–Cut in Hearts
Do you have a small heart-shaped cookie cutter (such as this one on Amazon perhaps)? If so, you have the perfect opportunity to give a new twist to roasted potatoes. Could there be a more perfect Valentine's side dish? Go to Hanielas.com to read the step-by-step instructions. Good for: Valentine's dinner, no matter who's eating it with you.
5. Heart-Shaped Eggs or Pancakes for Valentine's Breakfast
The only thing better than pancakes on a weekday morning has got to be heart-shaped pancakes when that weekday morning is Valentine's Day. Take a tip from Flourishing Foodie and buy molds in which you pour your pancake batter and let it cook on the pan. (Ps! also works for eggs!) Good for: Surprising your family or housemates, making Valentine's morning special.
6. Heart-Shaped Sandwich for Valentine's Lunch
Take your softest sandwich bread, cut it in heart shapes and fill it with peanut butter and jelly (or whatever you prefer! what about grilled cheese! or burgers!). You can use a cutter or go freeform with a knife; either way, the effect is undeniably a Valentine's treat. Good for: kids' lunches, work lunches, multiplied on a platter for a crowd.
7. Heart-Shaped Roasted Beets for a Valentine's Salad
You can buy beets already roasted at the grocery store or roast them at home yourself (place beets in Dutch oven with an inch or two of water, cover and roast at 375F for 30 to 45 minutes or until beets are soft). Then, slice them into rounds and cut those rounds into hearts! Whether you go big or small, the effect is show-stopping. Good for: anyone still on Whole 30, health nuts, salad lovers.
8. Heart-Shaped Hand Pies or Crust Cut-Outs
There are a couple ways to give your favorite pie a Valentine's spin. You could make hand pies in heart shapes, or you could cut hearts into the top crust of a double-crust pie. Pull out your favorite pie crust recipe (here's mine) and get creative! Good for: anyone who likes pie!
PS! Hunting for Gifts for This Heart-Shaped Holiday?
If you're shopping for someone you love this season, don't miss the Valentine's gift roundup posted earlier this week! Or, if you feel like browsing other gift ideas, check out the entire Gift Guides category or favorite Amazon Recommendations online.
disclaimer: this site uses Amazon affiliate links, through which it may earn small commissions on products purchased.