With fall just around the corner, early September is a great time to cook up a hearty vegetable soup with mini meatballs. Even better, this recipe from Savor calls for a long list of seasonal produce–perfect for using up what might be in your garden this time of year.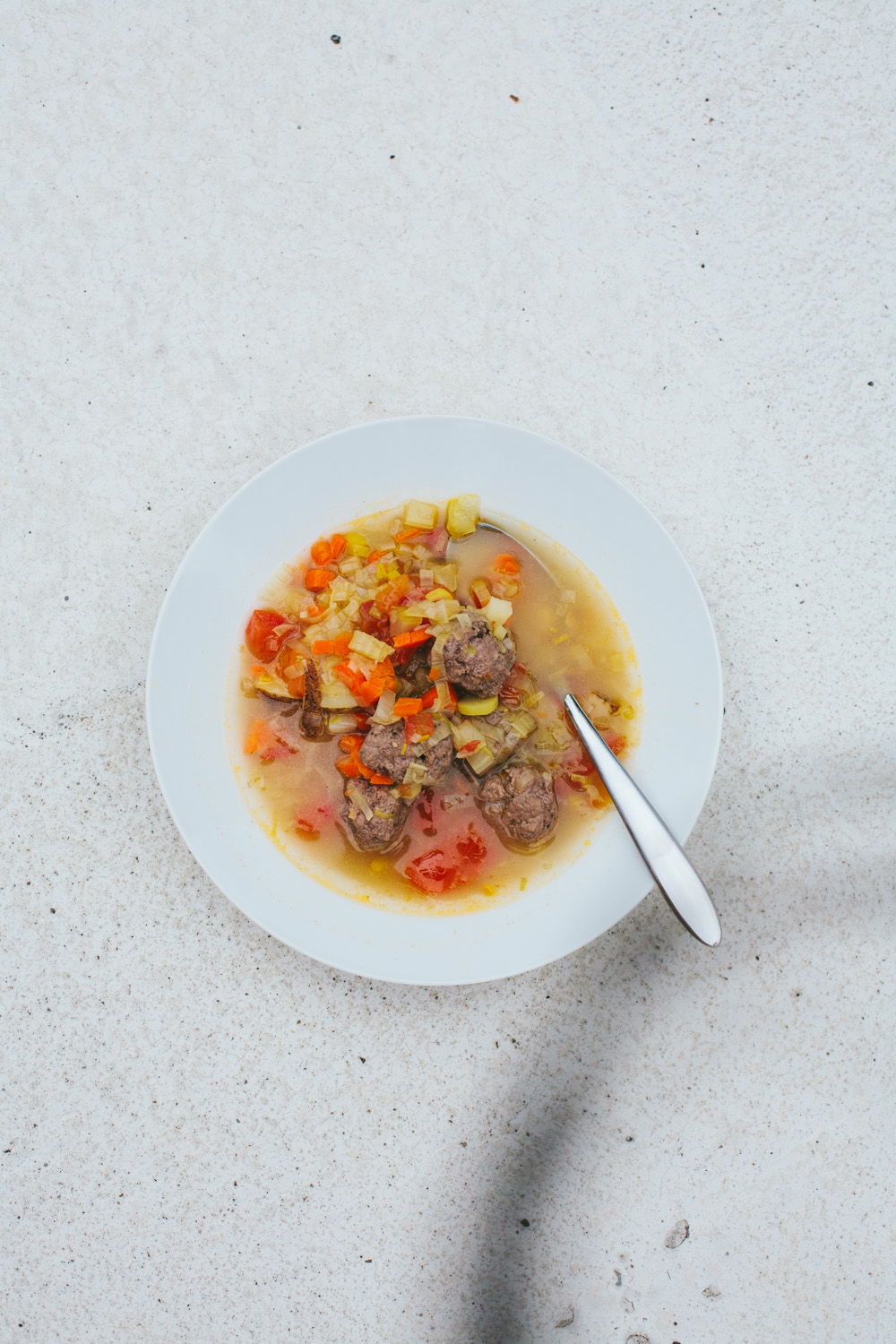 There are lots of reasons to love Ilona Oppenheim's cookbook, Savor. Large and hardcover, it's hefty enough to make an eye-catching centerpiece on your coffee table. Filled with idyllic photos in a natural matte finish, it's as pretty as anything you'll find in Anthropologie.
The book comes from graphic designer, photographer, mother, and home cook Oppenheim, a woman born in Switzerland who now brings her European sensibilities to life with her family in Aspen. She's a person who mills her own flour, drinks grass-fed raw milk and writes recipes that call for pasture-raised eggs, duck fat, homemade broth and ghee. Amazon reviews compare her to Gwyneth Paltrow or Heidi Swanson. The world she portrays is aspirational, filled with beauty.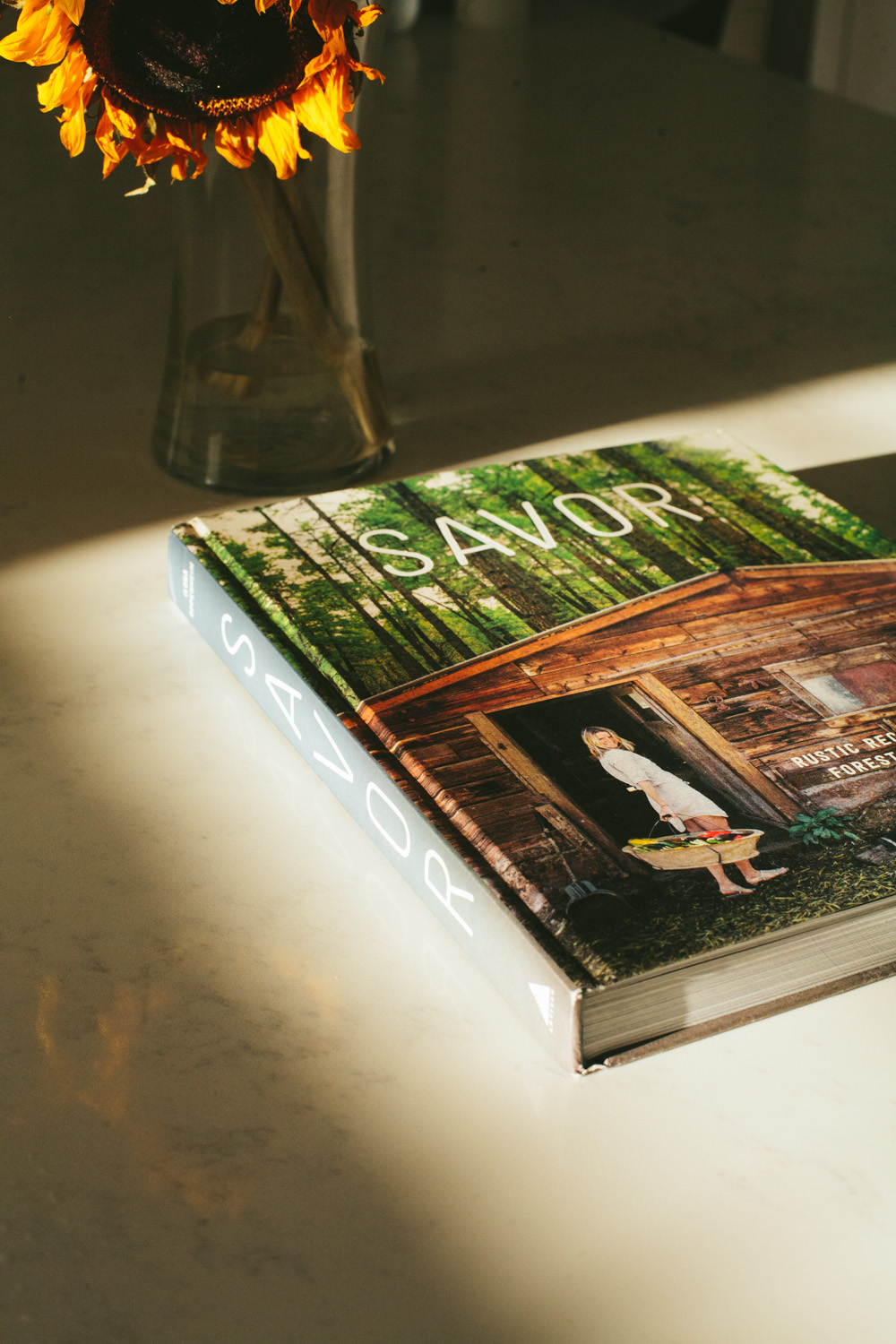 The Recipe I Keep Making from Savor
What I keep coming back to Savor for, however, is a recipe: one recipe, a simple soup spread on pages 38 and 39. Dubbed a "great way to combine a variety of your garden's vegetables into one healthy dish," the Vegetable Soup with Mini Meatballs is altogether surprising and delightful. In the last two weeks, I've made and adapted it twice.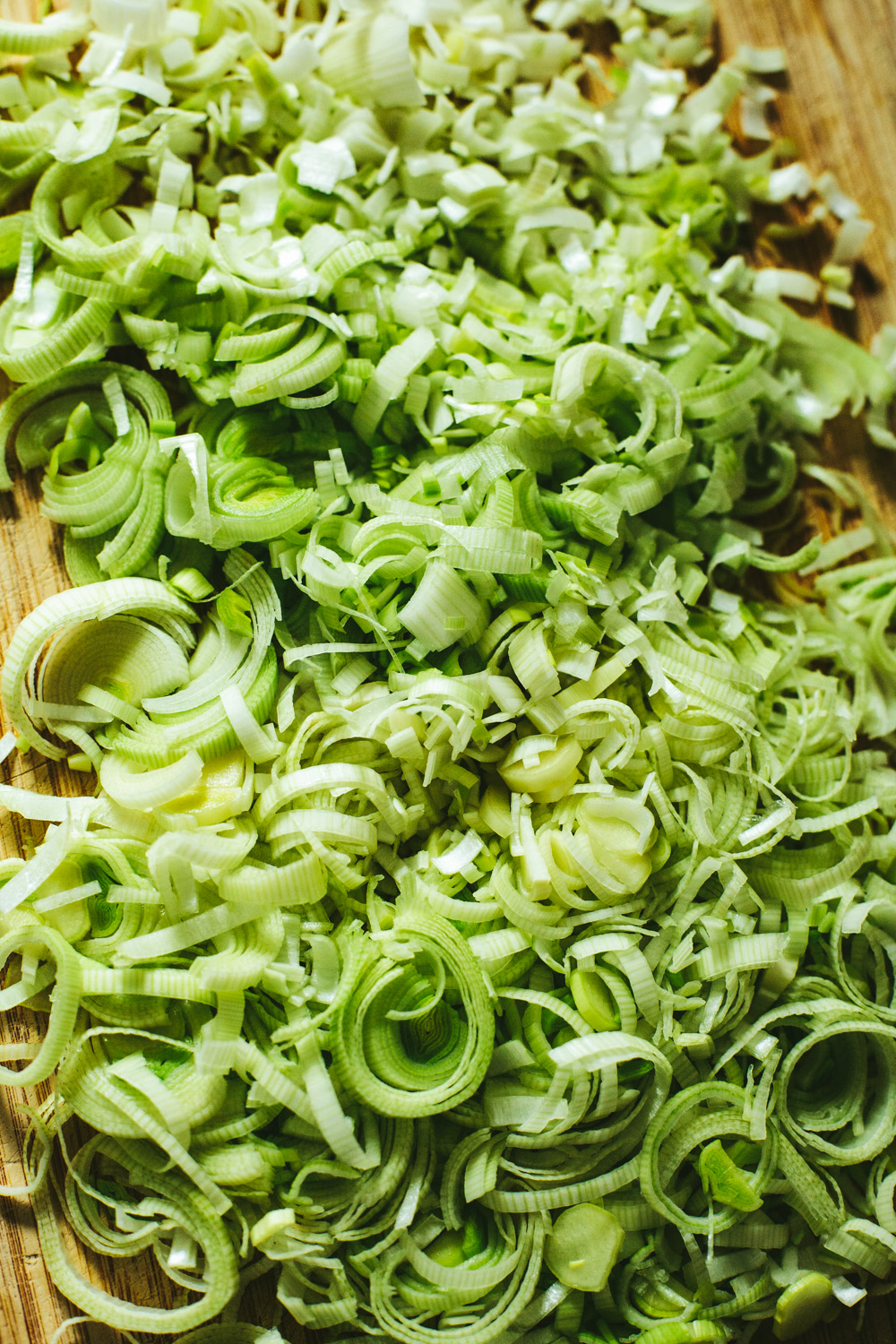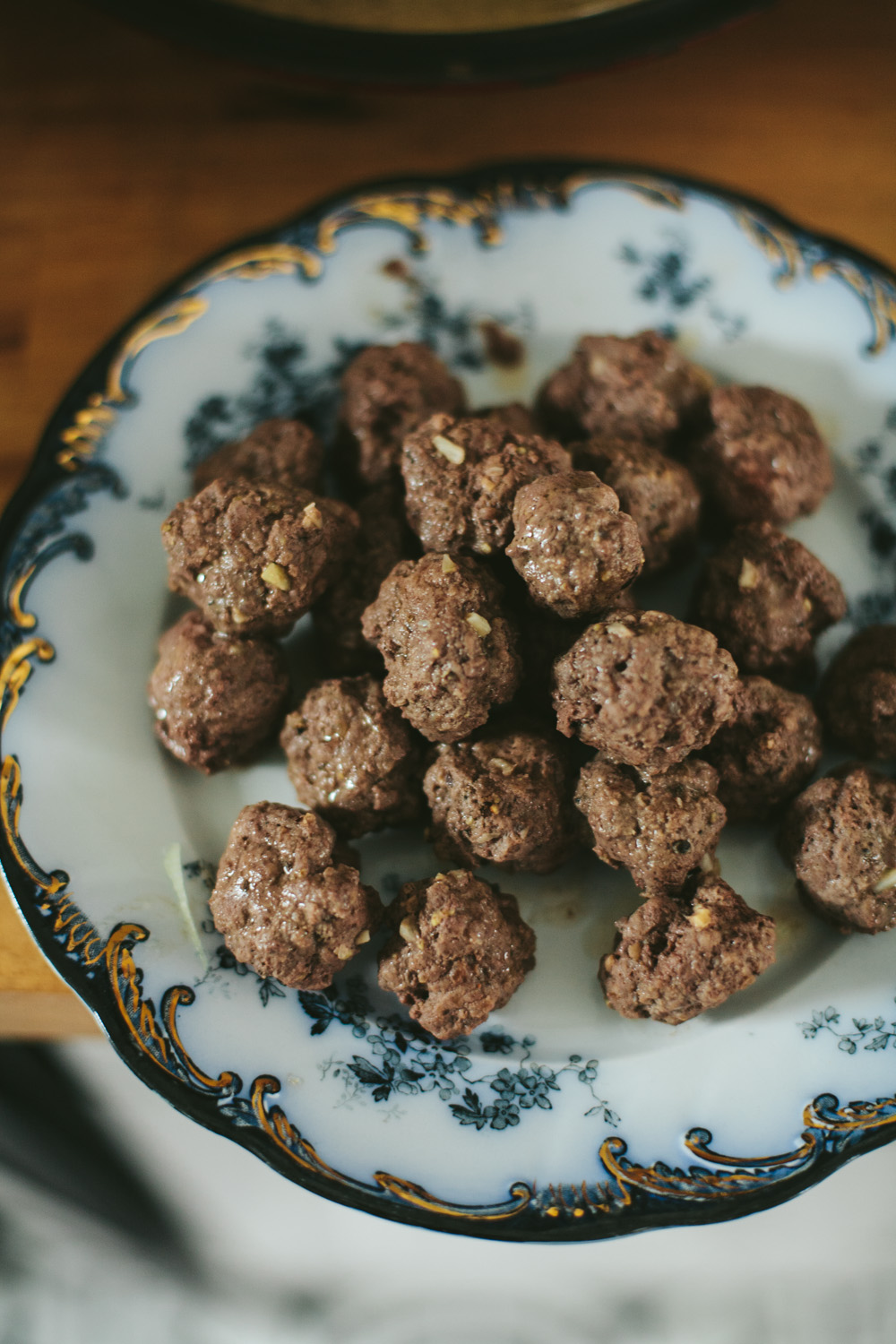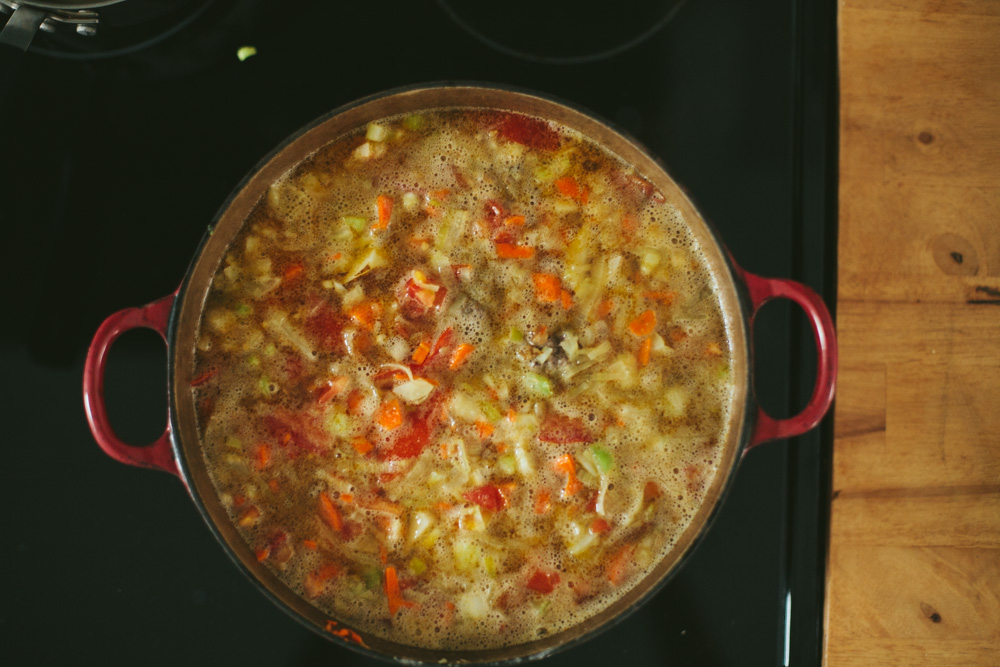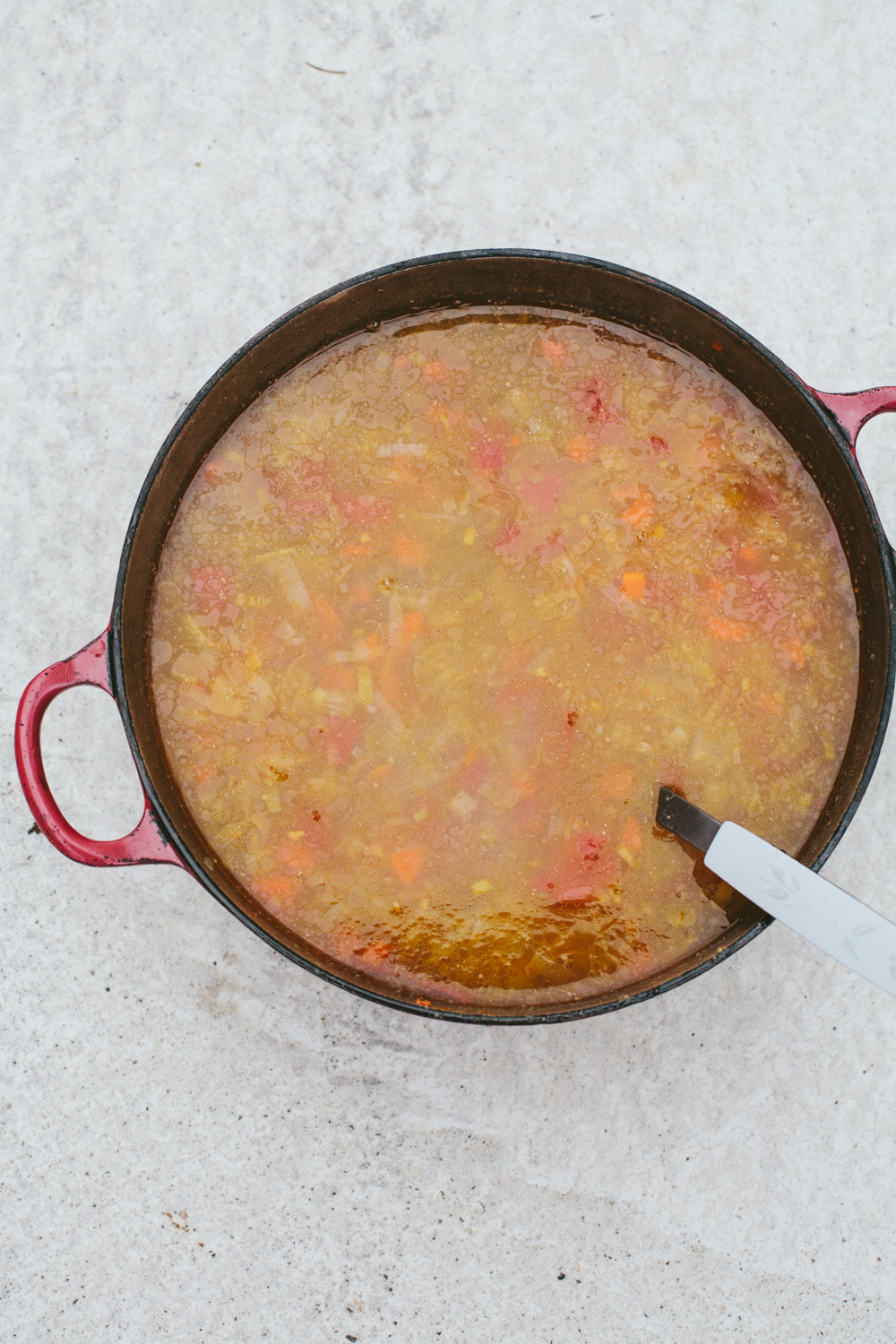 Oppenheim's Vegetable Soup with Mini Meatballs
Here's the idea: you mix up the world's simplest meatballs, sauté them and remove them from the pan. Then, right in the meat drippings, you sauté leeks, those aromatic relatives to onions and garlic whose layers always need a good rinse. Later, you add tomatoes. Then, you return the meatballs to the pot. Another handful of chopped vegetables joins everything, along with stock ("preferably homemade"), and you cook the mixture down.
All in all, it's relatively simple, pretty basic–yet the results are extraordinary. A tomato-esque broth bathes softened vegetables and savory, garlicky, little bites of meat. It's addictive, comforting and flavorful. It's a soup you want to keep eating, even if it's Nashville September so it's still 95F degrees. If you're, like me, into eating like it's fall even before the leaves change, don't miss this. If you're, on the other hand, still into all things watermelon and frozen dessert, tuck this one away.
Trust me: This is a recipe you'll want for cozy nights–if not now, soon.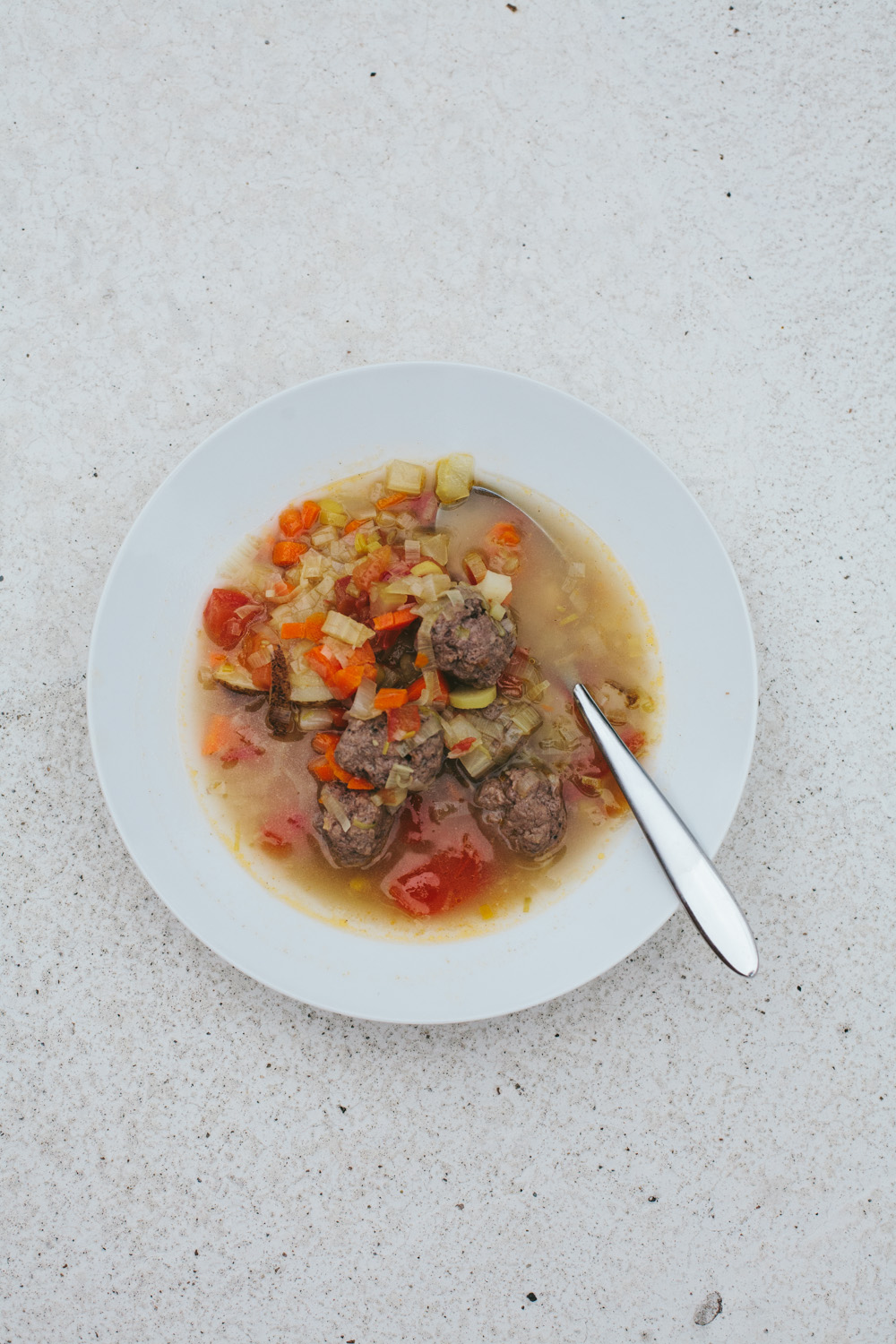 Vegetable Soup with Mini Meatballs Recipe
Adapted from Savor
Serves six
Note: My main adaptations from the original recipe are as follows: I use a tablespoon of butter instead of ghee to cook the meatballs, then I let the meat drippings cook with the leeks, instead of an additional tablespoon of butter/ghee. I use two leeks instead of a leek and two shallots (less to buy at the store). I toss in poultry seasoning in lieu of fresh thyme. And, I skip the suggested accoutrements of cilantro, parsley and scallions to serve.
Ingredients:
1 pound ground grass-fed beef (Ilona recommends 20% fat)
a garlic clove, smashed and finely chopped
1 1/2 teaspoons fine sea salt
1 teaspoon freshly ground black pepper
1 tablespoon butter (or ghee)
2 leeks, white and light green parts only, chopped
2 large tomatoes, chopped
64 ounces (2 quarts) chicken stock and/or water
4 carrots, peeled and chopped
2 celery stalks, chopped
2 medium potatoes, chopped
a hefty dash of poultry seasoning
Directions:
Combine beef, garlic, salt and pepper in a bowl, using your clean hands to mix everything together well. Form the mixture into small meatballs, about 3/4 to 1 inch in diameter. I, admittedly, lean towards the 1 or just over 1 inch side, but you do what feels right to you. Set them on a plate.
Warm a tablespoon of butter in a large stockpot over medium heat. Add the meatballs, sautéing until brown on the bottom. Use tongs to flip each one over until browned on the other side. Remove meatballs to a plate.
Add chopped leeks to the pot of meat drippings, and cook until they begin to brown, five to ten minutes.. Add tomatoes, and sauté for another five minutes.
Add stock, water (if using), carrots, celery, potatoes and poultry seasoning to the pot. Stir everything together, and cover the pot. Once the mixture comes to a boil, lower it to a simmer, and cook for an hour.
Oppenheim says leftovers keep for three days in the fridge.
disclaimer: this post contains Amazon affiliate links, for which I may receive a small commission on products purchased. on that note, have you checked out the shop page yet?