If there's anything better than fried chicken, it's fried chicken on a waffle. (Am I right?) Comfort food meets comfort food in this soul food classic. So here's a look at a lightened-up, healthier chicken and waffle recipe. Treat yourself to a bit of American history with this dish!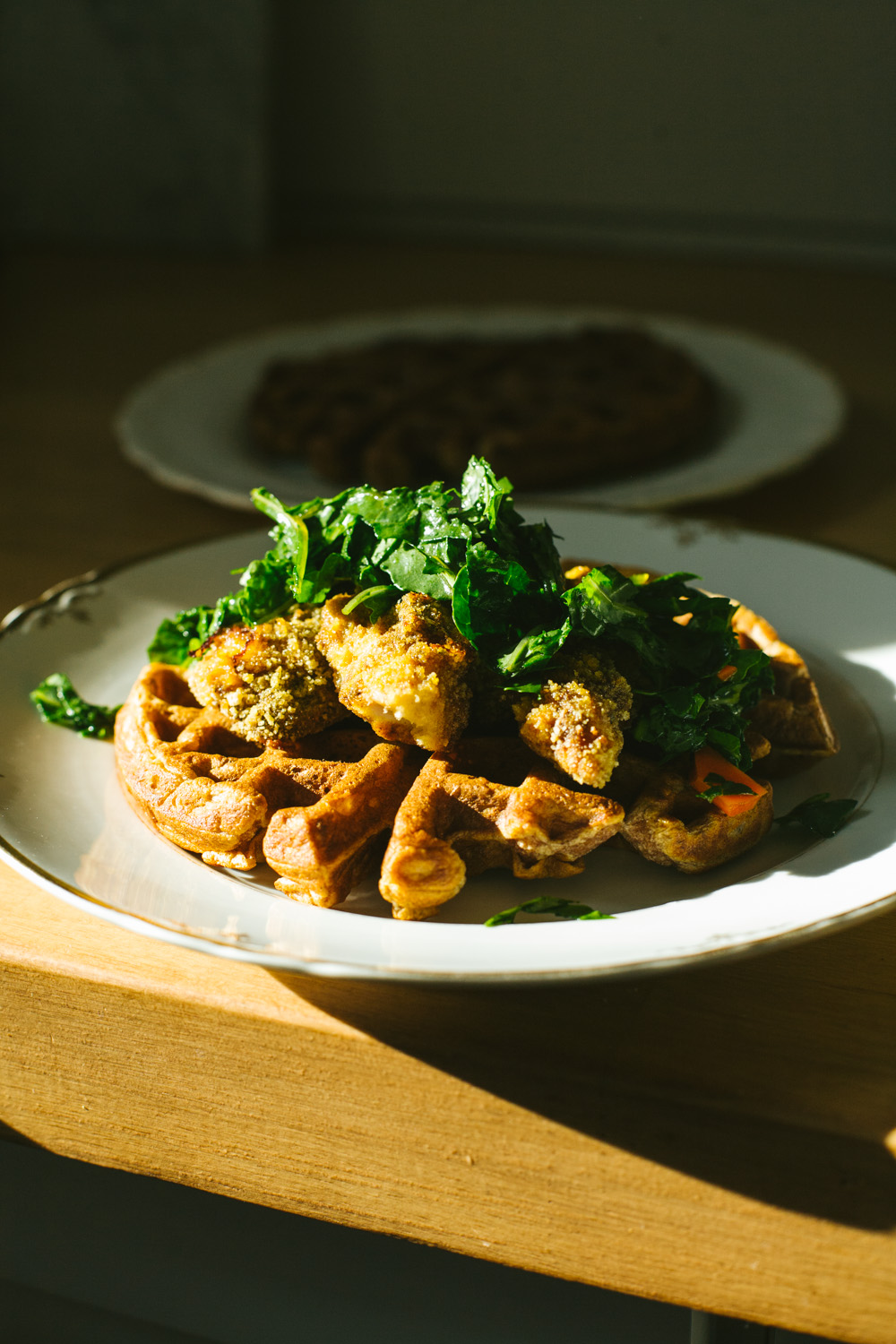 Here in Nashville, waffles are about as ubiquitous as hot chicken, at least according to an article in The Tennessean last year. At that time, there were dozens of local restaurants offering their unique versions of waffle meals, including the six featured in the piece.
The History of Chicken and Waffles in America
While PBS traces fried chicken back to African slaves cooking in Southern kitchens in the 1800s, waffles have an even older pedigree, brought in by 1620 Pilgrims who'd gotten the idea from the Dutch. What brought the two together is the same thing that brings many to Nashville now: music.
"A different, decidedly soul food-inspired approach to the pairing worked its way into popular culture much later with the opening of Wells Supper Club in Harlem, New York," says food writer Tori Avey at PBS. "The restaurant, known simply as 'Wells' to regulars, opened in 1938. Wells became a late night hotspot for jazz musicians, who would stop by late at night after their various gigs. The musicians, arriving too late for dinner but too early for breakfast, enjoyed the appetizing compromise of fried chicken and waffles."
Chicken and Waffles Today
So what began 80 years ago as nourishment for late-night musicians has grown today into a sort of cult sensation. Is it breakfast? Is it dinner? Who cares. You can serve it the traditional way, with syrup and butter. You can take a savory approach with salad and dressing on top. Regardless, it's hard to go wrong combining fried chicken with anything bread-y. We've got fried chicken and biscuits. We've got fried chicken on sandwiches. Don't fried chicken and waffles make sense?
Demonstrating the mass appeal of fried chicken and waffles, look up the hashtag on Instagram: more than 500K posts. So if you haven't tried chicken and waffles, now's your chance. Making it at home is as easy as combining a few recipes.
A Healthier Chicken and Waffles Recipe
While, true, the traditional version is hard to call good for you, you can make your own healthier chicken and waffles with a few tweaks:
Take the oven-fried chicken recipe posted on this site, combine it with your favorite waffles (or the sourdough recipe below) and top as you like. (Pictured is a slaw of baby kale and giardiniera.) Heavy and filling, the meal's still sort of a splurge. But it's also fun and celebratory, a meal that feels like you're eating out. Who needs takeout when you've got a dish like this to make?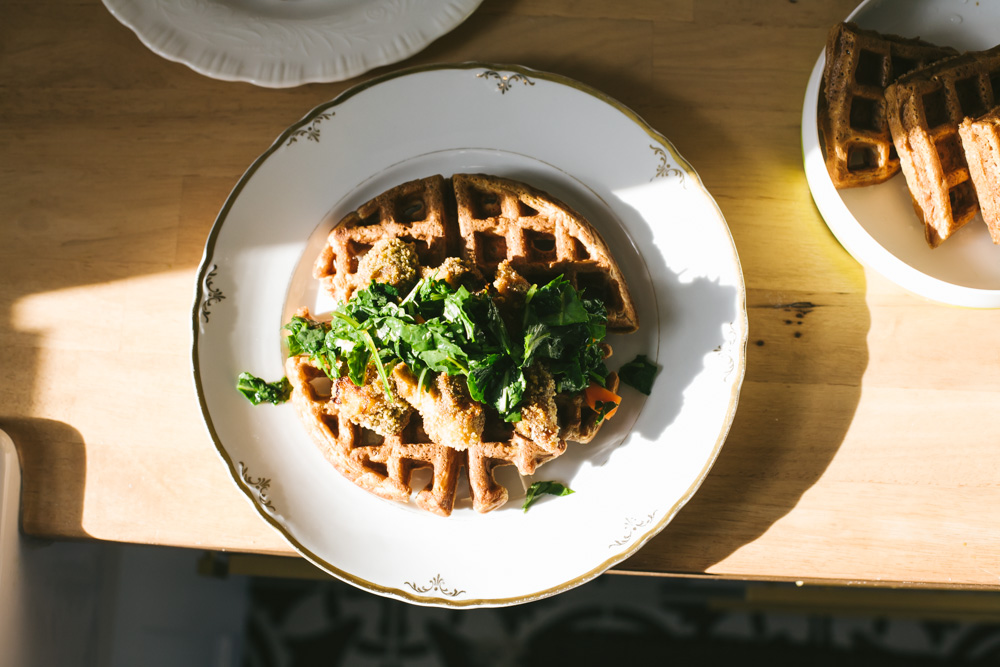 A Healthier Chicken and Waffles Recipe
This dinner is more of a concept than a recipe, and you can easily give it your own spin with the chicken spices, waffle version and toppings of your choice. Here's how I like them, below.
Ingredients:
One batch oven-fried hot chicken
One batch of homemade waffles (sourdough recipe below)
A small slaw of chopped kale, fermented vegetables and vinegar, to taste
Directions:
Assemble the dish by topping each waffle with a few pieces of chicken and then a handful of slaw. Serve immediately. Note: chicken and waffles may be made ahead of time and rewarmed as desired.
Crisp and Buttery Sourdough Belgian Waffles
Makes four waffles
Adapted from The Einkorn Cookbook (affiliate link)
The original recipe from our book does not include sourdough, so if you don't have a sourdough starter, you can feel free to sub in 20 grams milk and 20 grams flour in its place. Likewise, if you are looking to use up more sourdough discard, you can raise the amount by swapping out the same amount of liquid/flour.
Ingredients:
1 egg
40g sourdough discard, straight from fridge (mine is 100% hydration)
215g (a little more than 3/4 cup) milk
55g (1/4 cup) melted butter
105g (a little more than 3/4 cup) all-purpose or einkorn flour
1 teaspoon baking powder
1 teaspoon baking soda
1/2 teaspoon sea salt
1 teaspoon cinnamon (optional; omit if you want a pure savory flavor)
Directions:
Preheat waffle maker. Combine all ingredients in a bowl. Let mixture rest, covered, a few hours if possible, at room temperature. Pour into waffle maker according to its instructions.