Nothing says "Happy National Blueberry Month" like a no-bake blueberry pie. This version features two layers: a five-ingredient chocolate crust and a six-ingredient blueberry cream filling. Rather than cheese, the cream comes from cashews. Rather than baking in the oven, the pie chills in the freezer. It's gluten-free, dairy-free and takes maybe 15 minutes to blend. Try this sweet treat this season!
Whether it's because you've spent the day at the pool, you're away on vacation or your house doesn't have air-conditioning, no-bake desserts are a must for the summer months. There's no need to turn on the oven. You won't have to gather a lot of cooking gear. All you have to do is blend ingredients in the food processor (or blender) and chill them in layers until firm. Even better, the resulting pie is chilled. That means each bite is a cooling, refreshing blend of berries sweetened and blended with cashew cream–almost as good as sweet tea for taking with you to relax on the front porch. 
And, because a no-bake blueberry pie like this one is so fast and easy, anyone can make it. Even (supervised) kids can measure and dump a handful of ingredients in a food processor; close it; and press "pulse." If you have 15 minutes, you have time to whip this up–and know a treat is waiting for you the next day.
Blend, dump, freeze and wait: that's the kind of summer simplicity you can't beat in July in Tennessee. Wherever you're keeping cool this summer, try this easy combination and see what you think!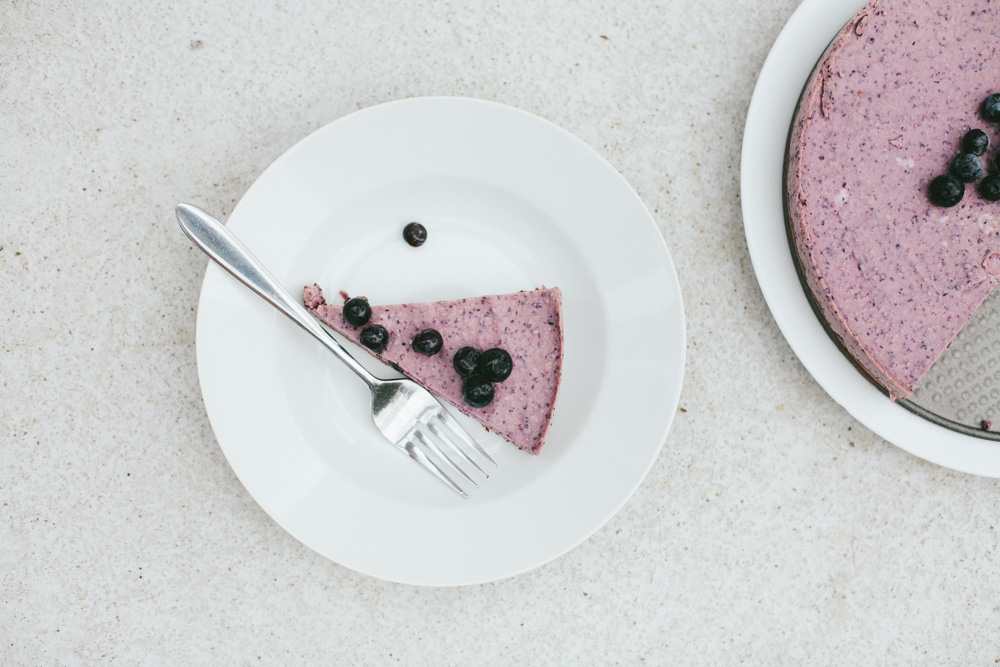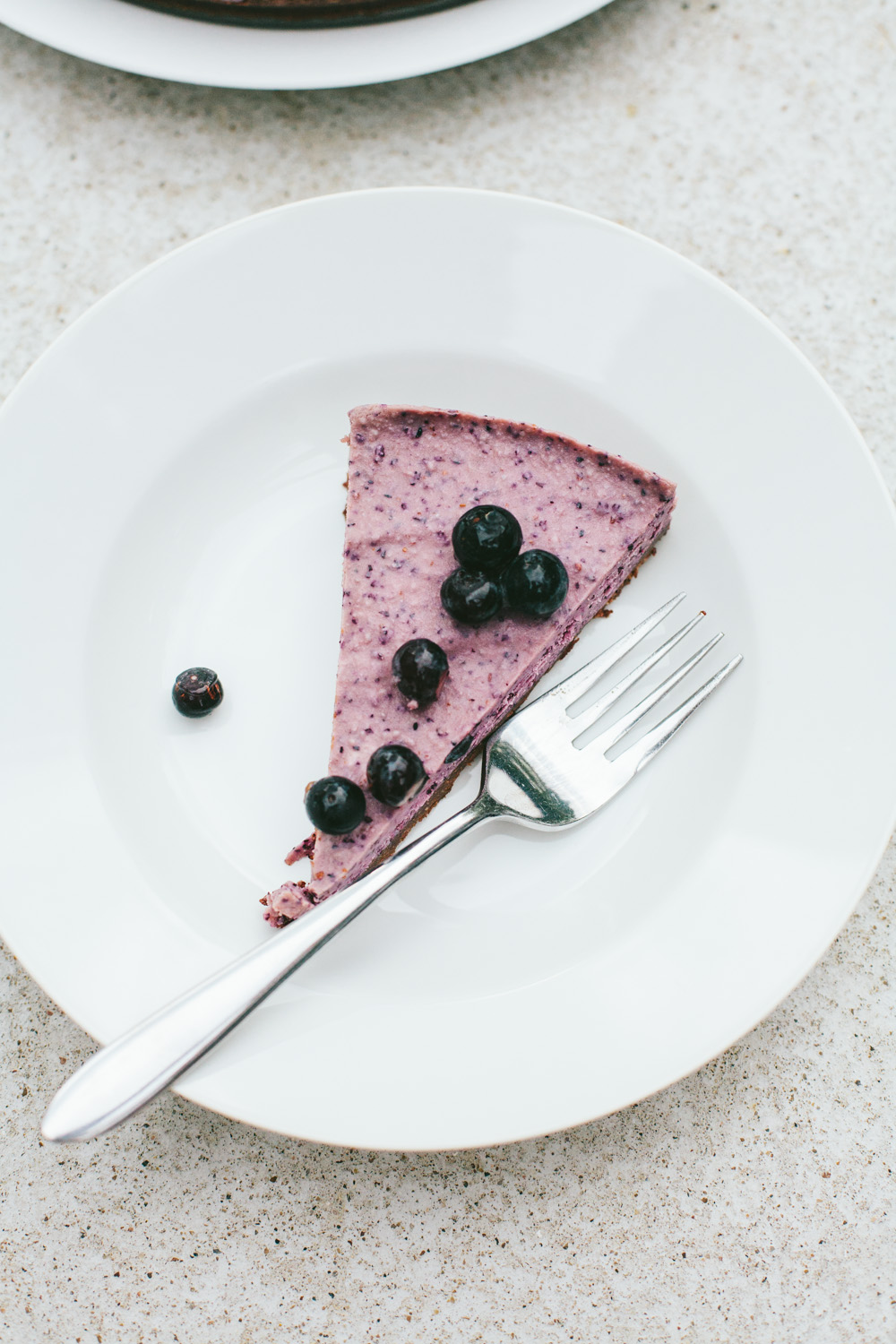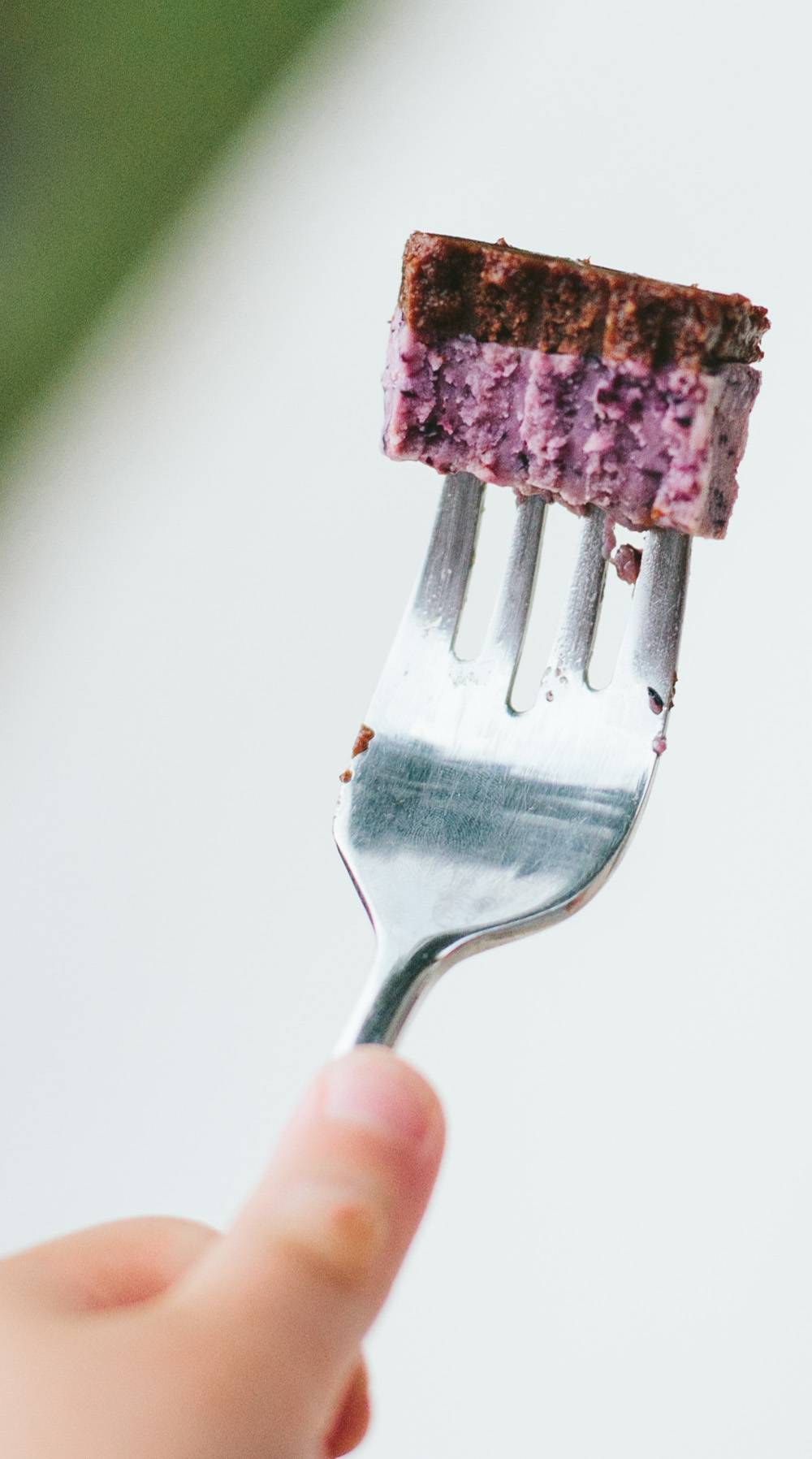 No-Bake Blueberry Pie with Raw Chocolate Crust
Adapted from Foodista
As written, this no-bake blueberry pie is lightly kissed with sweetness. As such, it makes a great everyday dessert–not too indulgent, yet satisfying and pleasant. If you want something more decadent, you could increase the honey, drizzle melted chocolate on top of the pie and/or create a third layer using strawberries or another fruit instead of blueberries. This last option would be great for creating a taller, more impressive looking raw cheesecake effect. (With oats in the crust, this pie is not technically raw, but it's along the same lines.)
Special equipment required: a food processor or high-speed blender; a small springform pan (although a pie plate or cake dish would also work). 
Crust Ingredients:
1 1/2 cups pecans
1/2 cup rolled oats (make sure they're gluten-free if you're sensitive to gluten)
1/4 cup cocoa powder
3 tablespoons coconut oil
1 tablespoon raw honey
Blueberry Cream Ingredients:
2 cups fresh blueberries
1 cup raw cashews
2 tablespoons vanilla extract
6 tablespoons raw honey (or more, to taste)
1 cup just-melted coconut oil (in summer, this is probably room temperature)
A hefty pinch of salt
Directions:
In a food processor, combine all crust ingredients, blending until the mixture starts to come together. Dump it out into a small springform pan (six inches would be ideal; I used my smallest, which is nine inches round). Use wet fingers to press and smooth the mixture into an even crust layer.
Clean out the food processor, and combine all the filling ingredients inside. Blend until completely smooth. Taste, and adjust sweetener if you like. Pour this mixture on top of the prepared crust. Smooth out the top as best as you can. Set the pan in the freezer overnight or, until firm.
To serve, pop off the sides of the springform pan and top the pie with fresh blueberries. Slice and carefully remove each piece to a plate. You can eat the pie at any temperature, but it's especially nice slightly thawed, after 10 to 15 minutes out of the freezer.
Here's What Testers Are Saying on Instagram
"I made this for a friend's birthday, but I didn't tell him it was 'healthy' until after he'd tried it. He loved it!" @Shawna_tq

"Made this last week and everyone loved it!" @ne_adventure