Say you want to send friends a little piece of Nashville. Or you like to shop local. Or, you're from anywhere else, but you appreciate handmade goods. Whatever the case, if you're looking for some gift ideas that showcase Music City's best, here's a Nashville makers' gift guide! In it, you'll find beautiful products made right in town (mostly with a food theme.)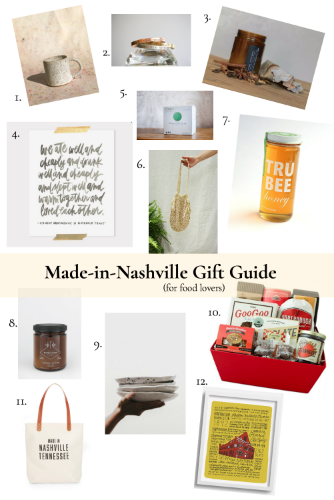 If there's one thing Nashville's not short on, it's creative talent. I love this city of hipsters and artisan goods. Everywhere you look, some passionate person is creating a business, selling stuff that's handmade. So here's a Nashville makers' gift guide. These are a dozen of the items I've found and liked, made here in my hometown, perfect for giving to someone you love!
This speckled mug features a cloudy off-white glaze with rusty mauve-toned speckles. Organic and earthy, it holds 12 ounces of your favorite beverage and measures 3.5 by 3.5 inches in size. (For ceramics inspiration, follow Alexia on Instagram here.)
This gift idea doesn't have to do with food, but it's too good not to include: beautiful minimalist cuffs, bracelets, necklaces, etc., made by survivors of human trafficking. Branded Collective partners with local nonprofit End Slavery Tennessee. It not only provides survivors with meaningful work, but it also raises funds for ESTN with a 10% direct give-back on all sales. Each piece features a unique number, as well as the initials of the survivor who made it. I'm ordering one soon.
Nothing gives clarity and calmness to cooking like taking time to light a candle and take a deep breath. For a Nashville-made option, check out Brown Fox Collective and its candles created right here in town. Bonus perk: free pickup in East Nashville.
This beautifully hand-lettered print would be great for framing for the kitchen. "We ate well and cheaply and drank well and cheaply and slept warm and well together and loved each other."
Local tea maker Firepot offers a wide selection of teas, such as this lovely matcha-covered sencha.
Naturally dyed with osage orange wood, this Nashville-made tote would be perfect for taking to farmer's markets next summer! Each bag holds up to 40 pounds.
Local honey company TruBee offers three varieties of raw honey, all made by "free-range" bees. Side note: my Justin's peanut butter cup wrapper today said one in three bites was made possible by bees. What! Woah.
If there's anything better than hot chocolate, it's hot chocolate combined with medicinal mushrooms. Treat someone to the adaptogenic powers of these ingredients, easy to combine with hot water or warm milk for a treat!
These handcrafted pasta bowls are absolutely charming, featuring a wide, shallow design that's perfect for pasta and sauce. They are also safe for dishwashers and microwaves.
You can't go wrong with a gift basket filled with gourmet goods local to Nashville. This curated selection from High Note Gifts features an Olive & Sinclair chocolate bar, Bongo Java coffee, Soberdough Bread Mix and more.
This canvas market bag features leather straps and the words "Made in Nashville Tennessee" on the side.
Created by local artist Joanna Dee, this print showcases the history of the Ryman Auditorium in a fun, whimsical illustration.
Do you have other favorite makers here in Nashville? I'd love to hear about their work! Message me here.