Hunting for the perfect gift for someone who craves the kitchen? Try little luxuries that make everyday cooking more fun. In this 2018 holiday gift guide for food lovers, I'm sharing a few favorite finds that'd make great gifts! You can also check out the Nashville Makers Guide here.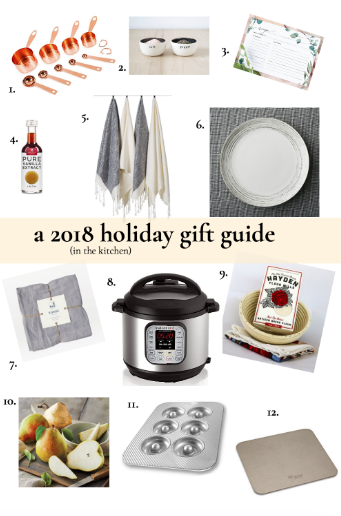 1. Copper Measuring Cups and Spoons
Anyone who bakes regularly can appreciate the beauty and value of this measuring cup/spoon set on Amazon. Made of copper-plated stainless steel and priced under $25, this is a great find!
2. Salt and Pepper Spice Bowl Set
This charming ceramic set of bowls holds your salt and pepper in style. Plus, using bowls instead of shakers makes it easy to grab a dash or pinch of what you need.
3. Downloadable Recipe Cards
Have a relative whose recipes need to be recorded? A friend who's always scribbling recipes on random paper? There are lots of recipe cards you can download on Etsy, but these Bohemian ones from dandylionpaper are especially lovely.
4. Pure Vanilla Extract
Here's a gift that's as practical as it is a luxury: pure vanilla extract in a pretty jar. With vanilla prices being what they are, any home baker will appreciate this ingredient, useful in almost every cookie, cake or muffin.
5. Turkish Kitchen Towels
Highly absorbent, quick to dry and known to weather well, turkish towels are a great addition to any kitchen (or bath). This set on Amazon is affordably priced and comes in various colors; I have the black/white combo set and love it.
6. Lto 12″ Platter
When it comes to bang for your buck on serving ware, Crate and Barrel is hard to beat. This 12-inch platter is a perfect example, priced at $40 for a piece that mimics handmade.
7. Linen Napkins
Nothing wears as well as the timelessly beautiful material linen. While this West Elm set is a linen-cotton blend, it's a great treat (and value!) for anyone who values quality textiles.
8. An Instapot
If you don't already own one, didn't buy one on Black Friday and haven't been convinced by last month's posts, maybe now's the time to buy an Instapot? Amazon has this six-quart version on sale for under $70.
9. Artisan Bread Kit from Hayden Flour Mills
For the friend who's been wanting to break into bread-baking, this gift set from Hayden Flour Mills is a perfect choice. It includes a bag of the company's own heritage bread flour, alongside a wooden proofing bowl and a charming tea towel.
10. A Box of Pears
One of my clients sent me a box of Harry & David pears a few years ago, and it was one of my favorite corporate gifts of all time. What's great about this affordable five-pound box is that it's ideal for all diets: gluten-free, grain-free, vegetarian, paleo, you name it.
11. A Donut Pan
This is the aluminized steel donut pan I own, and it's perfect for making your favorite doughnuts, such as these doughkies, for example! If you've been wanting a way to make doughnuts at home and waiting to pull the trigger on a purchase, I recommend this one.
12. A Baking Steel
A pizza stone is an invaluable kitchen tool, one I use each week. One highly rated and esteemed version of the pizza stone is what's known as a baking steel: made of ultra-conductive steel and possible to use as a stovetop griddle. Follow Andris Lagsdin @BakingSteel on Instagram to learn more!
*disclaimer: this site uses Amazon affiliate links, through which it may earn a small commission on purchases made.