This post on freezer meals for new moms is part of a series of articles on bringing meals to friends who've had babies or are sick. Interested in learning more? See also Instagram survey results and this interview with Amanda Waddell. Or, if you have an idea or feedback on the topic to share, message me anytime!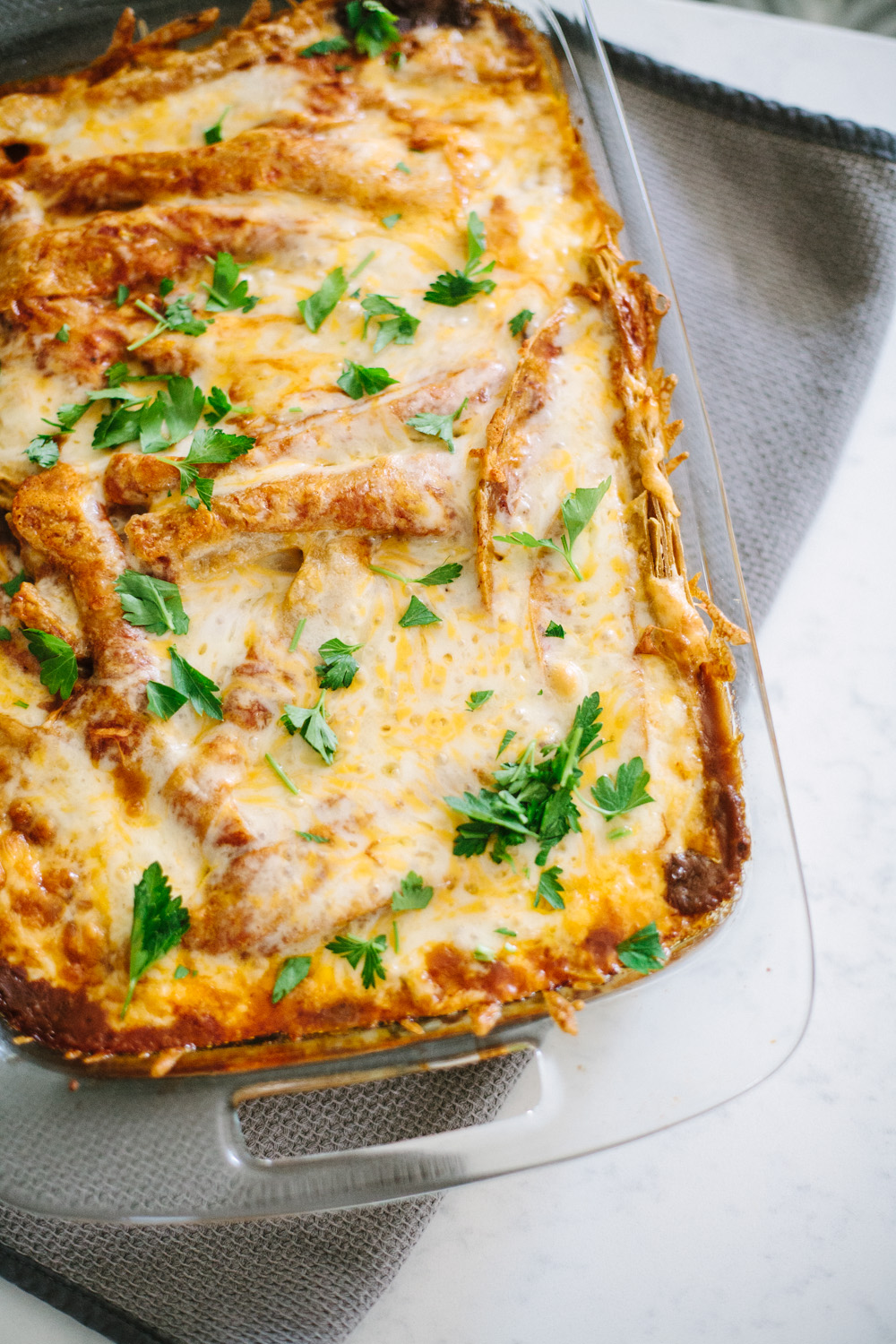 Have a friend who's been in the hospital? Are you pregnant and prepping for those postpartum days? Whatever the case, when you want meals that can be made ahead of time, frozen and then popped in the oven, here's a roundup of great ideas for freezer meals for new moms (or anyone in a tough spot). Browse through and get inspired with what to bring or prep! All recipes feature comforting meals that can be brought fresh or frozen.
You Can't Go Wrong with Soup
The benefit of bringing someone soup is that it's convenient (one pot), warming (great for winter) and, with so many possibilities, adaptable to all kinds of tastes and dietary preferences. Plus, soup is usually easy to double up and easy to freeze. Bring a mom dinner tonight, as well as a meal for weeks from now! Pro tip on transportation from Amanda Waddell: save old yogurt containers the mom won't have to return.
Zuppa Toscana / Genius Kitchen. This Olive Garden copycat recipe was a favorite of several Instagram respondents on the new-mom meals survey. Also worth checking out is this healthified version (gluten free, dairy free) from Bloom and Nourish.
Italian Wedding Soup / Spinach Tiger (Paleo Friendly, Keto). Who wouldn't love a comforting bowl of broth that's filled with homemade meatballs? To make this soup–a "marriage of meat and vegetables"–sans gluten, blogger Angela Roberts uses riced cauliflower instead of pasta. Plus, bonus idea: "You can make extra meatballs and keep them frozen," Roberts says.
Vegetarian Tortilla Soup / Cookie + Kate. For the friend who likes a meatless main, you can't beat this vegetarian recipe from Cookie + Kate. It's also free of gluten as long as you buy gluten-free tortillas.
Cream of Mushroom and Roasted Garlic Soup / Vanille Verte (Dairy Free). If you're bringing a meal to someone who can't have dairy, here's a creamy, comforting dish high in the antiviral, antifungal and infection-fighting power of garlic, as well as the immunity-boosting and inflammation-lowering benefits of mushrooms. Rather than dairy, it uses 1/3 cup of cashews for the cream factor.
Enchiladas for the Friend Who Loves Mexican Food
Who doesn't love tortillas stuffed and baked with sauce? To bring a friend a Mexican-themed meal, you can't go wrong with a tray of enchiladas. Take this idea chicken, beef or even vegetarian. Here are a few favorite ideas:
Enchiladas Two Ways and Freezer Meals / The Faux Martha. This 2012 recipe from The Faux Martha makes two trays of enchiladas, one to eat and one to freeze–perfect for treating a new mom to both a meal for tonight and a meal for another night when she's too tired to cook.
Freezer Chicken Enchiladas / Damn Delicious. Use rotisserie chicken and packaged enchilada sauce in this recipe, and prep work is as almost as easy as grabbing takeout. It goes straight from the freezer to the oven, too, making it a perfect dish to bring to a new mom.
Black Bean Sweet Potato Enchiladas / Cookie + Kate (Vegetarian). Even carnivores will appreciate the flavor combination of black beans and sweet potatoes covered in salsa verde and cheese.
Healthy Mexican Casserole with Roasted Corn and Peppers / Pinch of Yum (Vegetarian). Not exactly enchiladas but along the same theme, this dish could be completely prepped, but then frozen and pulled out later to bake and serve. Its layers are essentially "corn tortillas, refried beans, roasted peppers and roasted corn, enchilada sauce, cheese, and repeat," a naturally gluten-free (as long as you buy gluten-free tortillas), vegetarian dinner idea.
Taco Kits for a Ready-to-Assemble Dish
A 2015 post from The Kitchn describes freezer taco kits as "a genius freezer dinner, especially when the tacos and cheese are packaged together with the meat." To make a kit, all you need to do is prep a filling, bag it and freeze it alongside bags of cheese and taco shells. To make it extra special for a friend, "embellish with fresh toppings, like pico de gallo or homemade guacamole." Here are a few filling ideas to try!
The Best Ground Beef Tacos / Mel's Kitchen Cafe. It'll only take you 20 minutes to put together together this taco filling, which can be adapted to turkey if you like. Among the 197 comments posted online are reviews such as "The recipe is perfect and we love it, I make it about once a week now" and "I'm not buying anymore taco seasoning ever again!!! This is so much better and I know exactly what goes in it and what we're eating."
30-Minute Pulled Chicken Tacos / Fashionable Foods. Here's another fast-prep taco idea: a simple poached chicken recipe that can be quickly cooked and then shredded for tacos.
Roasted Veggie Tacos / Inspired Taste (Vegetarian). Adaptable to the vegetables you have on hand, this Inspired Taste recipe gives you a vegetarian taco option that can be made days in advance
A Pasta Dish–but Not That Pasta Dish
When it comes to meal deliveries, pasta can sometimes get a bad wrap. It can be heavy; it can be boring; it can be overdone. The following dish, however, is anything but. If you want to bring a mom a filling meal big on comfort, try this one:
Herbed Summer Squash Pasta Bake / Smitten Kitchen. Developed by blogger Deb Perelman for her own postpartum period in 2015, this dish is already written doubled. This means you get two meals–maybe dinner for you and a new-mom meal for a friend? It's also decidedly outside the box of ho-hum recipes. While the prep work is a little labor-intensive, it's been called "wonderful," "truly truly spectacular" and "like a whole new mac and cheese that makes me feel healthy(ish)" by reviewers. One commenter even said though she was "pregnant and really not much into food right now, this was great."
And a Few More Ideas Just for Fun
Breaded Chicken Cutlets / Martha Stewart. It's hard not to love what is essentially the adult version of homemade chicken fingers. Made to be cooked and then frozen for fast reheating, this recipe shows you how to prepare 10 cutlets to crispy perfection, freeze them and then reheat them at any point in just 15 minutes flat.
Chicken and Vegetable Hand Pies / Cooking Light. Whip up these hand pies any time, and you can freeze them for up to six months. When you bring them to a friend, they're ready to bake, straight from being frozen.
So there you have it: 14 freezer meals for new moms to try. Do you have any other freezer-meal ideas that you've given or received and loved? Tell me about them via the Contact form!