When it comes to food gifts for new moms, Amanda Waddell is an inspiration. She occasionally posts her meal deliveries on Instagram–thoughtful, nourishing packages of homemade meals and treats–before she drops them off to someone. They're just incredible. So, curious to learn more, I recently quizzed her about her hobby. Read on to see what she had to say about taking meaningful meals to new moms! All photos used with permission from Amanda Waddell.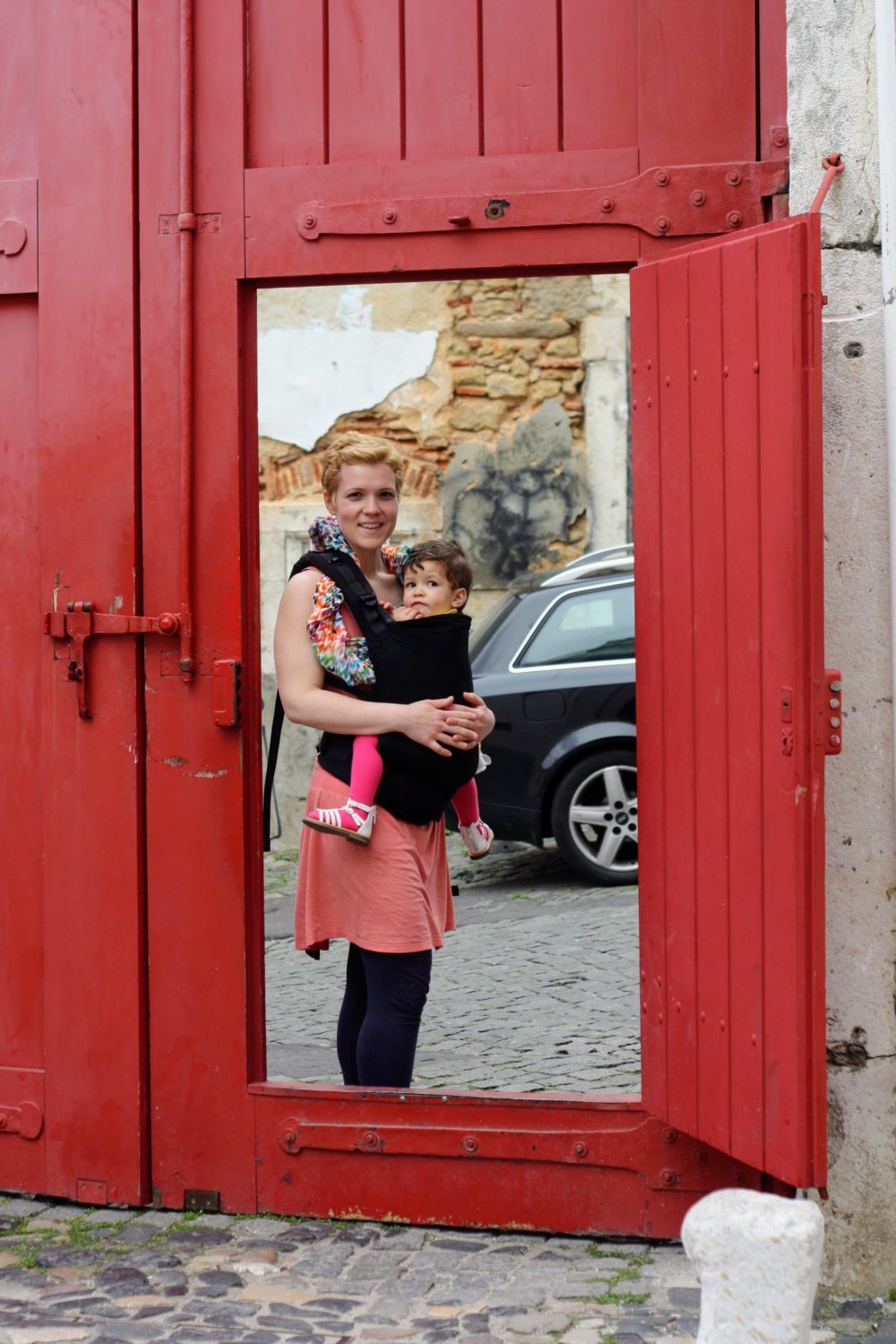 Tell me about the meal packs and food gifts for new moms that you make. How long have you been doing this, and how did you get started?
I made some meals and snacks for friends before I had my own baby in 2016, but it wasn't until after I had my daughter that I realized how hard those first few weeks/months really can be. After that I made a vow to myself that I'd pay it forward whenever I possibly could, and really be part of the "village" every mom needs and deserves. So now I make meals for both friends and for women I know through a holistic moms group I am part of (whenever someone has a baby, a call goes out and anyone can sign up). I don't always know the women well, but in a way I think that can make it seem even more special.
Is there a typical plan for what you include? How do you decide what to give?
I usually do a full meal plus some extras. I like to ask beforehand if there are any types of cuisines or flavors that the family is really in the mood for (or are totally sick of). We cook a lot of Indian food at home because that's where my partner is from, so I'm always particularly psyched when that's a request.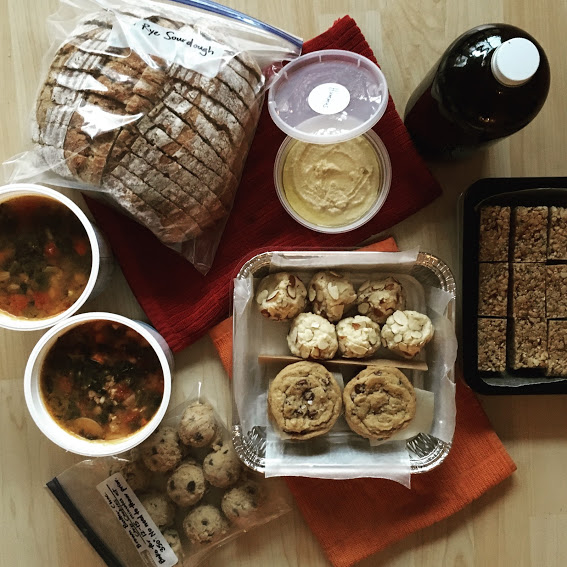 Do you have any go-to recipes you make for mom meals?
There's a ribollita soup on my blog that I like a lot, especially as you can package one container to eat right away, and another to freeze for a future meal (I save all of our plastic yogurt containers for this purpose). I also love to include homemade bread (sourdough, rolls, flatbread, anything), and snack bars (these are always a hit) or something sweet. I'm pretty crazy about having a really well stocked freezer to make meals from, so that also makes it a lot easier to execute my overall plan. For example, I always have beans and broth in there for soup, and frozen balls of cookie dough ready to bake off (can't recommend this last one enough).
But if you just want to do one thing–which is totally great too, trust me!–you can never go wrong with a batch of freezer burritos, chicken taquitos, or even a simple grain salad made with whatever grains/pasta and veggies you can think of or have on hand (I'm especially partial to Israeli couscous tossed with roasted butternut squash, dried cherries, chickpeas, spinach, olive oil, and feta).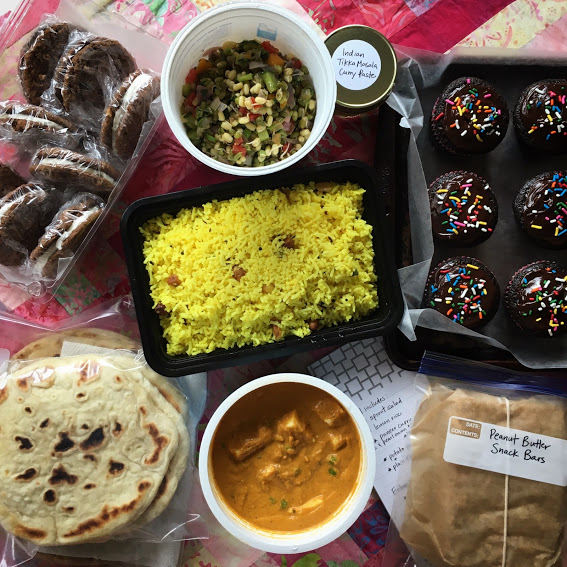 How do moms react to this? What do they usually love–do certain types of items or specific foods stand out?
Well I've heard nothing but good things, so I'd say they've all been happy customers! In terms of specific foods, I think having one component that they can make in the future or freeze is always fun. I recently included a jar of homemade Indian tikka masala paste that can be made into a future meal using just a can of coconut milk and diced tomatoes (plus any protein or veg you like), and I'm thinking I'll be keeping that one in rotation for those who like a little spice.
Why do you think this matters?
For me, this whole practice goes way behind just filling bellies. It's a way to show up and say "Hey, I see you. These days are lovely, and hard, and hazy, and everything in between, and you don't need to do it all by yourself. Here's a warm meal and a high-five from me."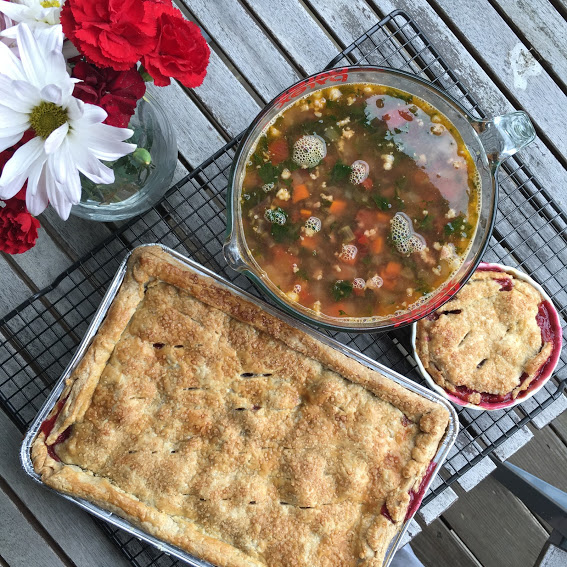 As a mom yourself, you've been through the postpartum days and life with a newborn. What was most helpful to you when people visited or brought things by?
Honestly, ANYTHING was a treat. We had a really rough and traumatic first few weeks because of breastfeeding issues (coupled with the very unfortunate incident of our fridge and freezer breaking while we were at hospital–meaning we lost ALL the food I had stocked up), and I was ready to cry at the drop of a hat. I remember a friend calling from Starbucks asking if I needed a coffee and basically thinking she was Wonder Woman when she showed up at the door with a cappuccino. It's just such a vulnerable time that I think any little act of kindness–be it food or even just a text–goes a long way.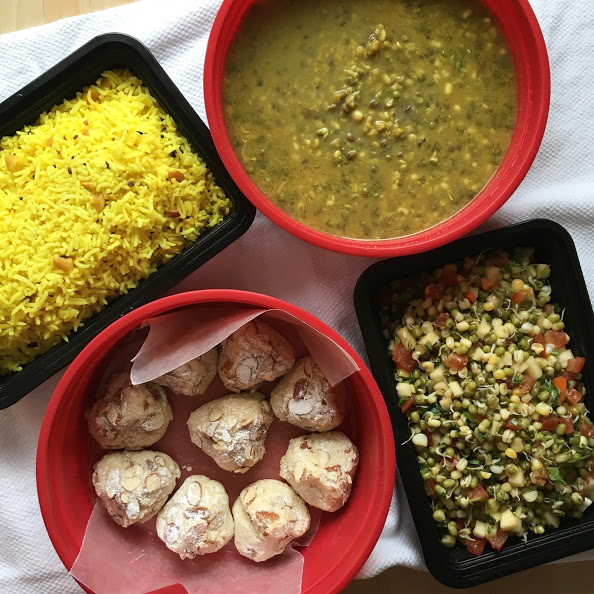 Most people want to help their friends or family when a new baby comes, but some are intimidated by making a meal or unsure of what to bring. What advice would you give to someone doing this for the first time?
If you don't like to cook or feel intimidated, know this: anything you do will be appreciated. Buy a rotisserie chicken, deli salad, and loaf of crusty bread, or even just a pack of cookies from your favorite bakery. It may seem small to you, but it's certainly not to a new mom who's still wondering how to even get out of the house.
Thank you, Amanda! This is a beautiful practice, and you've described it so helpfully here.
For any of you now reading this who are now asking what I was asking, "Is Amanda going to turn this hobby into a business?" She said for now it's just her hobby. However, she also said if you're in southern New Hampshire or North Shore Massachusetts and interested in talking about a delivery possibility, she'd be glad to talk to you–so follow her and connect on Instagram!
Amanda Waddell is a cookbook editor (full disclosure, she was our cookbook editor [affiliate link]) who lives in New England with her partner and two-year-old daughter. She shares her cooking adventures on Instagram @eat_and_edit.