Looking for Fourth of July desserts that are fun, adorable and easy to share? Take your standard fruit pie and miniaturize it in muffin cups. I mean, think about it: is there anything cuter or more seasonally appropriate than mini lattice-topped fruit pies, filled with red and blue fruits?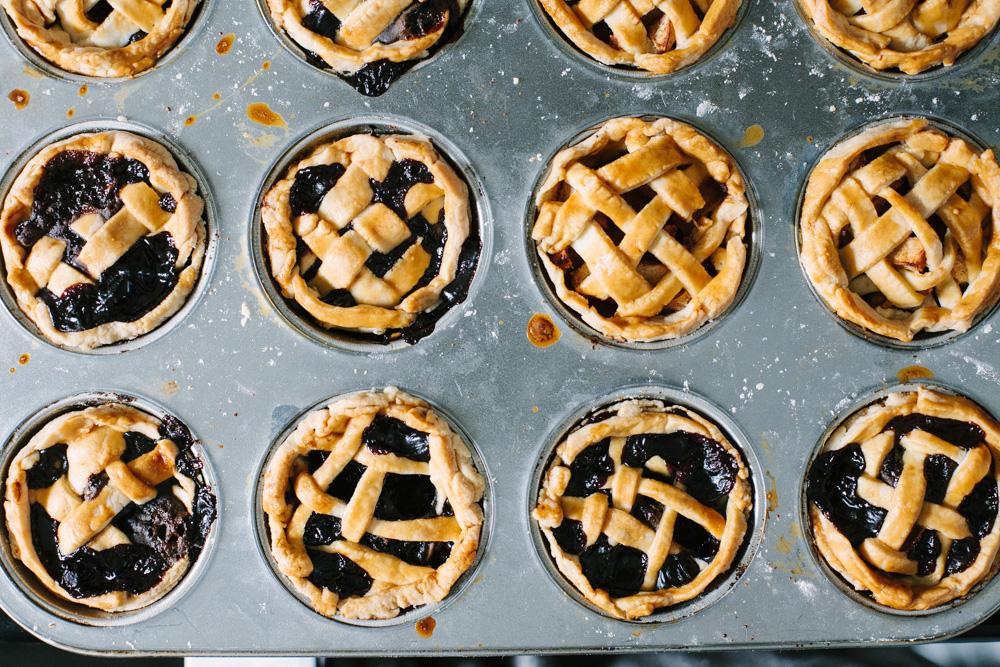 Let's say you're going to a picnic or potluck in the next few weeks. You want to bring some cute summer dessert–a dish that tastes great, looks good and is kid-friendly if possible. You could bring ice cream, but it melts. Brownies, cake or cookies, but you're uninspired. Then you remember pie and picture it: a golden, lattice-topped pie filled with red and blue fruit. Even better, you think, why not up the cute factor by making the pies mini, little hand-held treats baked in a muffin tin?
In the last few weeks, I tested this idea four times: with coconut oil, with sourdough starter, with butter, with different variations on the proportions. I found out what makes the dough collapse (rolling it too thin) and what makes the lattice fall (not pressing the top and bottom crusts together well). I discovered how to successfully use sourdough discard in the crust and what that does to the flaky factor (sadly, takes some of it away).
You can fill mini pies with anything. Here, I created a festive red-and-blue berry mixture that deepens to a dark blue hue. In the end, the miniature look was (1) always cute, (2) received well by both adults and toddlers and, while not exactly a beginner recipe, (3) fairly simple thanks to the food processor.
So here's how it works, with a few helpful tips at the top.
A Few Tips and Discoveries about Making Mini Pies
As compared to butter, coconut oil makes the pie dough easier to work with (i.e., a little more foolproof). If you're new to pie, starting with coconut oil in the recipe might help.
Coconut oil creates sturdier pies (i.e., less chance of breakage). If you're going to be serving these to a crowd and want extra insurance that the dough holds together, again, coconut oil might be the way to go.
But, here's the reason I am still Team Butter with pie: coconut oil also results in a less flaky and flavorful dough. This is pure preference, but I firmly believe butter makes better-tasting pies. I feel I owe you honesty.
On using sourdough starter: if you want another way to use up discard as well as the health benefits of working sourdough into your dough, it is possible here. Here's how: swap equal weights of your 100% hydration sourdough discard for flour/water (i.e., in place of 2 ounces of the flour and 2 ounces of the water, use 4 ounces starter)! Note, however, this too will result in a less flaky dough.
When it comes to the lattice tops, a fat lattice (thicker dough strips) is faster and easier, but, on tiny pies, the skinny lattice (thinner dough strips) will create a look that shows up better. If you're going for max aesthetics, take the time to slice skinny strips.
Last but not least, when you're rolling out the pie dough circles, don't roll the dough any thinner than 1/4." You will end up rolling it even thinner to fit it in the muffin tins, so if you start with thin dough, you'll end up with dough that breaks beneath the filling as it bakes.
Got all that? Great! Now here's the step-by-step guide to make mini pies filled with berries and topped with lattice crusts!
How to Make Mini Pies for Fourth of July Desserts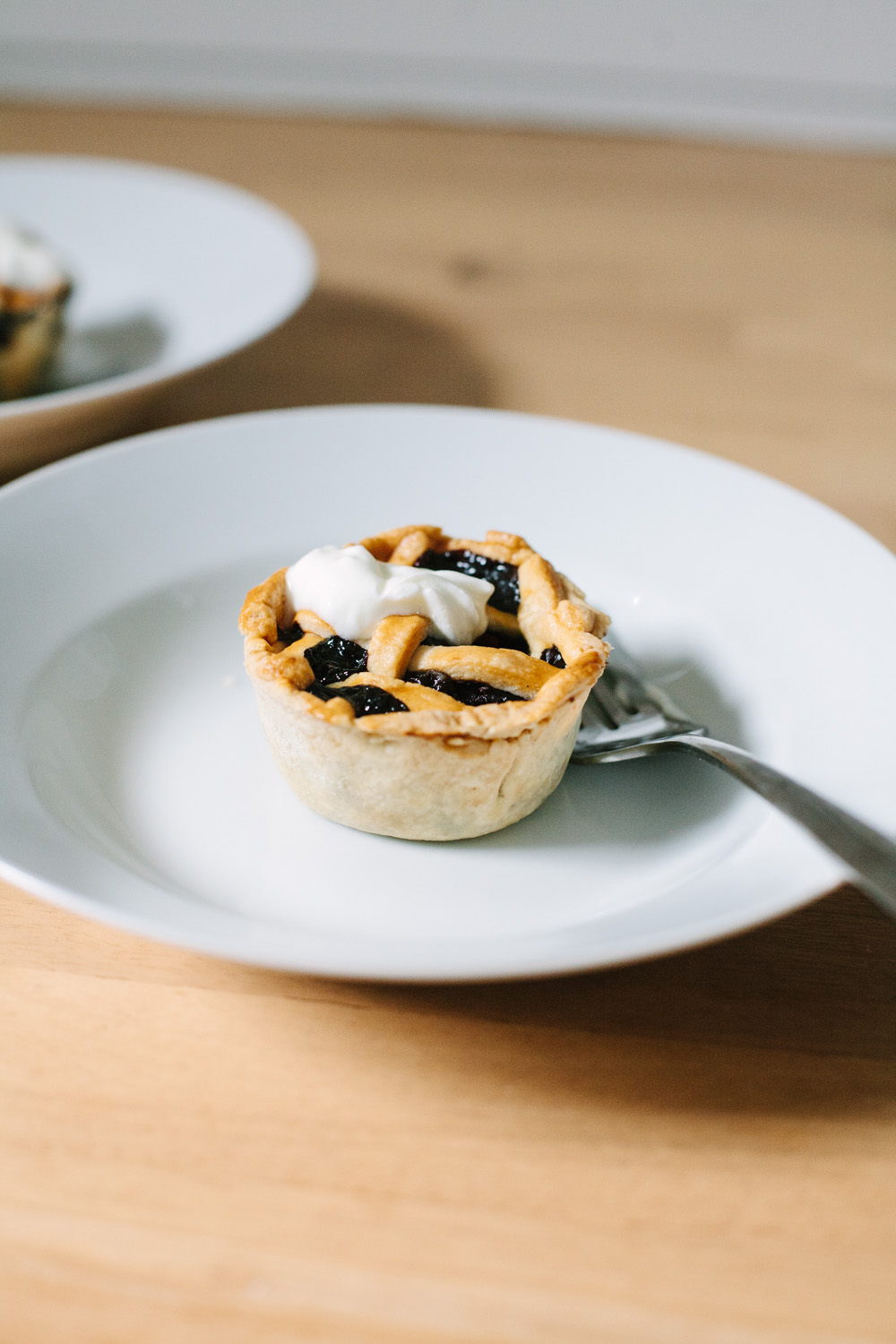 Initial prep: preheat oven, grease muffin pan and line baking sheets.
Preheat the oven to 350F, grease a muffin pan and line two baking sheets with parchment paper. Get out the following tools: a rolling pin, a two-inch biscuit cutter (or mason jar lid or standard drinking glass) and, if you have one, a dough scraper/bench knife (Amazon affiliate link for example).
1. Mix up a double batch of pie dough.
If you're an experienced pie baker and already have a favorite dough, use it. You can use any pie dough you like here, even one you bought from the store. If you want the recipe I tested multiple times for this post, two versions are at the bottom of this post. Whatever you use, make a double batch (i.e., two crusts). Split the dough in half. Form each half into a disc. Wrap the discs in plastic, and chill them in the fridge.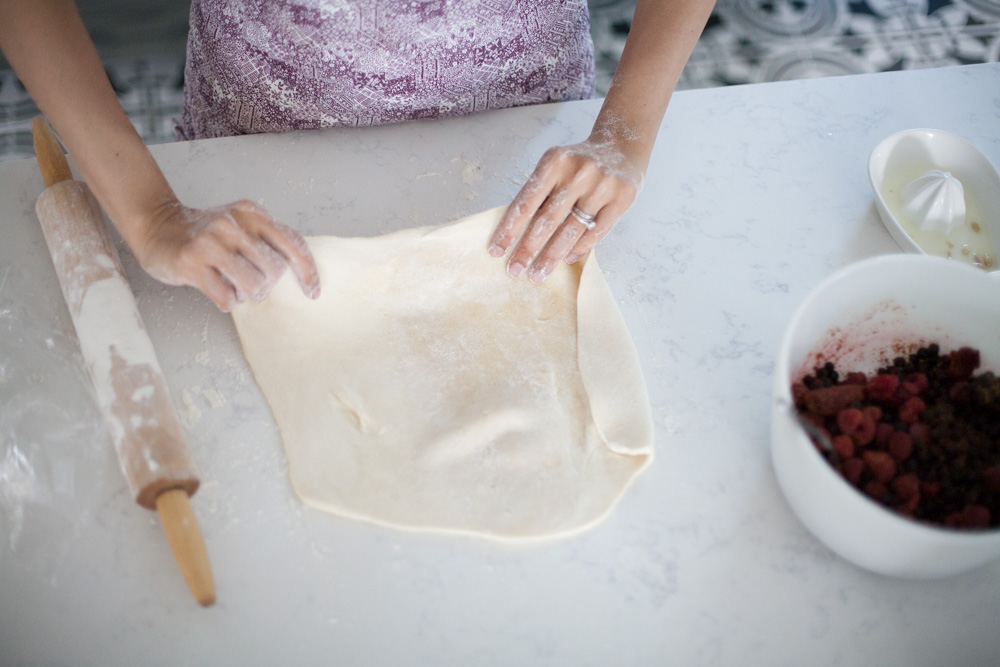 2. Roll the dough out, and cut 24 circles.
Lightly flour the counter, and, working with one disc of dough at a time, roll out your dough to be about 1/4″ thick. Using your biscuit cutter or other utensil, cut out two-inch circles and lay them on the parchment-lined sheets. You should get exactly 12 circles from each half of the dough. When you finish one set, chill it in the fridge while you work on the second.
3. Make the pie filling.
Again, you can make any pie filling you want. Here, I wanted a Fourth of July-inspired berry filling, so I combined blueberries, raspberries, sugar and lemon juice. Whatever you want to go with, mix it together and set it aside.
Now, you're ready to assemble the mini pies.
4. Assemble the mini pies.
Bring out one tray of dough circles. Lightly flour the counter, and roll out the dough circles to be slightly larger than your muffin cups, ideally 4 to 5 inches wide. Press each circle into the muffin pan, completely covering the cup, with a little overhanging if possible. The more overhang you have, the easier to merge it with the top dough.
Once the pan is filled, spread the filling amongst the cups. You want to fill the cups about to the top.
With the remaining 12 circles, use your pastry knife (or a pizza cutter) to slice similar-sized strips of dough. Lay these strips on the dough in a lattice pattern, alternating the strips over and under each other (see photo below and this tutorial video on Instagram).
Then, press the bottom crust into the lattice dough, crimping it together. If you can't completely cover the edges, use dough scraps to fill in holes. The better you get the bottom and lattice crusts pushed together, the less leakage you'll experience when the pies bake.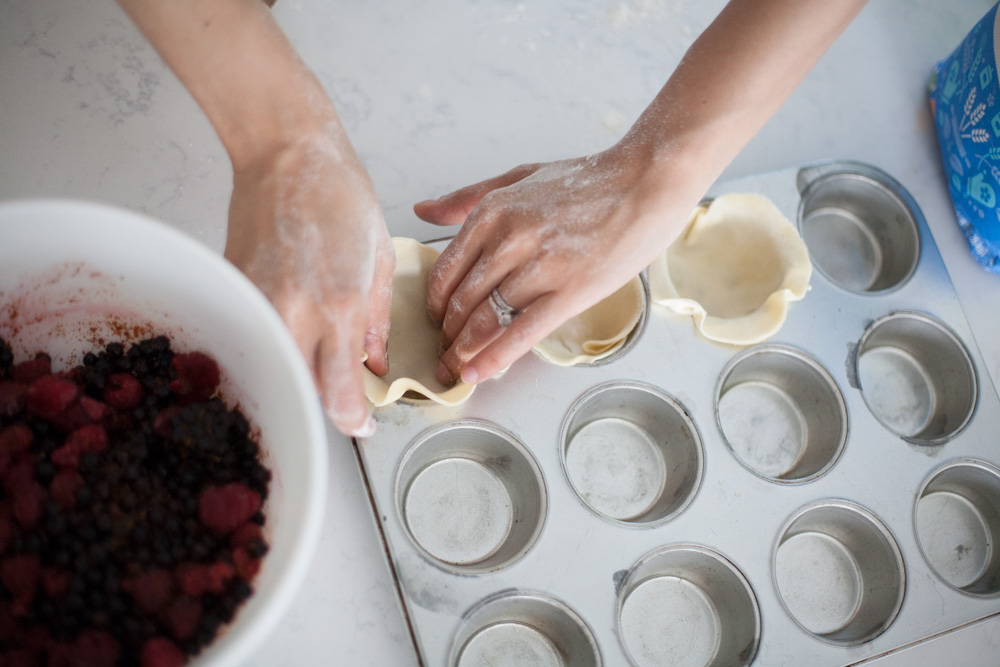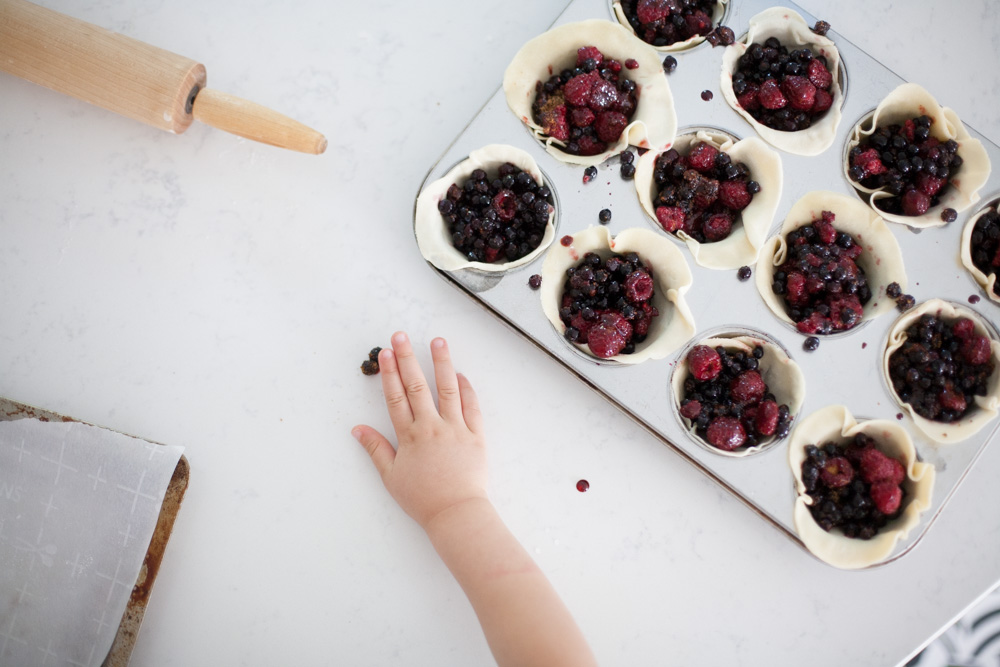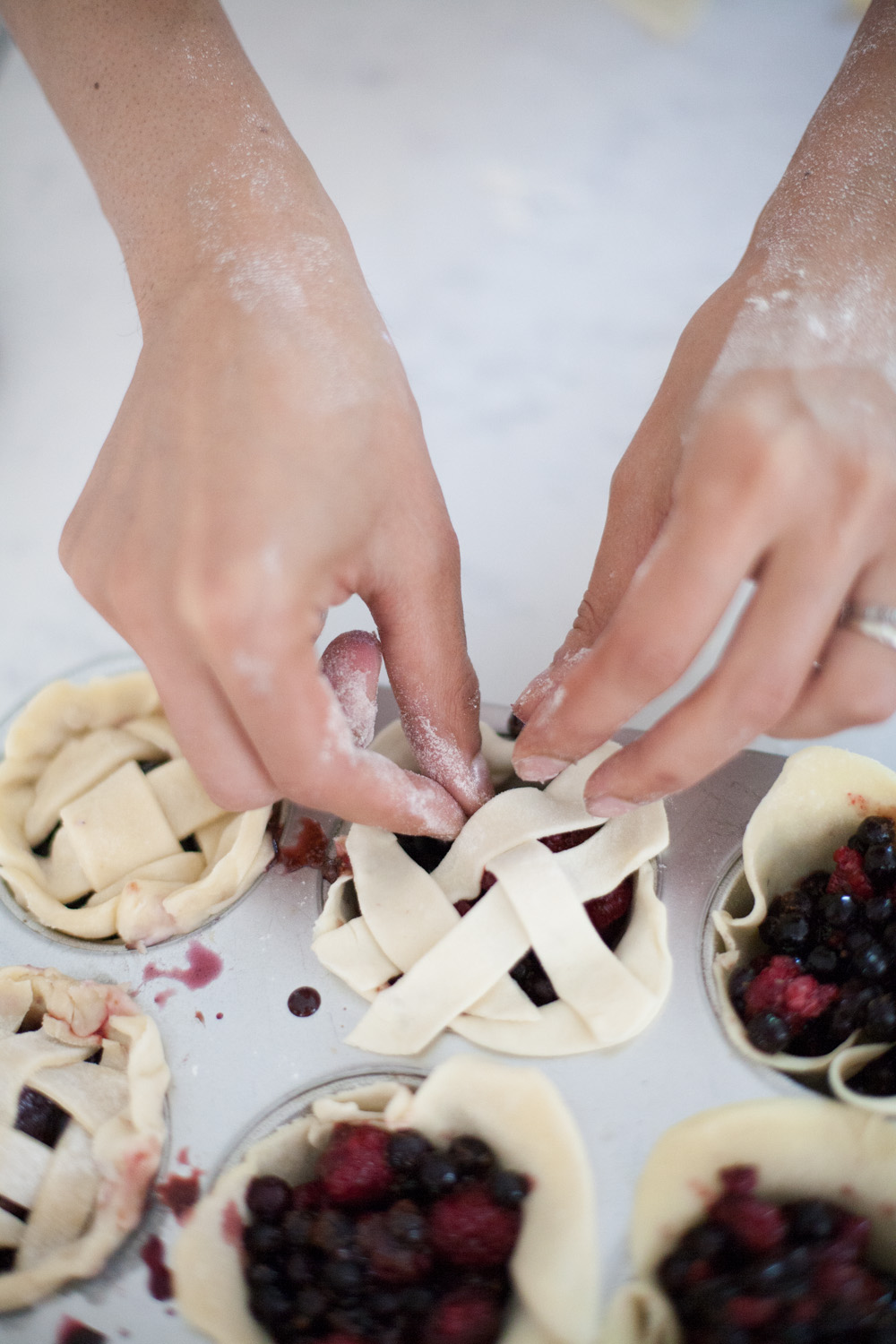 5. Brush tops and bake.
Brush all the pies with an egg wash (example: one beaten egg with a teaspoon of milk). Slide the muffin pan into the oven, setting a baking sheet on the rack below it in case of any leaking. Bake the pies for 90 minutes or until golden and firm.
Let cool slightly and slide a butter knife around the crust edges to pop each one out.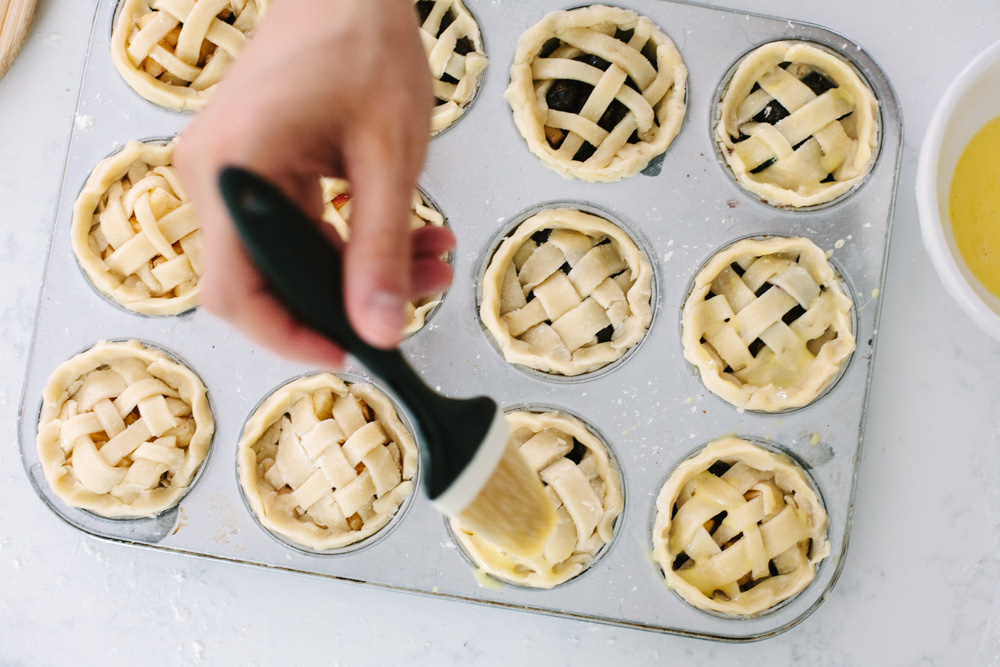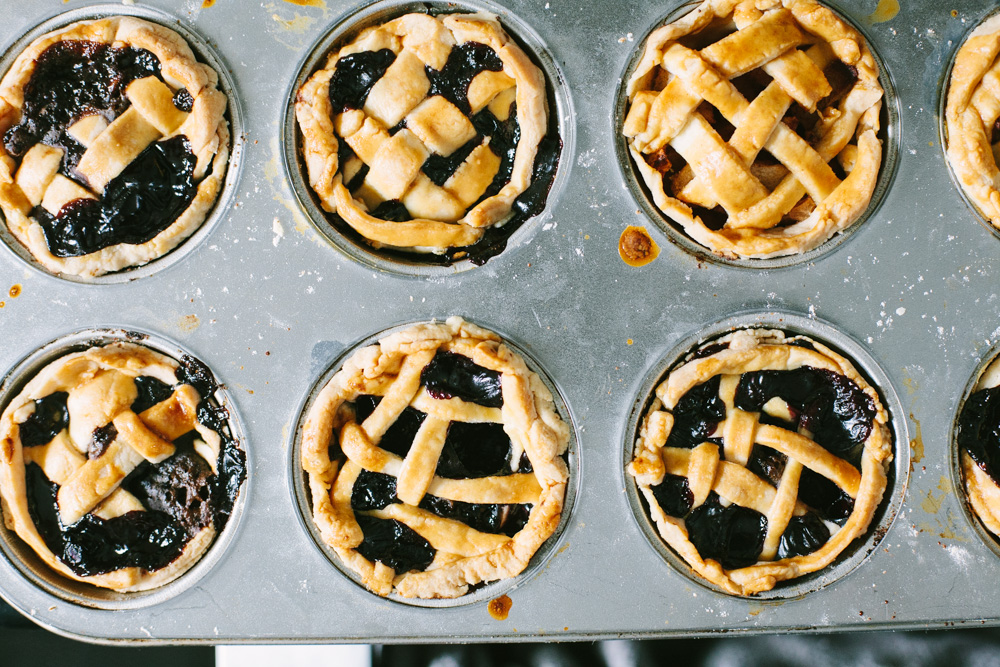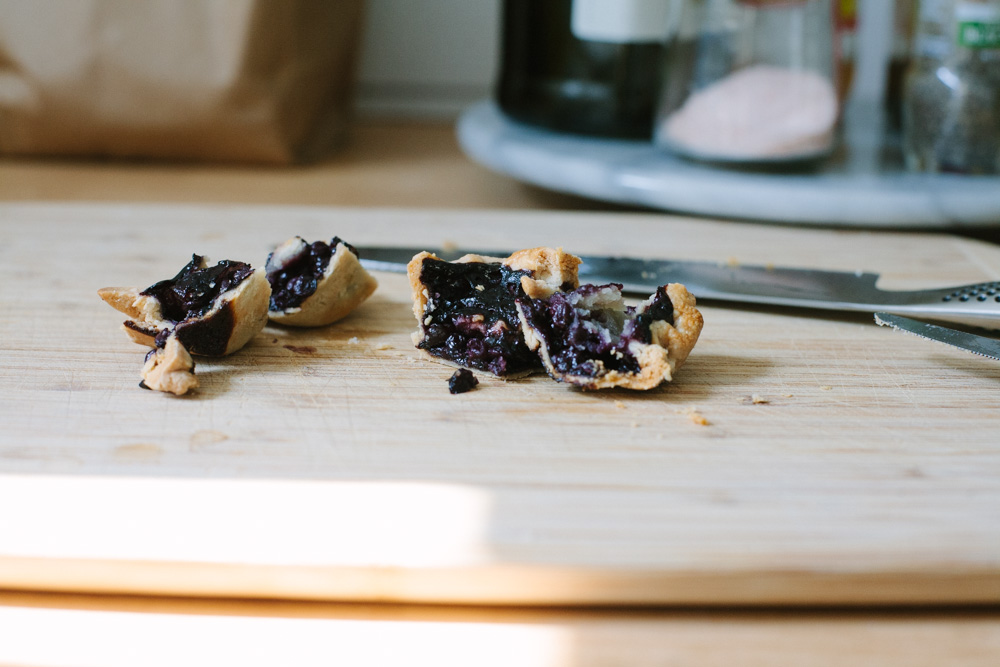 If you make these mini pies, I'd love to hear about it! Message me via the Contact page or tag me on Instagram @goeatyourbreadwithjoy!
Fourth of July Desserts to Love: Mini Lattice Fruit Pies
If you're looking for some fun desserts to take to a picnic or party this summer, try mini fruit pies, the perfect Fourth of July desserts! These charming, one-handed bites are cute, portable and easy to prep ahead. The following recipe makes 12 mini pie crusts, with a coordinating filling below.
Traditional Crust Ingredients:
2 cups (260g) organic all-purpose flour
1 teaspoon salt
12 tablespoons coconut oil or cubed butter
up to 1/2 cup (4 ounces) water
Crust Directions:
Combine flour and salt in a food processor. Add oil or butter, and pulse until broken up throughout. Next, drizzle in water while continuing to pulse, just until the dough comes together. Turn dough out onto counter, form into two discs and wrap in plastic.
Sourdough Crust Ingredients:
1.5 cups (195g) organic all-purpose flour
1 teaspoon salt
12 tablespoons coconut oil or cubed butter
4 ounces 100% hydration sourdough discard
Crust Directions:
Combine flour and salt in a food processor. Add oil or butter, and pulse until broken up throughout. Next, pour in sourdough discard, pulsing until dough comes together. Turn dough out onto counter, form into two discs and wrap in plastic.
Deep Berry Filling for the Fourth Ingredients:
4 cups frozen blueberries and raspberries
1/3 cup coconut sugar
1 teaspoon lemon or lime juice
Deep Berry Filling for the Fourth Directions:
In a large bowl, combine filling ingredients until well mixed. Set mixture in a strainer over a bowl to let excess liquids drain.