There's no denying the magic of make-ahead meals, but, still, who doesn't love a last-minute recipe? This fast homemade pizza only takes about a half hour to make–and the sauce, another half hour before or as you prep. Best of all, you may have all the ingredients on hand for this addictive, delicious dinner.

With reviews like "I have been making pizza for twelve years and…am considering replacing all of them with this one" and "this was the easiest pizza dough I've ever made," the Super Quick Pizza Dough Recipe from Serious Eats is an easy sell. A few features: There's no making the dough in the morning to prepare for dinner. You don't have to knead the dough, let it rise and knead the dough again. The recipe calls for a total four ingredients, and you might already have them in your pantry. On top of that, of its 77 posted reviews, this is a pizza crust that gets an average of 4.5 stars–despite minimal instructions that don't tell you how long or at what temperature it should be baked. In other words, it could be the definition of foolproof.
I stumble upon this pizza dough a few weeks ago. It's a weeknight. I think pizza sounds good, but we're out of the frozen crusts from Trader Joe's. It's probably too late to make a homemade pizza dough, but I Google around just in case, and I find this. Why not, I say to myself, pulling flour out of the freezer and sliding a stone in the oven. Then, because homemade crust needs homemade sauce, I fudge together a red sauce so simple, so sweet, so tomato-y that it's all I can do to stop sipping it with a spoon.
A week later, I do it again.
Then, today, on Nashville's second snow day, I do it one more time.
Here's the sauce: Garlic, oregano and salt sautéed in olive oil until fragrant and hot. A can of chopped tomatoes. Honey to sweeten. Extra Pecorino or leftover pesto if you like. Like when Julia Child said roast chicken is best when it tastes "chickeny," this sauce stands out for its simplicity. Making it is meditative. As the tomatoes bubble and reduce, the mixture darkens and thickens, almost like a jam.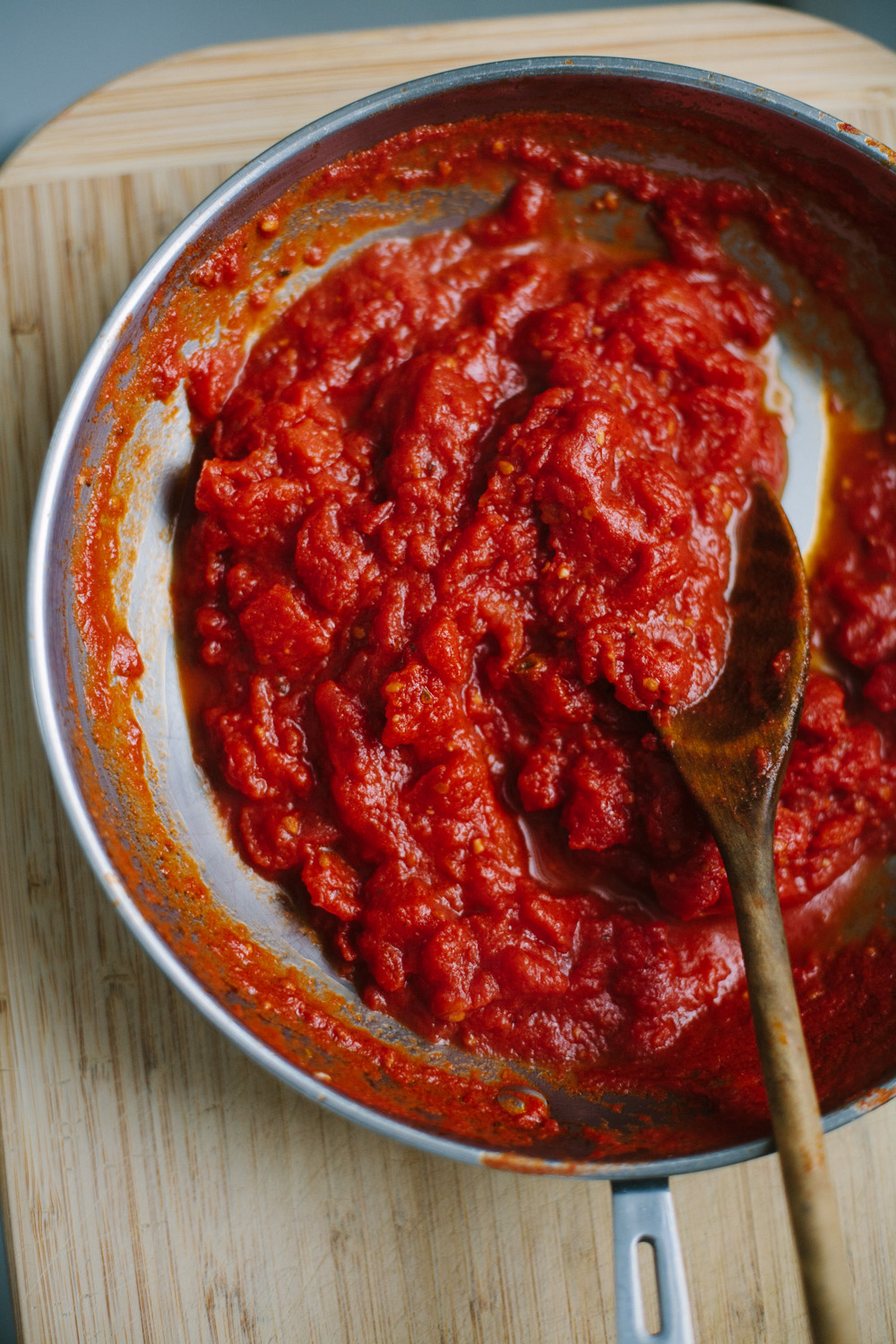 The crust is just as basic: Sprinkle yeast over warm water. Add flour and oil. Work into a ball of dough and let it rest for 15 minutes while your oven preheats and/or your sauce cooks. Roll it out, top it and bake it. Because of how quickly the yeast proofs, the crust isn't soft and doughy, but rather crisp and firm. Think the bottom of a deep-dish pizza pie. It holds hefty toppings, from a layer of greens to chicken, onions, mozzarella and herbs.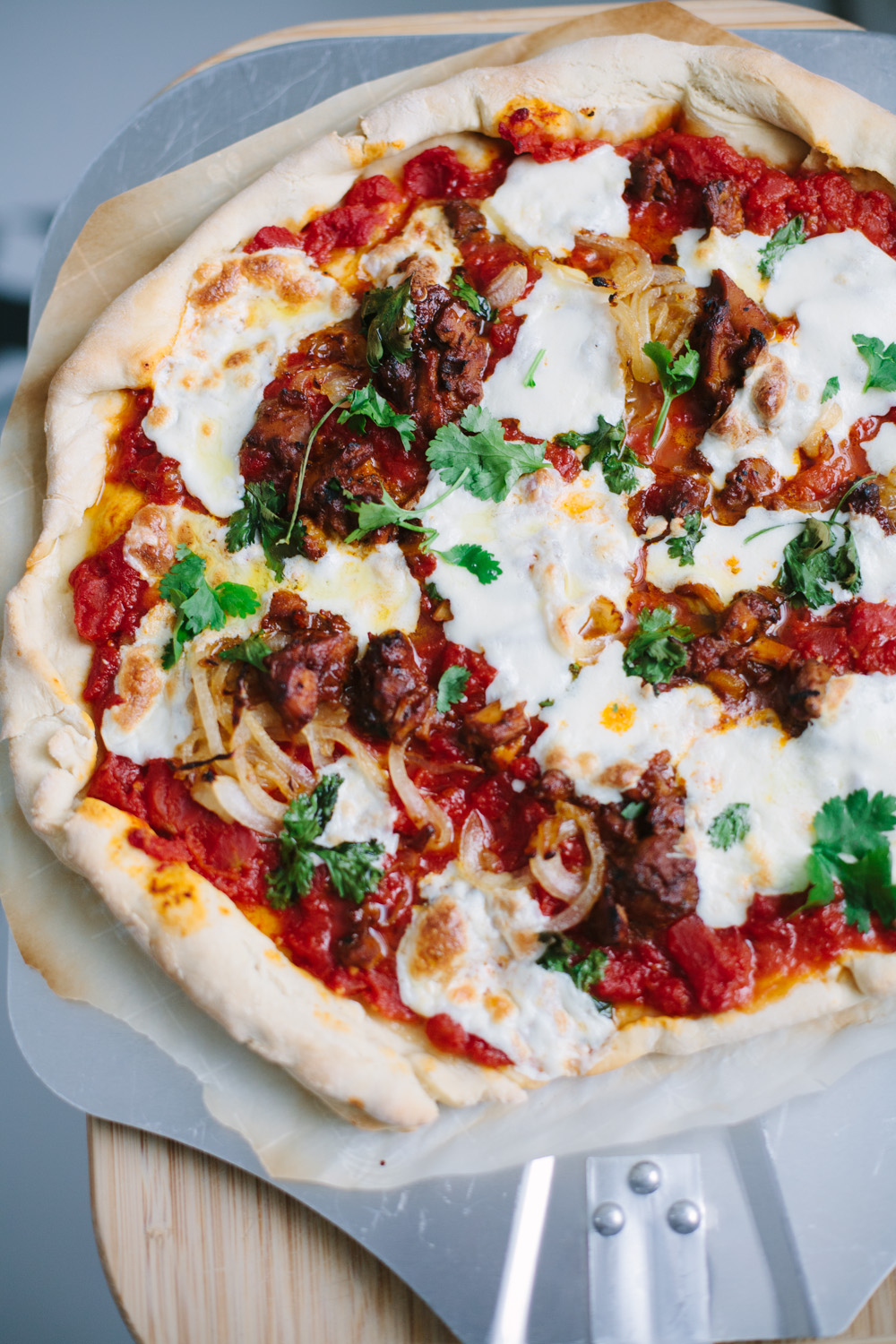 If you're stuck indoors hibernating this winter–or even if you're not–treat yourself to the laziest homemade pizza night you'll want to keep having over and over again.
Lazy Weeknight Pizza
Adapted from this Genius Kitchen recipe
I've kept all of the original recipe's ingredient proportions, but, after making it three times, have added my recommendations for method and baking instructions. Also, as many commenters noted online, this makes a great base recipe for tweaking to your taste. Salt the crust, add herbs, add a little sweetener, etc.
Ingredients:
1 cup water, warmed to the temperature of a comfortable, not hot, bath
1 package active dry yeast
2 1/2 cups organic white all-purpose flour
1 tablespoon olive oil
Directions:
Place warm water in a large bowl and sprinkle yeast on top. Stir together until the yeast is dissolved. Add flour and olive oil, and stir together until it's too thick to keep using the spoon. Then, use your hands to work the dough into a ball. Cover with a kitchen towel and set on top of the oven.
Put a pizza stone in the oven and preheat it to 500F. Let dough rest for about 15 minutes, or until the oven preheats.
Stretch and roll out dough (using a rolling pin is quickest here) into one or two pizza crusts that fit the size of your pizza stone. One crust will make a thicker, sturdy, crisp crust, almost like the bottom of a deep-dish pizza; two will make thinner cracker crusts that still hold toppings beautifully.
Top crust(s) as you like and bake until cooked through, with toppings golden, about 12 to 15 minutes.
Sweet and Chunky Tomato Sauce
Makes enough for one highly saucy or two moderately saucy pizzas
What's great about a basic tomato sauce like this one is you get all the benefits of cooking–wafting aromas, creative enjoyment–without the headaches of complicated steps and techniques. Taste as you go and adjust as you like; it's hard to go wrong.
Update, August 2018: As of the last few months, I've stopped adding honey to this sauce. Why? When the tomatoes reduce, they naturally thicken and sweeten and, honestly, may be even better without it.
Ingredients:
1 tablespoon olive oil
1/2 teaspoon minced garlic
Hefty dashes salt and oregano
28 ounces diced tomatoes
2 to 3 teaspoons honey (optional)
Optional add-ins: a few tablespoons leftover pesto, Pecorino and/or herbs
Directions:
In a large skillet over medium heat, warm olive oil until hot. Add garlic, with hefty dashes salt and oregano, and let cook until garlic is fragrant and not quite browned. Add in tomatoes and honey. If desired, add in a few tablespoons of leftover pesto, grated cheese and/or herbs. Let the mixture reduce for about 20 minutes, until thick, chunky and sweet. Taste and adjust salt or sweetness as desired.