It's an alternative to coffee, loaded with antioxidants, said to deter diseases and reported to boost metabolism and aid weight loss. So are the matcha tea benefits worth all the hype? What can you honestly expect if you start drinking it—and where should you buy it so you can? Here's a look.
It's not hard to understand the mass upsurge in matcha interest over the last few years. Who wouldn't be intrigued by a beverage that offers 60 times the antioxidant levels and nine times the beta-carotene of spinach? That's naturally anti-inflammatory and anti-microbial? A morning brew that one writer said "aided my digestion, helped my skin and got rid of jitters"?
Matcha's a tea, but it's a special kind of tea. It doesn't have to be strained after it's brewed. Plus, bonus, it's delicious with milk and sweetener, making it a swap for coffee that could actually work.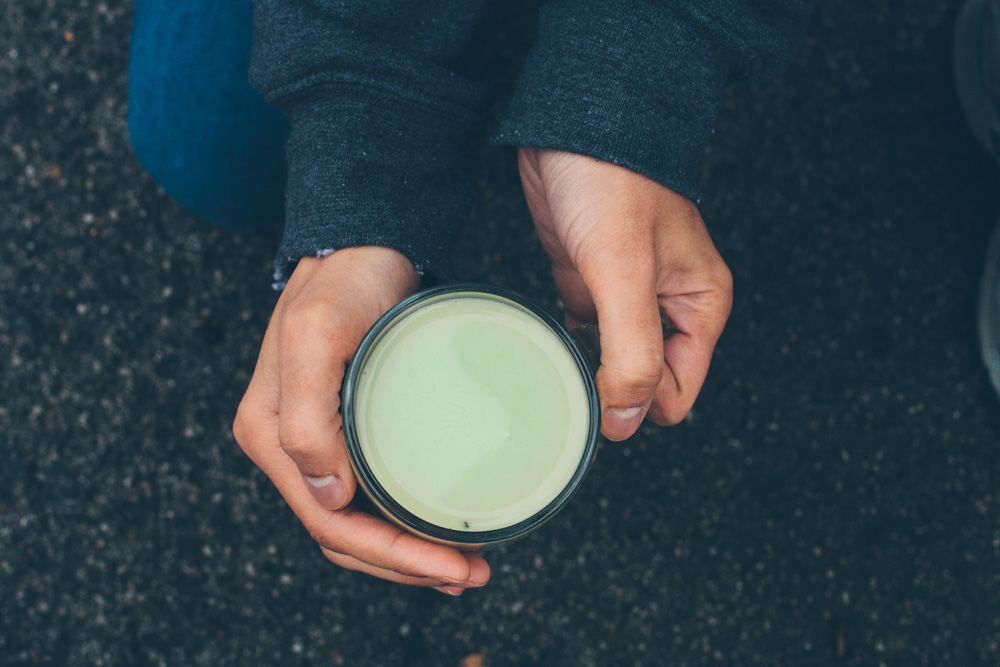 Matcha Latte Benefits
Here's what's so great about matcha: not only is it rich in nutrients, but also it's filled with possibility. There are almost endless ways to use it, from matcha-flavored frosting for cookies to matcha-infused jello for a snack. You can make matcha brownies, matcha pudding, matcha ice cream, matcha bread.
The most basic and traditional method, however, remains this: combine matcha powder with hot water and mix it with milk and sugar. While some coffee-shop versions of the matcha latte will be high in sugar and empty calories, if you make a matcha latte at home, you can control what type and amount of sugar you use. Likewise, if you warm the milk separately and froth it, you can enjoy the appeal of a fancy, purchased beverage at home.
So are matcha lattes worth the effort? Here are a few of the health benefits that might convince you to make them 2019's go-to morning drink:
These are just a sampling of the studied benefits available through matcha consumption—but here's one more: regular digestion. And, according to search trends, this may be what you really want to know.
Does Matcha Make You Poop More?
While "does matcha make you poop more" may not be the kind of title you expected here to open up the new year, according to Google Trends data, it may be the title you want. Up 450% (!!) in search queries over the last year, this question stems from a rumor floating around about everybody's favorite healthy, green alternative to a morning coffee. Sure, we've all  heard matcha's good for you, seen it marketed as a superfood but, okay, let's get down to it, does matcha make you poop?
While the recently published studies on matcha don't specifically examine its effect on digestion regularity, the question is still trendy for a few reasons. One is that drinkers have noticed that frequently drinking any kind of caffeine—including the roughly 25-60mg per cup of matcha—will often impact how often you go to the bathroom. One study suggests this is due to the relation between caffeine and sphincter muscles (another surprise food-blog term, hello!). In other words, consuming caffeine, and thus matcha, can indeed make you poop.
But, likewise, another reason for matcha's impact on digestion is the high amount of antioxidants it contains. Turns out, antioxidants are not only good for keeping you healthy and preventing disease, but also for helping your liver and kidneys to work better at eliminating waste. So if you consume matcha regularly, it may impact the way your body moves food through and out of your systems.
Types of Matcha
So, okay, matcha's good for you. Wow, prices show it. Shop around, and you'll quickly wonder if it's cold, hard cash, not nutrients, making that powder green. Pro tip, however: prices vary dramatically based on what type of matcha you buy. Choosing the ceremonial grade made in Japan can run you upwards of $30 per ounce (!). Buying the culinary grade, typically made in China, however, can cost as little as $1.18 per ounce (!!). So what's the difference? How do you know which matcha to buy? What's the best price and value?
Ceremonial grade: Made for drinking, ceremonial-grade matcha has a vibrant green color and a fresher flavor than culinary varieties.
Culinary grade: Made to be used for cooking, culinary-grade matcha tends to have a less vibrant green hue and a slightly more bitter taste.
If it's home-brewed lattes you're after, matcha purists will tell you to buy the highest quality, as it will give you a fresher, brighter flavor, as well as potentially less compromised nutrients. To save money, however, you can certainly try culinary-grade matcha in your tea and see what you think.
Where to Buy Matcha
If you're ready to test out matcha tea benefits for yourself and looking for a purchasing source, here's what you'll want to know. First, you can buy matcha almost anywhere food is sold. Find it at Kroger, Whole Foods, Amazon, Thrive Market, etc. That said, going online is typically best for finding quality at a good price. You can compare many options faster, and many sites offer reviews with their products, so you can see what other buyers had to say about a certain brand or variety.
Here are a few standout options to explore:
Soar Organics Ceremonial Grade Organic Matcha. As far as ceremonial-grade options go, this is a relatively good value. It's sourced from Japan. It says it's made from 100% first flush harvest for the best quality and taste. A 30-gram container costs $24.50 and yields roughly 25 servings, according to the company, so you're looking at less than a dollar each drink. If you're not willing to shell out that amount and willing to sacrifice a little quality, check out this option offered by the same provider: Everyday Matcha 100g for $31.50. (Thanks for the recommendation on this brand, Red Door Nutrition!)
Zen Spirit Matcha Green Tea Powder Organic – Japanese Premium Culinary Grade. Priced at about $8.50 for an ounce, this option gives you one of the higher-quality culinary matcha options out there. It gets killer reviews. Also, it's still priced better than anything you'll find at the grocery store. This is the option I am currently using and the one that is pictured in the post.
Thrive Market Culinary Green Tea Matcha Powder. This 3.5-ounce jar from Thrive Market is not organic and it is culinary grade, but it is affordably priced at $12.99 or $3.71 per ounce (new to Thrive Market? Learn more here). Anecdotally, testimonials say it's great for making drinks at home: "Perfect for matcha tea lattes," said user Monica N five months ago, for example.
DrinkMatcha – Matcha Green Tea Powder – USDA Organic. This product, which I personally purchased in the summer of 2016, is what you'd call bargain-basement matcha. Made in China, it is a lower quality of culinary-grade tea, but it has a low pricetag at just $19 for a full pound ($1.18 per ounce). This makes it ideal for cooking. Reviews online are mixed, with many buyers saying the quality has degraded in recent months. That said, mine lasted over two years and, kept in the freezer, maintained its light green color almost the whole time.
How to Enjoy Matcha Tea Benefits at Home
There are many different ways to make matcha tea lattes at home. At root, however, making matcha is just like making tea, with one exception: you don't remove the tea leaves or bag after brewing. Matcha tea powder will fully dissolve in your drink, and you consume it.
Here is how I make it:
1. Dissolve 1/2 teaspoon matcha tea powder in 4 ounces (half a cup) of boiling water.
2. Add sweetener (honey or maple syrup), as desired.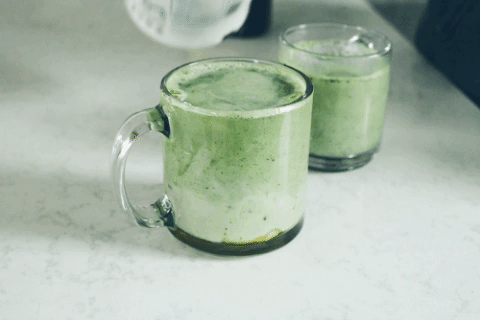 3. Add 4 ounces warmed milk (frothed if desired).
4. Enjoy!
Conclusion: Matcha's Worth a Try!
After about half a year of drinking matcha lattes every morning, I can tell you I am firmly in the camp of matcha drinker–and maybe you will be, too. So if you want a coffee alternative, a drink filled with antioxidants, a fun reward for getting out of bed each morning, consider this. Browse the options listed above, and give matcha a shot!
disclaimer: this post includes Amazon affiliate links, through which it may earn small commissions on purchases made.