Meet the weeknight dinner we've got on repeat. This oven fried chicken offers all the appeal of crisp coating, tender meat and hot spices–but with a healthier, oven-baked spin. And if hot chicken's not your thing, no problem! Adjust the heat factor to you.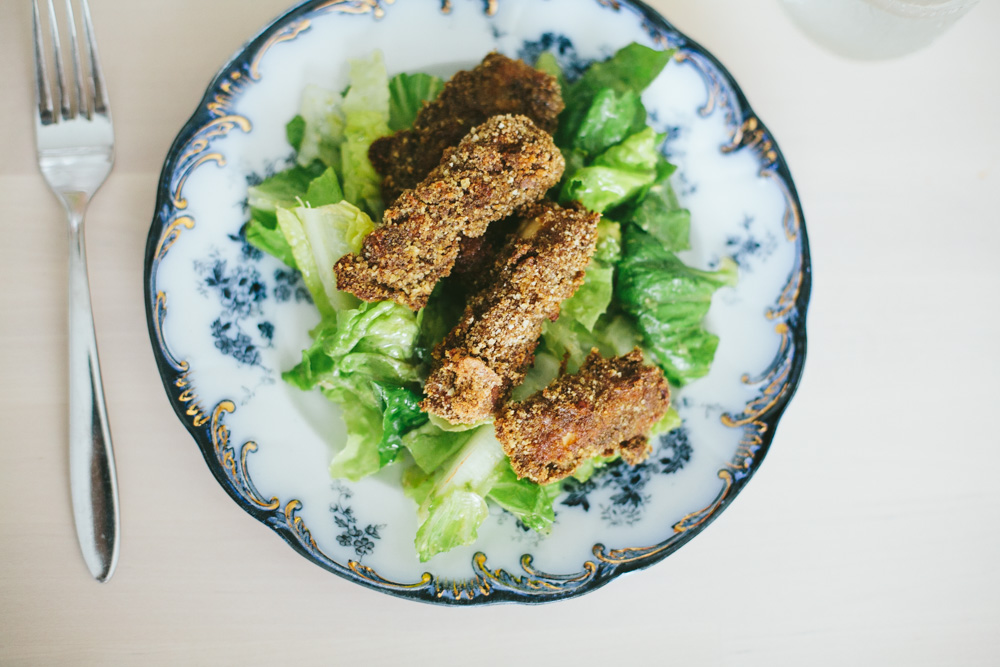 Growing up in the Midwest, I'd never heard of hot chicken. Here in Nashville, however, it's the stuff of legend. Star of the annual festival held on the east side, subject of in-depth articles discussing adultery and racial segregation, it's one of those foods tourists want and locals love. The idea is pretty basic: bone-in chicken dipped in buttermilk, breaded and fried, with lots of cayenne pepper thrown into the mix. It's spicy fried chicken. A regional, grown-up take on chicken fingers. You can catch it at Pepperfire, Prince's and any of the beautifully branded Hattie B's.
Still, given that one of the main ingredients of this local sensation is lard and the cooking method is deep frying, it's a tradition worthy of a refresh. So whether you're a native Nashvillian, a curious cook or just someone looking to get dinner on the table this week, here's a suggestion: make this oven fried hot chicken.
Why This Version?
While the basic idea of breading and baking chicken is nothing new, this method is one step simpler. Rather than three bowls of coating (eggs, flour, breadcrumbs), there are two. Eggs combined with flour create a glue-like paste that completely coats the meat and makes it ready for breadcrumbs. You can use one hand for each bowl and have your pan ready for the oven in less time than it takes to drive to Hattie B's. Also, I use boneless breasts instead of bone-in pieces, for convenience and to make the dish appeal to kids; you can go either way.
Baked instead of fried, in olive oil (or coconut oil) instead of lard, it's also a healthier spin on a classic.
Mostly? The resulting chicken is crisp, flavorful and the perfect homemade take on Music City's favorite form of poultry. Make this for dinner to treat yourself to a hot chicken you won't feel bad after eating.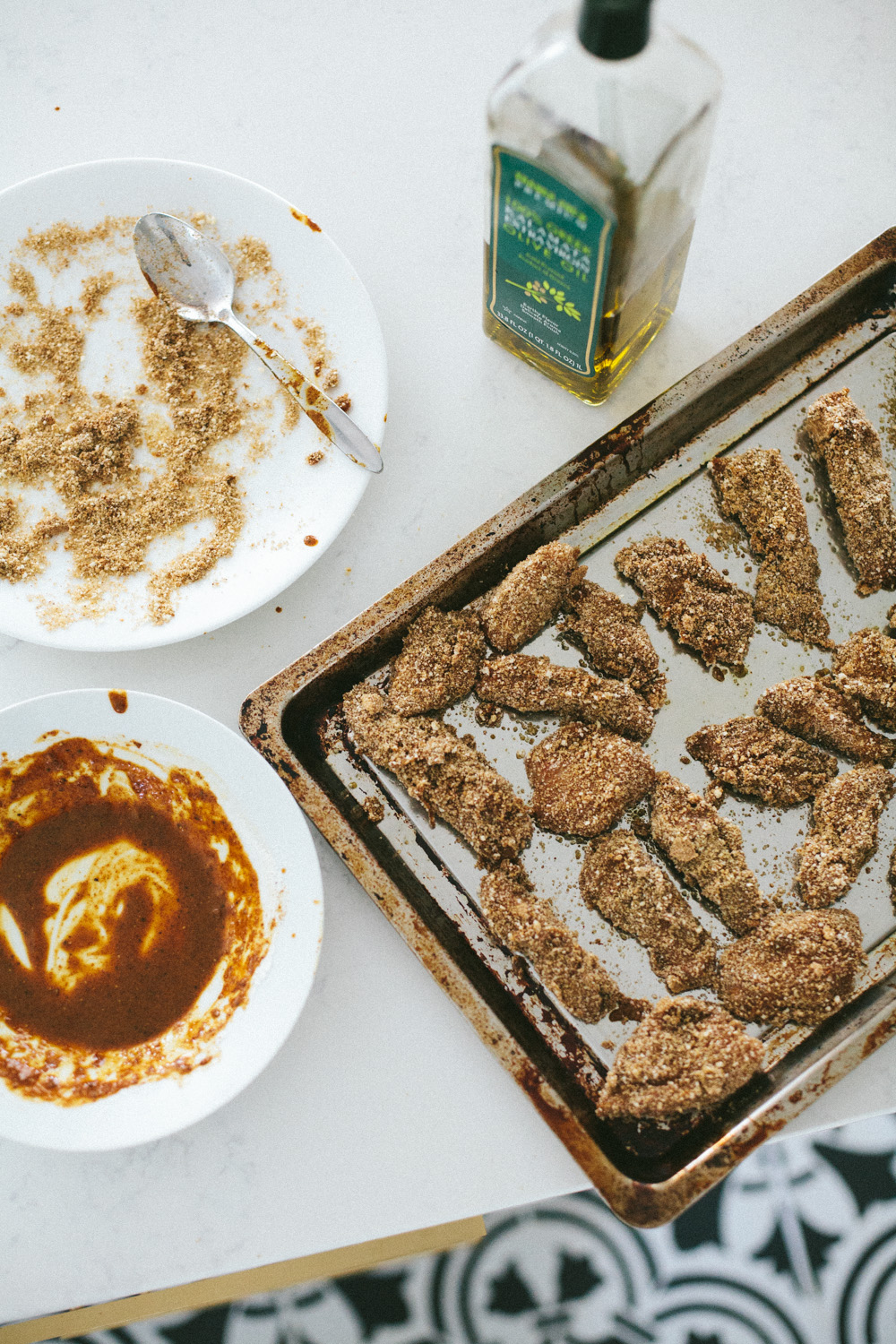 Oven Fried Chicken aka a Fresh Take on Hot Chicken
As written, the spices here are what I'd call medium-hot. If you hate heat, cut down the chipotle powder. If you love it, boldly boost the amount. This recipe is versatile enough to adjust the seasonings–take it Italian one night, go anti-inflammatory with heavier turmeric and black pepper, use your favorite all-spice blend. I recommend eating it with some honey, honey mustard and/or extra salad dressing on the side.
Ingredients:
1 pound boneless, skinless chicken breasts
Olive oil or coconut oil, for pan
bowl 1 (paste):
2 teaspoons chipotle powder (adjust to you)
1/2 teaspoon each of black pepper, smoked paprika, turmeric powder and garlic powder
2 eggs, beaten
All-purpose flour, enough to make mixture a paste (up to 1/8 cup)
bowl 2 (breading):
1 cup breadcrumbs
1 tablespoon Italian seasoning (or poultry or all-purpose seasoning)
1/2 teaspoon salt
Directions:
Preheat the oven to 400F and generously oil a rimmed baking sheet. Get out two bowls or rimmed plates and mix up listed ingredients as detailed above.
Cut chicken into strips. One by one, dip the chicken pieces first in the paste until fully coated and then in the breading. Lay them on the oiled baking sheet.
When you've finished all the chicken pieces, drizzle oil (or spray if you have a product like this on hand) all over the top. Slide baking sheet into oven and bake for about 20 minutes. Use tongs to turn all the chicken pieces over and bake another 5 to 10 minutes, until golden and crisp.
PS! Looking for another chicken dinner idea? Try these very veggie fajitas. Or coming to the area and want restaurant advice? Here's a roundup of favorite lunch spots.
disclaimer: this post may include Amazon affiliate links, for which I earn a small commission on products purchased.