All the love to the lazy recipe from the archives, but this deep dish sourdough pizza is the new Friday favorite. It's simple enough to involve the kids in dinner prep–yet naturally leavened to boot.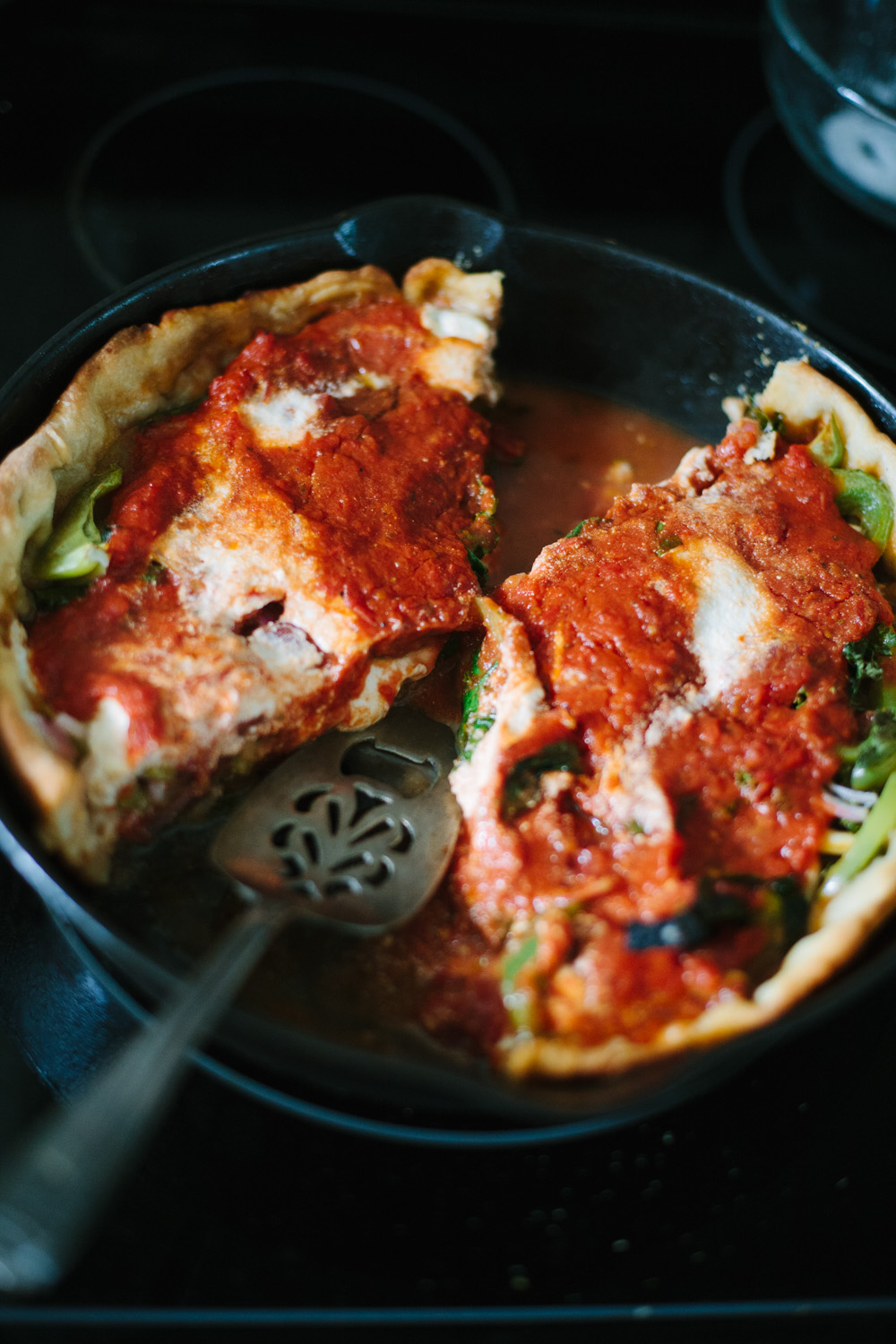 A tradition that started back in an early 2018 snowstorm is still going strong, now, in July's blazing temps. Maybe that's because Friday night pizza means a mental break from meal planning. In January, it began with this lazy recipe adapted from Genius Kitchen: a foolproof option that takes maybe 15 minutes to pull together, yields a hefty cracker crust and holds up confidently beneath mounds of meat, veggies and cheese. But, after months (!) of that happy dinner each week, along came sourdough. Life's never been the same–and that includes pizza night.
Sourdough Pizza for Every Taste
If you're already on Team Sourdough and looking for a fresh twist on pizza night, there's a killer Neapolitan-style recipe in this roundup and a great option in this book. When you want a reliable deep dish sourdough pizza, however, it's harder to find the answer. So, take a tip from six weeks of testing and at least one night crying tears of joy: make this recipe.
Why You Want to Make This Recipe
It's a beginner sourdough recipe. You mix everything the night before. It takes 15 minutes. Everything else is assembly: dividing and refrigerating the dough in the morning, pulling it out and stretching it in the pan two hours before dinner, topping and baking. In other words, this is the naturally leavened version of the lazy 15-minute pizza; you just mix it the day beforehand.
It's convenient enough to make including the kids fun. Cooking with kids is obviously valuable and important, but also pretty stressful in chaotic dinner prep. An easy recipe like this frees you up to slow down and involve little fingers. It includes several kid-friendly steps, such as pushing out the dough and layering the toppings. Bonus: the pizza bakes for 20 to 25 minutes, which gives you time to clean up.
It gives you that Chicago-style deep dish craving fix. You don't have to be from Chicago to appreciate a good deep dish pizza. If you are, though, one bite will take you back to Lou Malnati's. Also worth noting: make this crust with finely sliced peppers and onions in the filling, and you'll swear you're waiting for an Italian beef sandwich at Portillo's.
Deep Dish Sourdough Pizza
Lightly adapted from Heather's helpful recipe at A Real Food Lover
About the starter: If you're new to sourdough, 100% hydration starter just means starter made with equal parts water and flour. I keep mine in the fridge during the week, so, the day before pizza night (Thursday morning here), I take it out, feed it and let it get bubbly before mixing the dough Thursday night.
Special tools required: a deep cast iron skillet (such as this one on Amazon, [affiliate link]). I only have one, but our family eats two pizzas, so I make one deep dish pizza and the other just freeform on a baking stone. You could alternatively bake two skillets at once, bake pizzas in shifts or freeze one ball of dough for later.
Ingredients:
8 ounces (1 cup) filtered water
76g 100% hydration, active sourdough starter
520g (4 cups) organic all-purpose flour
1/2 teaspoon salt
1 tablespoon coconut sugar (or your preferred sugar)
1 tablespoon olive oil
Directions:
In a large bowl, combine all ingredients. Use your clean hands to work/knead this mixture into a ball; it may seem dry at first, but keep mixing. This should take about 5 to 10 minutes. Once all the flour is well incorporated and there are no more bits sticking to the bowl, form it into a ball in the bowl. Cover the bowl with plastic wrap. Set it on the counter (counter! not fridge!*) overnight. (Alternatively, for six to eight hours.)
In the morning, the dough will be puffy and inflated. Punch it down. Split it in half. Wrap each half in plastic and set them in the refrigerator. (Alternatively, skip the refrigeration and proceed to the next step.)
Two to three hours before you want to eat dinner, pull the dough out of the fridge.
Take out a deep cast iron skillet (mine is 11 1/4″) and fill it a quarter inch high with olive oil. Stretch and press the dough until it is larger than the skillet bottom (using your hands, a rolling pin or whatever you like). At first it will be cold and firm, but it quickly stretches and thins, so be careful! Press the dough into the oiled cast iron pan, pushing it up the sides. Cover the pan with plastic wrap and let rest at room temperature for two to three hours.
An hour or more before dinner, preheat the oven to 475F. If you're going to bake one pizza on a stone, set that stone in the oven now.
A half hour before dinner, remove the plastic wrap from your dough and fill it with toppings.
Suggested toppings: torn slices of a ball of mozzarella, laid in the pizza dough; thinly sliced peppers and onions; an entire batch of sauce. For even more filling goodness, repeat layers one more time.
Bake 20 to 25 minutes on the bottom rack of oven, until crust is golden and crisp.
*If you should, say, accidentally refrigerate the dough overnight instead of leaving it on the counter, don't panic! You'll need to let it rise all day now, and you may need to work it a bit, but it will still work. The magic of sourdough.