This article on blueberry buckle doughnuts (or doughnuts meet cookies, i.e., doughkies) is the third post in a series of make-ahead mornings, batch breakfasts designed to save you time. Also in this series: breakfast panna cotta and a closer look at smoothie packs.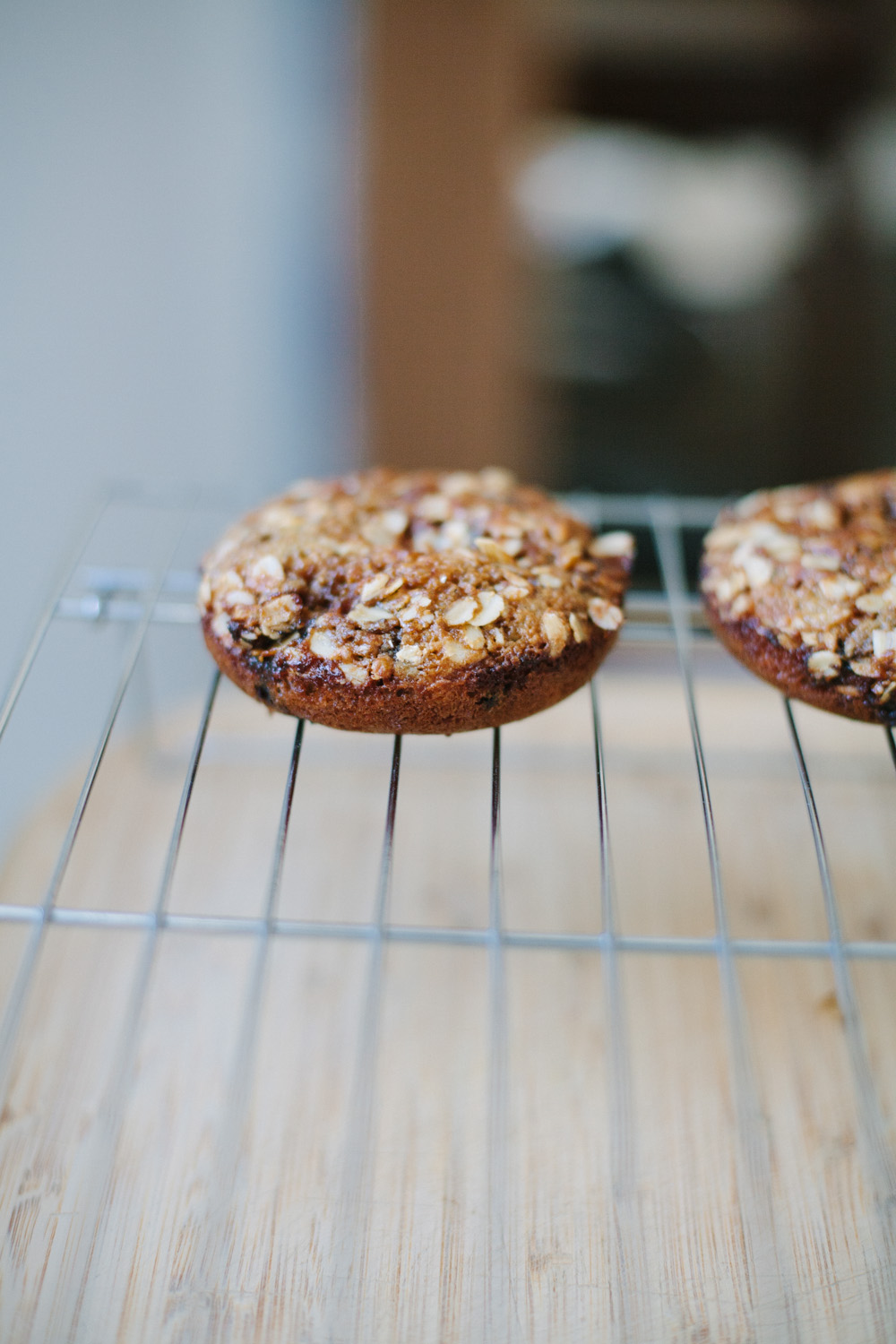 Built like a doughnut, baked like a muffin and crunchy enough that their bite can be heard across the room, these doughnut hybrids are like doughnut meets cookie: doughkies?
Doughkies in the Wild, Circa 2018
Search hashtag "cronut" on Instagram, and you'll find over 210,000 posts; "cruffin," more than 33,000; and turns out "doughkies" exist too, barely. There are currently eight images tagged.
The oldest image features a food product label for "luscious lemon doughkies"–gluten-free goodies apparently made of all non-GMO ingredients, including almond flour and a lemon Young Living essential oil. That photo, postmarked June 10, 2013, cites the doughkie provider as Doughkies.com, a site that, now in 2018, no longer exists. (Were these the original doughkies? What happened to them?)
Another doughkie-tagged image features a different take on the term: a small blonde child holds a plate of what seems to be rolled-pie-crust-cookies, cookies made of pie dough. (Crustkies?)
Online, there's the user-submitted hybrid on mega food site Food52, from a 2015 post by "Amitha's Expressions of Creativity." In her post, "Doughkies- Doughnut+Cookies", the recipe author explains getting inspired when she "received a call from [her] mother one day wondering why there isn't a doughnut cookie combo." She was initially reluctant but then says she could "not stop thinking about how this could actually work." In her variation, she forms balls of doughnut dough around chocolate chip cookie dough, lets it rise and then fries the balls in hot oil. (New feature at the state fair?)
So which is the real doughkie–the gluten-free goodies, the pie-crust-dough cookies or the cookies stuffed into doughnuts and fried? Before you decide, here's a fourth option: doughnuts so firm and sweet they mimic cookies, while still retaining a classic doughnut shape and cake.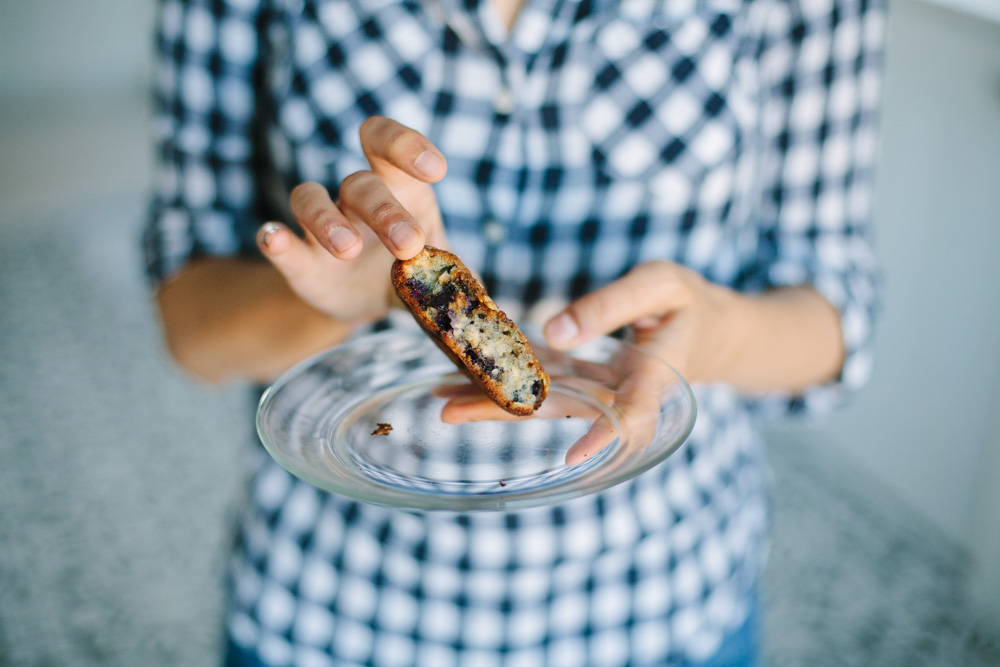 The Case for the Doughkie Label
The doughkies in this post bake about 20 minutes in a well-oiled doughnut pan that lets them brown and almost fry, creating a firm, golden crumb foundation outside. Inside, they are soft and studded with blueberries, like a lightly sweetened summer cake. But the crowning glory is their streusel topping. Made of oats, sugar, cinnamon and butter, this streusel combines and caramelizes in the heat of the oven into a hard, lacy mass. What was intended to be granola becomes something better: an almost candied topping that turns mere doughnuts into doughnut-cookie combos or, doughkies.
Sure, at first glance, these blueberry buckle doughnuts may look ordinary, muffin-esque perhaps. But one bite in, you find yourself fumbling for a word that combines crunch with candy with springy doughnut cake. Is this how chef Dominique Ansel felt when he made his first cronut, that ingenious croissant-donut hybrid now known worldwide?
Make them, try them and see.
Blueberry Buckle Doughnuts or Doughkies
Makes six servings
If you want a caramelized, cookie-like doughnut as described in this post, use 1/4 cup of sugar in the streusel topping; if you want to cut back for a slightly more muffin-like doughnut, use 1/8 cup of sugar. While these doughies were tested with coconut sugar, you could certainly use your preferred sugar type.
Special tools needed: doughnut pan
Ingredients:
1/3 cup maple syrup
2 tablespoons coconut oil, softened to room temperature but not melted
1 large egg
2 tablespoons milk
1/2 cup all-purpose flour
1/4 cup oats
1 teaspoon baking powder
1/2 teaspoon salt
1/2 cup frozen blueberries
for the topping:
1/8 or 1/4 cup coconut sugar (see headnote
1/4 cup oats
1/4 teaspoon cinnamon
2 tablespoons cold butter, cubed
Directions:
Preheat the oven to 375F. Grease a six-doughnut doughnut pan with a little olive oil or another oil.
In a large bowl, use a spoon to smoosh together maple syrup and coconut oil. Add egg and mix. Add milk and mix.
In a separate bowl, combine flour, oats, baking powder and salt. Add this dry mixture to the wet mixture, and stir together until well combined. Fold in the blueberries.
To the separate bowl that you just emptied, add all the streusel topping ingredients. When you add the butter, use your fingers to smash and break it into the mixture until it's in small pieces throughout.
Use a spoon to scoop the blueberry batter into the prepared doughnut pan, distributing it evenly among the pan, about halfway full in each opening. Top with the streusel mixture, distributing it evenly, too.
Bake doughnuts 20 to 25 minutes or until a toothpick comes out clean.
After removing the pan from the oven, slide a butter knife around each doughnut's edges, lifting it out and placing it on a baking rack to completely cool.