If you've ever wished for a noodle with zero calories, zero carbs, zero gluten and a neutral flavor profile ready to absorb spices, you'll understand why shirataki noodles are called a miracle. Also known as shirataki miracle noodles, miracle noodles or keto noodles, these slippery, watery, initially fishy noodles are similar to the ones you find in Asian stir-fries, soups or curries. Some people use them like pasta. Are they worth trying? Do they taste good? In the following post, I find out.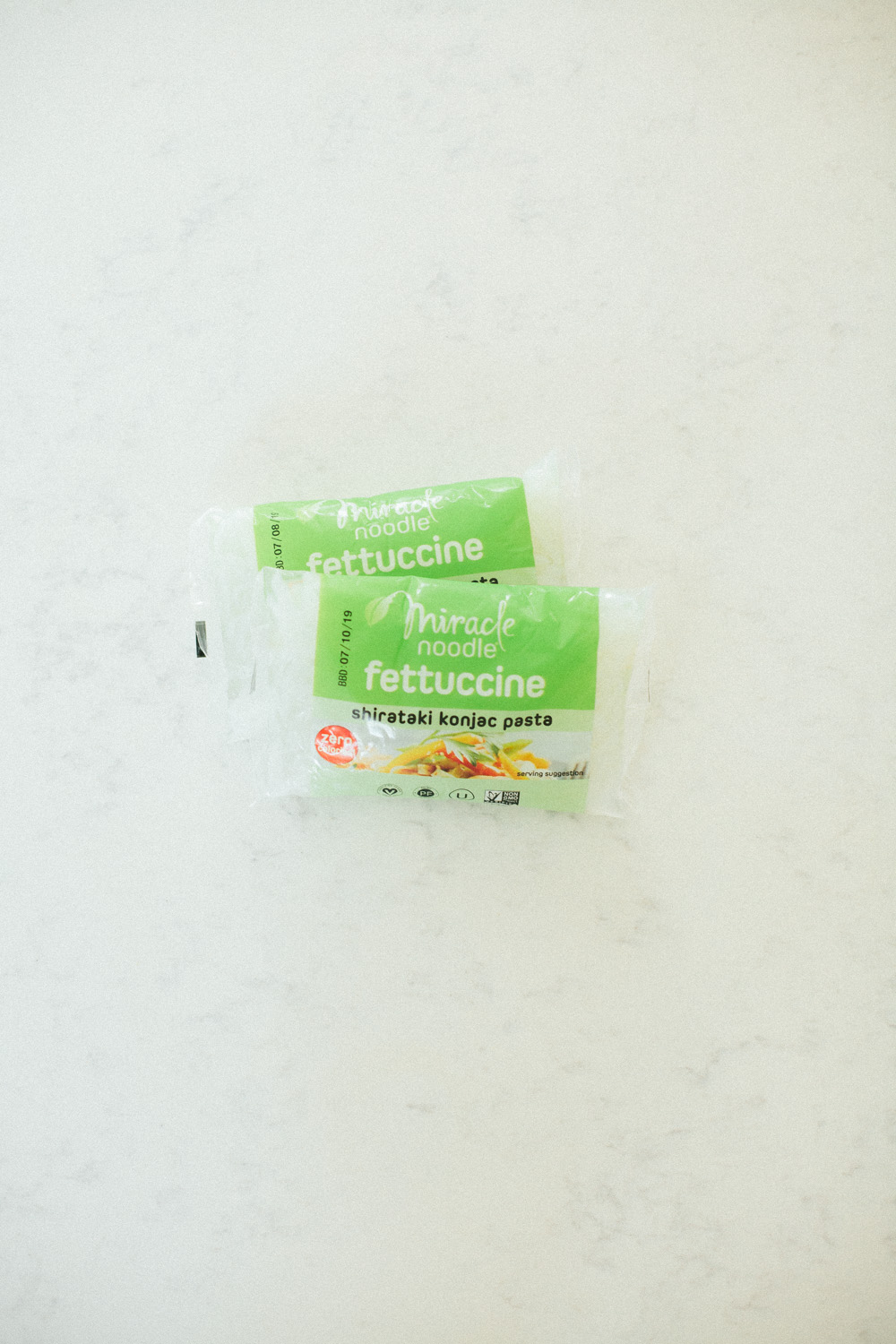 In January 2017, I wrote an article for Vitamix about how miracle noodles were becoming mainstream. Nonetheless, almost two years later, 73% of you polled on Instagram said you still haven't tried them. And, despite researching that blog post two winters ago, I'll admit I'm with you. Not only have I never bought miracle noodles, I've never eaten them and I've never seen them at the store. So when my friend Karen asks me how she can use shirataki miracle noodles to make a good dinner at home, I decide to dig into it. Let's test out the trendy keto noodles made from the konjac yam! I want to see what the fuss is all about firsthand.
Here's what happens when I test my first two packs of shirataki fettucine noodles.
Step One: Finding Them at the Store
If you look at current Google Trends, interest in miracle noodles is on the rise, particularly if you're talking about where to find them. Specifically, the phrase "miracle noodles Kroger" is up 250% in the last year and "miracle noodles Walmart," 170%.
Here in Nashville, my local Kroger only carries the tofu variety, which I'm less interested in than the simplified, water-heavy version. I go to Whole Foods. It takes me at least a half hour to search through the Asian aisle, the pasta section and all aisles of refrigerated foods before I think to look in the produce department. There, next to the case of fermented foods and spiralized sweet potatoes, I find them.
Made by the brand Miracle Noodle, each 7-ounce pack is $2.50 and has markings like "Zero calories!" on the front. The noodles are encased in water in the plastic, so they jiggle like thawed ice packs when I plop them in my cart.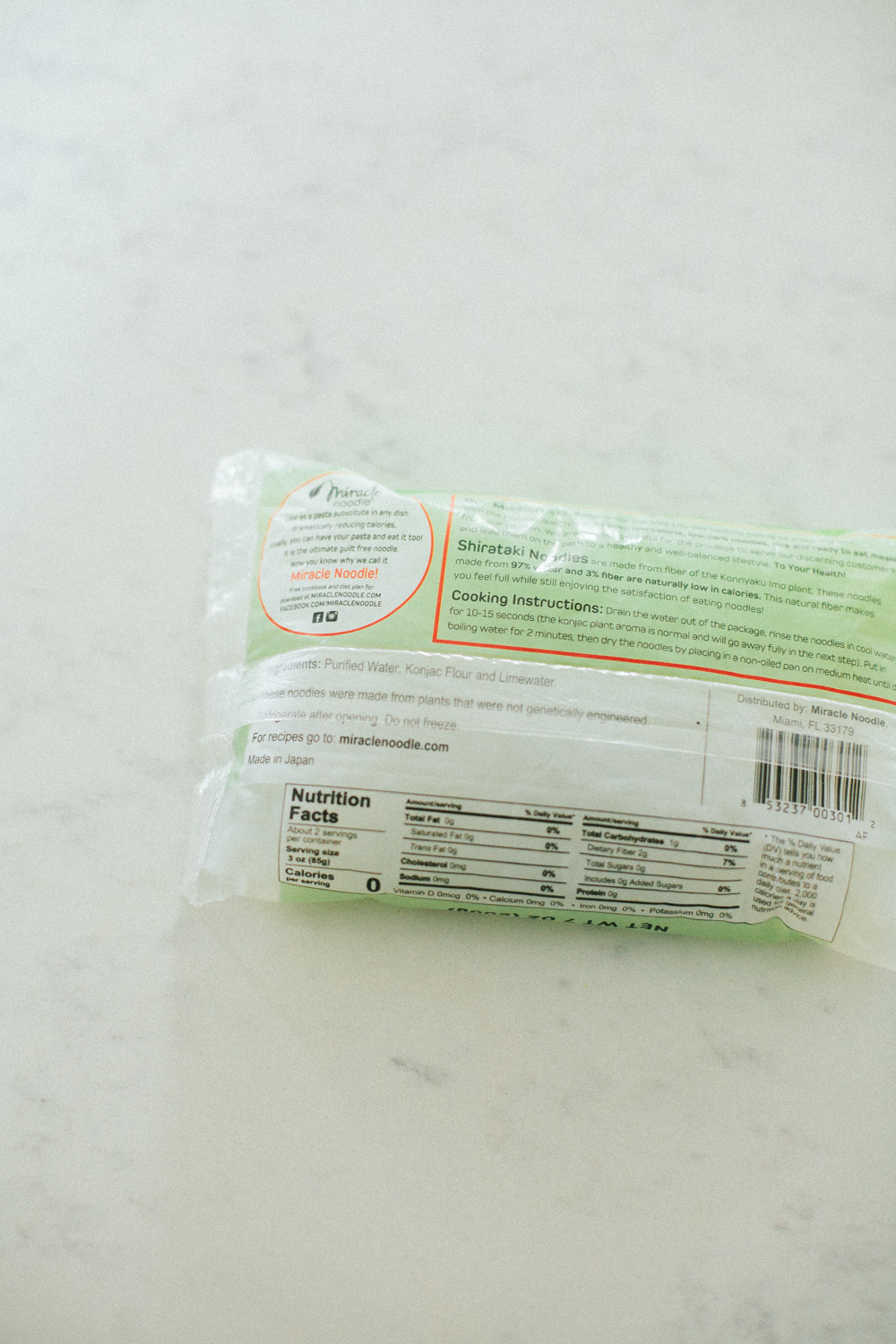 Ingredients: Purified water, konjac flour and limewater.
Quick Aside: Types of Shirataki Noodles
As mentioned above, not all shirataki miracle noodles are created equal. According to Kate Bratskeir at the Huffington Post, there are two main versions: the basic (essentially konjac and water) and the enhanced (with tofu or chickpeas added).
"Shirataki noodles are available in many shapes — spaghetti, fettuccini, macaroni — and can be purchased plain. Products like Miracle Noodle and NoOodle Noodles sell this type, which tends to be extra-slippery, nutritionally void (they are mostly made up of water) and close to calorie-free. Other brands, like House Foods and Nasoya's Pasta Zero blend the yam flour with tofu or chickpeas, which adds just a few calories and grams of carbohydrates and fiber."
For the purposes of this experiment, I want to use the barebones noodles, unenhanced and truer to the "miracle" claim.
Step Two: Figuring Out How to Cook Them
According to my research last January, there are four basic steps to prep your carb-free yam noodles for use:
Rinse and drain the noodles in a colander.
Dump them into a towel to press and dry them as much as you can. (Some resources skip this step.)
Boil them 3 minutes. (Some resources skip this step.)
Sauté in an unoiled pan to dry them out further.
The bottom line is you're taking your noodles out of the water pack and doing everything you can to get them dry. Then, once they're free of moisture, they're ready to use as you like.
As for me, I decide to go basic. I rinse and drain the noodles in a colander in the sink, squeeze out their moisture in a towel and then plop them in a heated sauté pan. The process isn't complicated or time-consuming, and the finished noodles do indeed feel like pasta and lose their fishy smell. Fairly impressive.
Step Three: Using Miracle Noodles in a Recipe
By appearance, miracle noodles remind me of glass noodles, aka cellophane noodles: starchy, transparent, a little gummy. Therefore, naturally, I figure, I'll start with how I'd like to eat those. On the Miracle Noodles website, there's a recipe for pad Thai, that entry-level Thai dish heavy on the peanut sauce. So, using a sauce I happen to have made last week and still have on hand, as well as some leftover venison steak for the meat, I give it a go.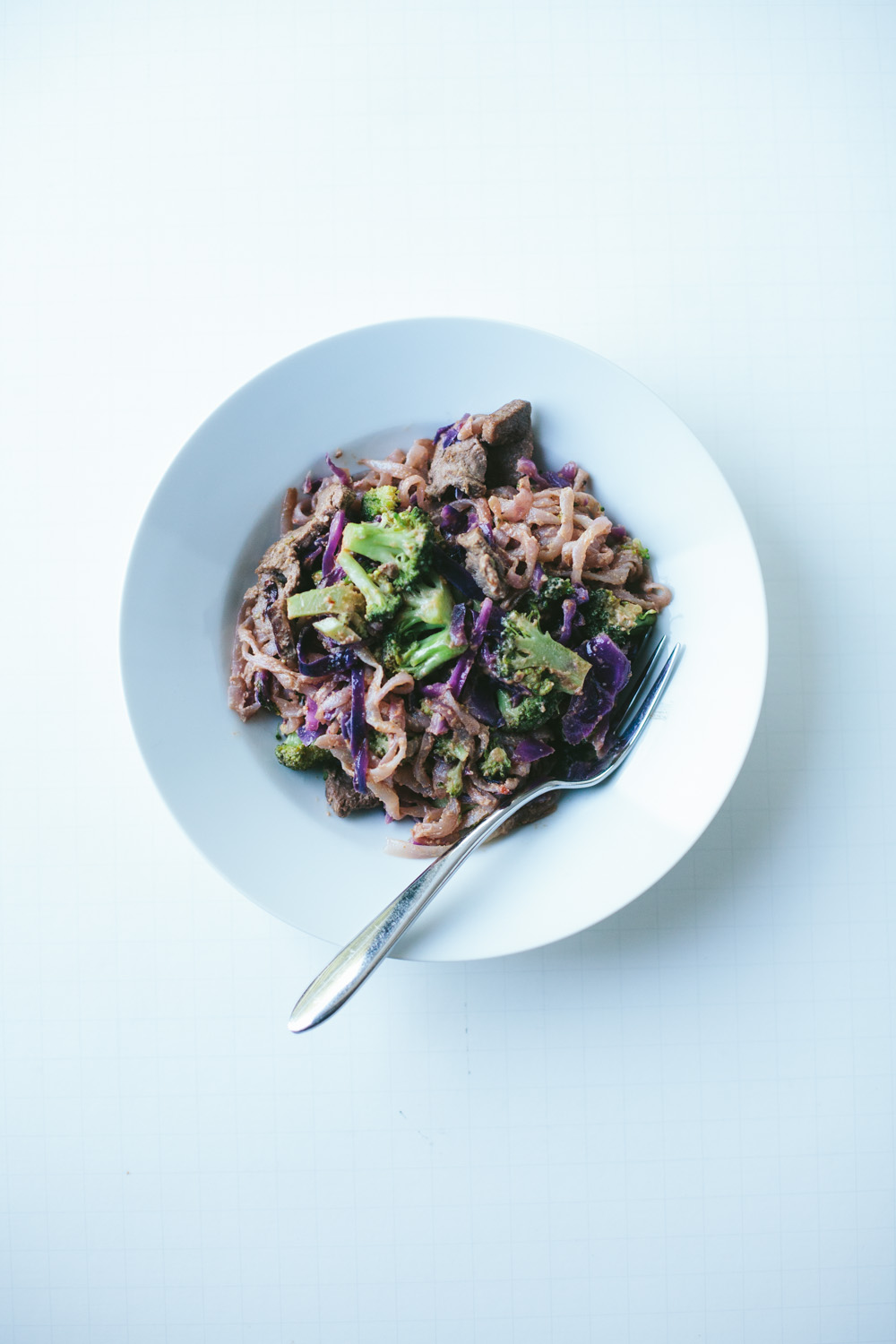 Miracle Noodle Pad Thai
To the dried noodles in my sauté pan, I add coconut oil and a few dashes of garlic powder. After half a minute, that gets combined with 3/4 cup each of shredded red cabbage and broccoli florets, as well as some sliced-up venison steak. I cover the pot, give it a few minutes and come back to turn off the heat. After a few tablespoons of peanut sauce and a splash of sesame oil, the dish is done.
At first taste, I'm ambivalent. Then, I add some coconut sugar (maybe my leftover peanut sauce was the problem?) and the dish is transformed. The noodles are, no question, comparable to any traditional variety: soft but with a slight chew, easy to slurp and soaked through with the flavor of my peanut sauce.
OK, maybe I'll buy miracle noodles again?
A Faux Pho
There are few dishes as comforting as a warming bowl of pho, the Vietnamese dish known for beef stock, spices, meat and noodles. So, with my other bag of shiratki, I decide to flub together a lazy version of this soup. While drying and sautéing the other pack of shirataki miracle noodles, I sauté onions, garlic and ginger; add vegetables, meat and broth and, once it's all cooked and soft, throw in the dried noodles.
Here, too, the konju fettucine succeeds. It's a perfect sub, completing the pho just as normal noodles might.
Conclusions
Take it from a miracle noodle newbie: these calorie-free foods aren't too good to be true. You can sub them where you'd normally use Asian noodles and find the dish everything you'd hoped. Particularly if you're looking to cut calories, lower carbs or use noodles without gluten, they're worth trying. That said, are they better than rice noodles? Do they make sense to buy on the regular?
In my opinion, the biggest selling point is that they're basically water and yam. They are made of real foods, yet offer a way to have noodles without calories or carbs, free of gluten. This makes them a solution for most diets or allergen sensitivities. The biggest downside, however, is there's not much else that makes them distinct.
Miracle noodles are available in many modern grocery stores, as well as online via Amazon and other sellers.
Recommended for: anyone looking to cut calories, carbs or gluten, while still getting a noodle fix; curious cooks.
Not recommended for: anyone else.
disclaimer: this site uses Amazon affiliate links, through which it may earn small commissions on any purchases made.