The 1992 cookbook Essentials of Classic Italian Cooking is still an Amazon bestseller today. In it, Marcella Hazan has a lot to say about making pasta–some of it surprising. Whether you're a pasta veteran or never considered the idea of making it yourself, here's a look at the legendary Italian cook's handmade pasta recipe and what it might be able to teach you!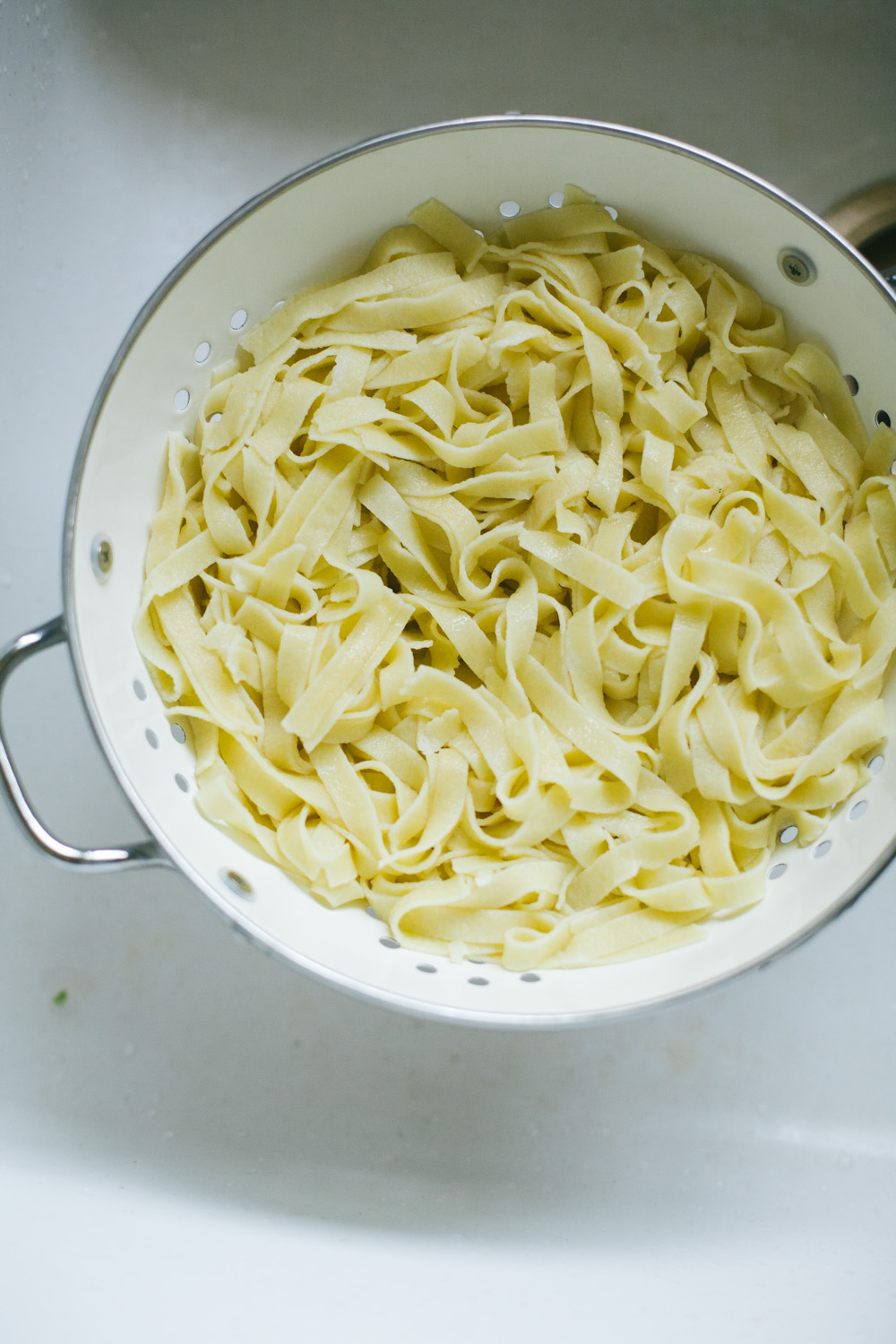 There's nothing like a handmade pasta recipe to reignite your love of cooking. All it takes is a chunk of time in the kitchen and the simplest of ingredients to create the foundation for four-star dining at home! What's even more magical, however, is doing pasta the Marcella Hazan way. Skip the complicated steps and expensive equipment. No need to clear half the day. Just try this handmade pasta recipe from one America's most famous Italian-born cooks.
Here are four things Marcella Hazan can teach us all about pasta: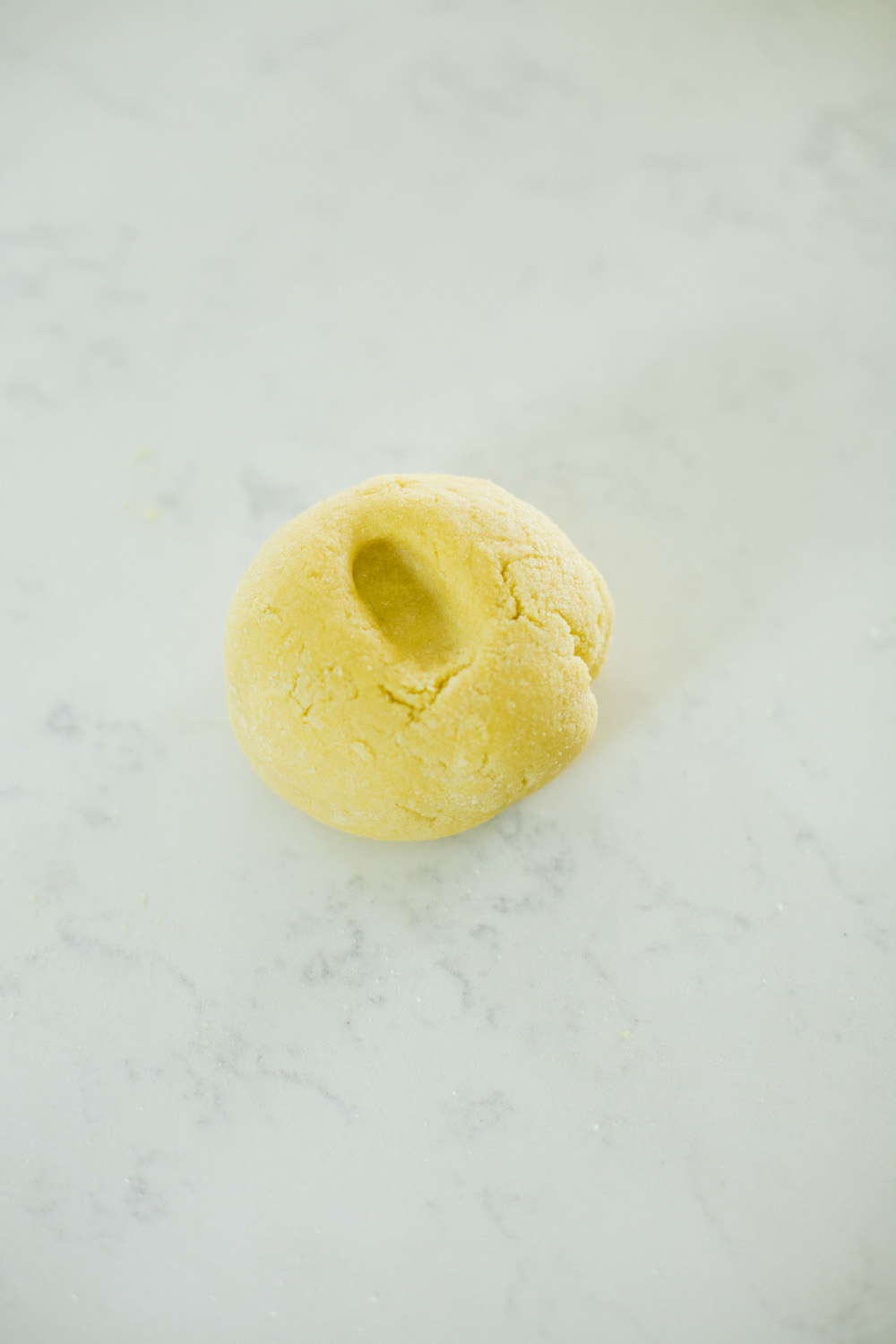 1. You only need two ingredients.
If you've seen and followed any handmade pasta recipe, chances are it's included water. According to Marcella Hazan, this is a mistake. "Water makes it gummy," she writes in Essentials of Classic Italian Cooking. What you need instead is the proper ratio of the two ingredients you do use, mixed by hand so you can feel when it's too dry or too wet. One batch of Marcella's handmade pasta recipe calls for one cup of flour and two eggs.
2. Salt isn't one of them.
It goes against everything you may have heard about cooking, but, when it comes to handmade pasta, you don't have to salt it. According to Hazan, "Salt does nothing for the dough, since it will be present in the sauce."
3. You don't need fancy equipment.
Making pasta doesn't have to be complicated or require special equipment. In fact, in the case of the food processor, Hazan says it's actually worth skipping. "Dough for pasta can be kneaded in a machine, but it isn't really that much quicker than doing it by hand, and it is far less satisfactory, particular when needed in a food processor." To experience the full joy of making handmade pasta, Hazan advises you mound your flour on the counter, make a deep well in the center and add the eggs. Whisk those eggs with a fork as if you were prepping them for an omelet, and gradually work flour, bit by bit, into the liquid. Eventually you have to use your hands. Work the dough into a round, and test to see if it's ready by pressing into it with a clean thumb. If nothing sticks to your skin, the dough is done.
Likewise, while a pasta machine is fun and convenient, there's no shame in using a rolling pin. Hazan provides instructions for both thinning methods in her book. While making pasta with a rolling pin is a little more involved (Hazan dedicates more than five pages to it), it's also classic, the way old Italian grandmas have been making it since the beginning. The key is to roll the dough as thin as possible, working quickly.
4. Simple food, made well, is the best food.
Today, there is an entire movement dedicated to the value and pleasure of simple foods made well. Even in an age of molecular gastronomy, some of the highest rated restaurants are still making basic dishes: bread baked on their own hearths, vegetables fermented in house with water and salt, pasta mixed by hand. And when you go back to traditional cooking methods, you elevate your home-cooked food the same way these restaurants do. Simple foods made with intention and thought feel special. They're approachable and non-pretentious, yet still a pleasure to taste. When you want to treat yourself and your loved ones to a memorable meal that's hard not to love, you can't beat handmade pasta–especially made the way Marcella Hazan recommends.
Marcella Hazan's Handmade Pasta Recipe
Ingredients:
1 cup flour, plus more as needed
2 eggs
Directions:
Mound the flour on the counter, high yet wide. Then, push down a cavern in the center, creating enough room for two eggs. Crack the eggs into the cavern, and use a fork to whisk them in place. Gradually whisk flour into the eggs, a little at a time, until you can no longer control the dough with the fork. Then, use your hands to push and press the dough together into a cohesive ball.
Use either a rolling pin or a pasta maker to create thin pieces of pasta dough, cutting them as you like. Dry by hanging or laying on towels. To cook, boil in salted water until it's totally soft (not longer hard and dry), but still a little firm.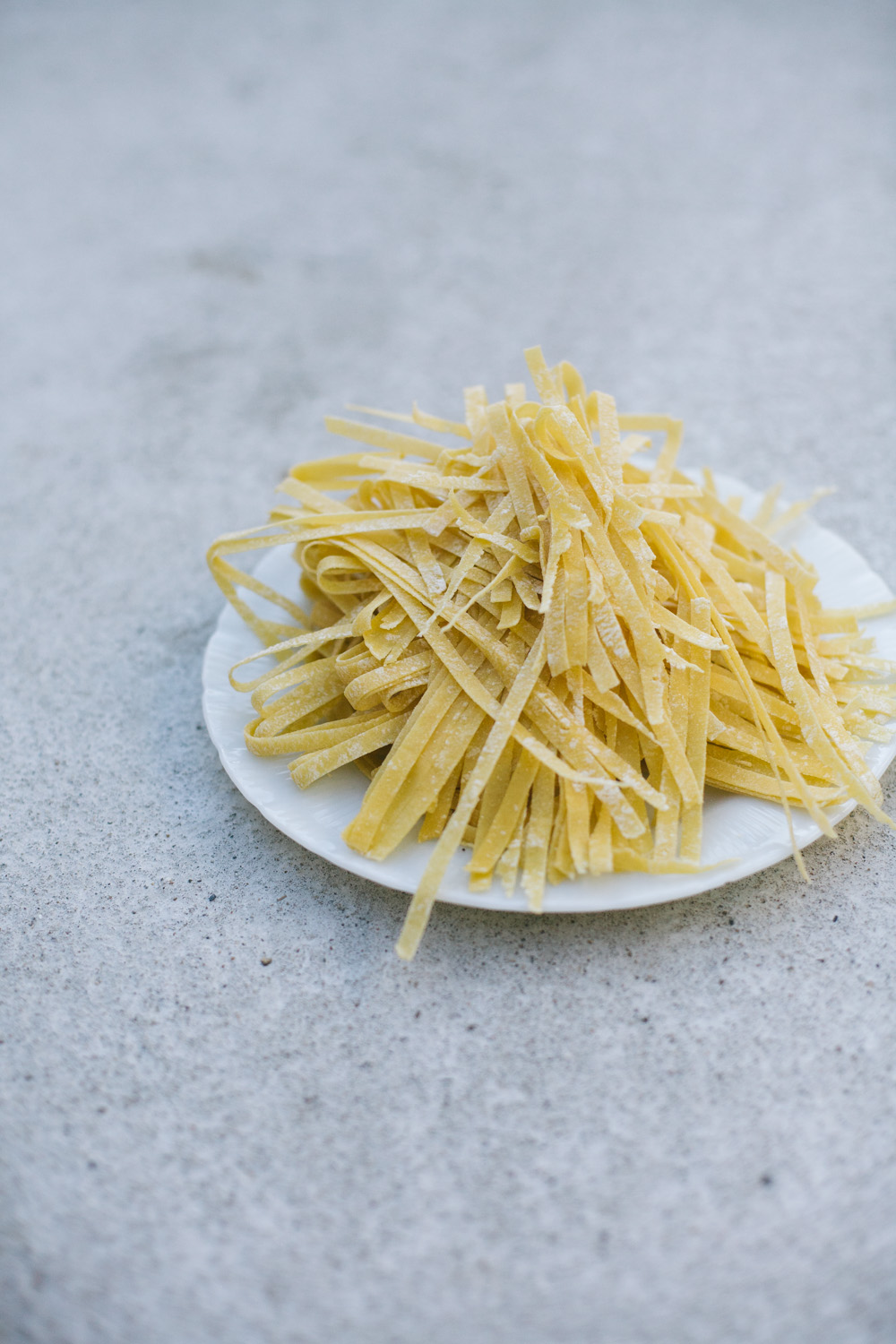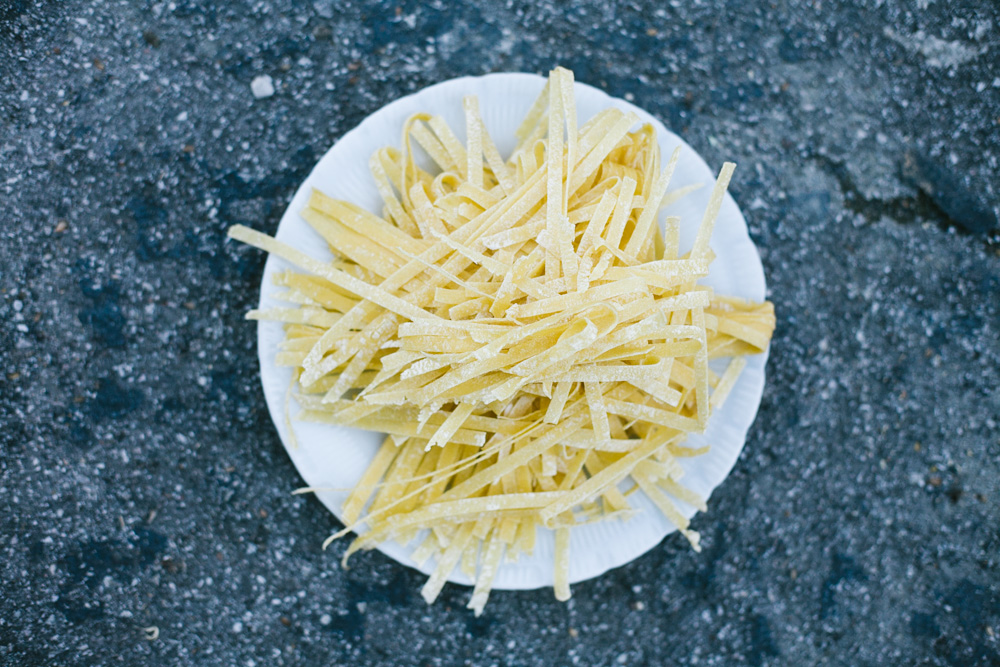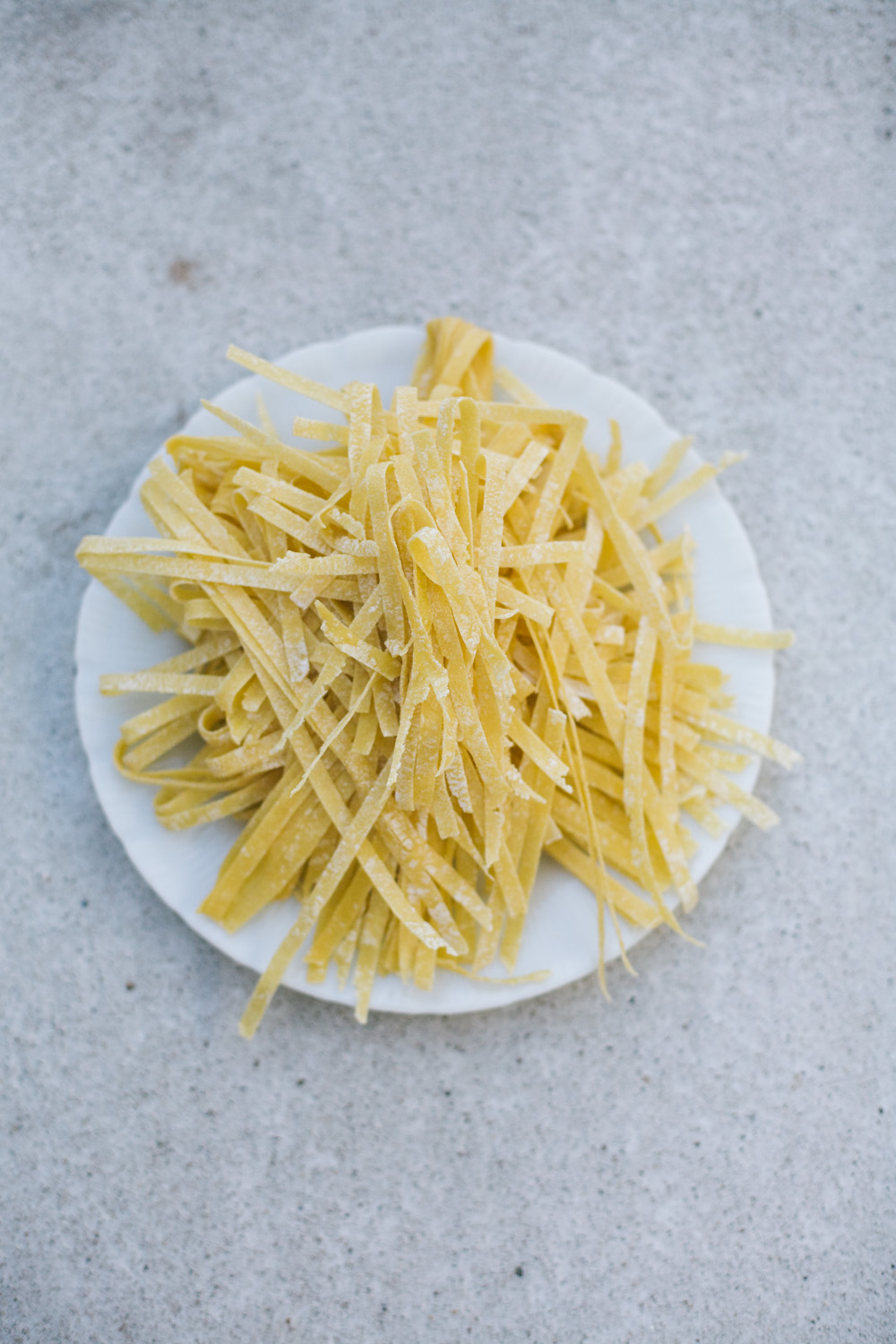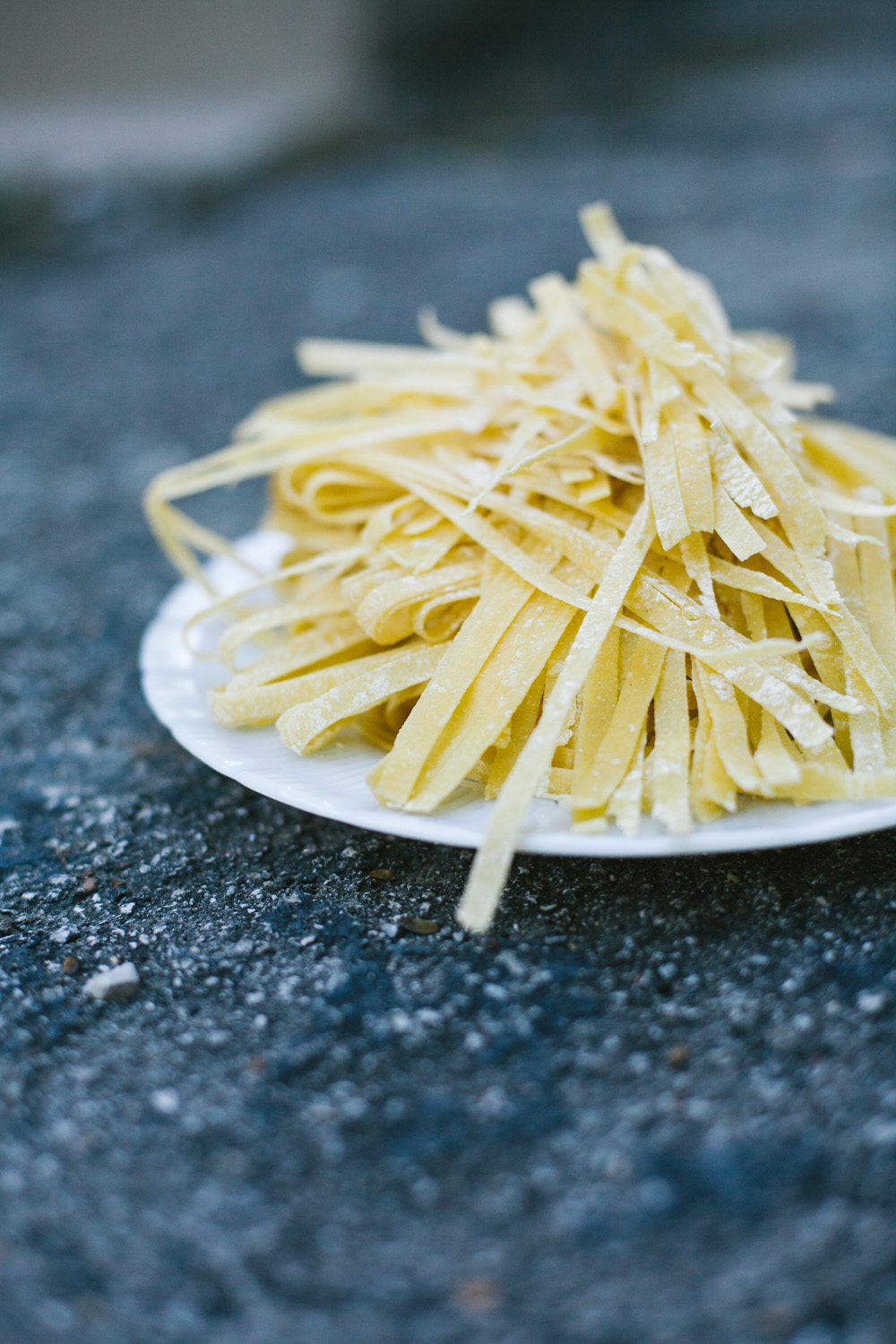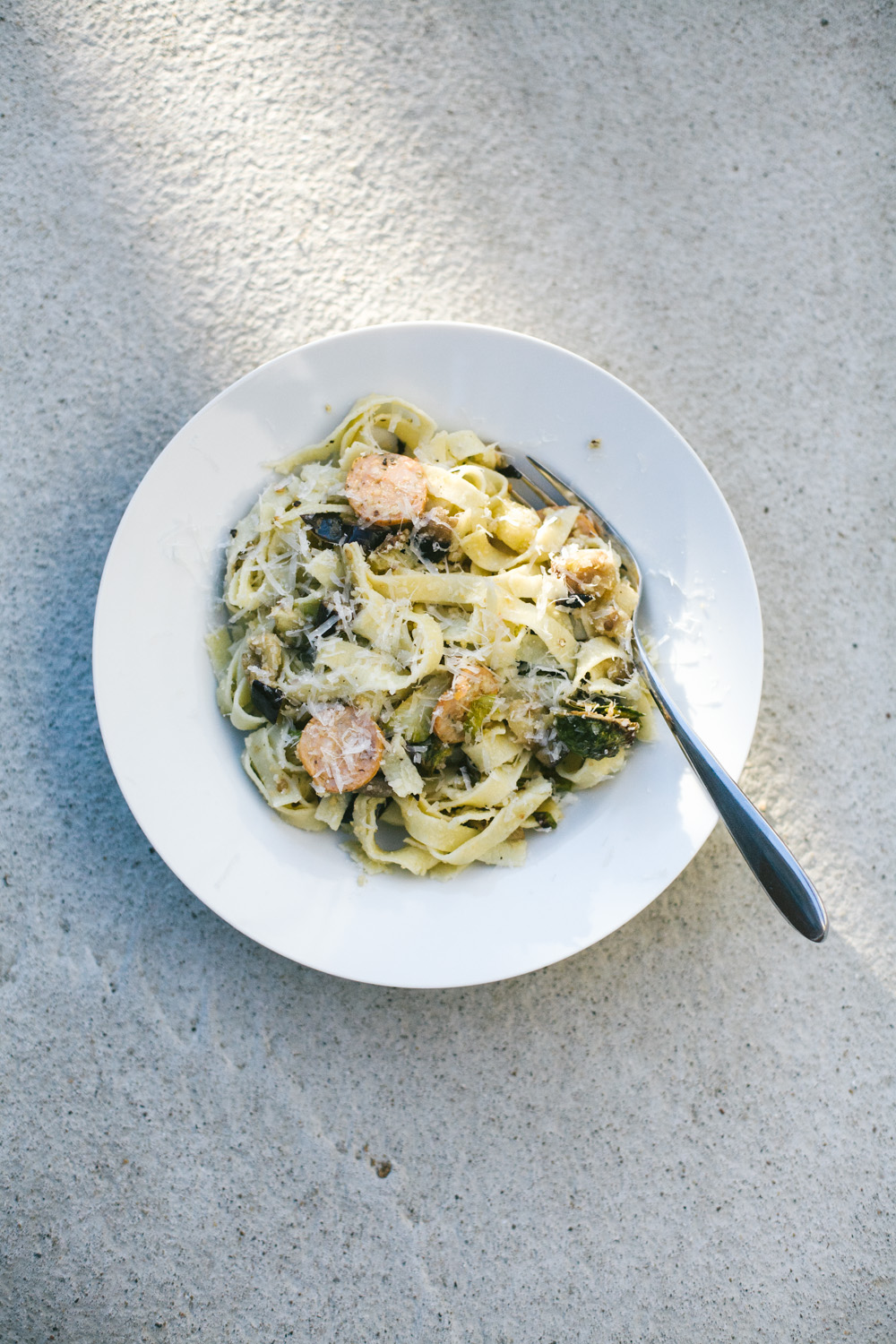 Handmade Noodles with Roasted Vegetables, Oil and Cheese
There's nothing shocking about this dish, which is barely a recipe, but the basic idea is worth remembering. Toss your cooked pasta with hearty helpings of roasted vegetables, and then toss that mixture with olive oil, browned butter and cheese. I also threw in a handful of leftover chicken sausage–dishes like these are made for using up those random bits sitting in your fridge.
Ingredients:
One cooked double batch of Marcella Hazan's pasta dough, cut and dried in noodle shapes
1 eggplant, diced and roasted with olive oil, salt and pepper
1 pound of Brussels sprouts, quartered and roasted with olive oil, salt and pepper
A few generous glugs of olive oil
3 tablespoons browned butter
Grated Parmesan or Pecorino cheese
Salt and pepper to taste
Directions:
Toss together cooked pasta with roasted vegetables and enough olive oil to coat everything well. Add in browned butter, toss again and cover everything with grated cheese. Toss again, and salt and pepper to taste.
disclaimer: This site uses Amazon affiliate links, through which it may earn affiliate income on any purchases made.