Everybody knows salad can be healthy, but does everybody know it can be fun? According to readers polled on Instagram, maybe not. Only 41% said their main reason for eating salad is pleasure—but those that did had ready ideas and recipes for spreading the love. Keep reading to see what they and other resources online have to say about the secrets to making salads something to look forward to at home!
According to research from YouGov, if you're over the age of 55, there's a 90% chance you like salad; if you're a Milliennial, a 40% chance you don't. In other words, while it's not hard to find someone to praise the good of greens, it's getting increasingly harder to find someone who's excited to eat them. What's going on?
Sure, It's Healthy, but …
In today's society, salad is top of the tongue for anyone who's talking health plans, diet tips or what to make to lose weight. It's one of the few foods that fits almost any dietary restriction or preference—the rare overlapping area in the Venn diagram of what basically everybody can eat. Salad's on almost all restaurant menus, including fast food chains, and it's the universal symbol for virtuous eating, even when, as one Harvard Health Letter points out, in certain cases, it's actually not.
The problem? Saying salad's good for you may get people to muscle through a meal, but it won't make them love it. Also, some salads aren't exactly enticing.
The Problem: Salad Can Stink
As Lindsay Abrams writes in a 2015 Salon.com article entitled "Make salad great again," the truth is, "salad can be bland and flavorless and wasteful, if mixed from ingredients that happen to be all three," she says. But "for the price of a head of lettuce and some cucumbers and radishes … [you] could buy more than two pounds of broccoli or sweet potatoes. You know what goes great in a salad? Broccoli and sweet potatoes! You know what's better than a salad made with iceberg lettuce? A salad made with literally any other type of lettuce!"
Better Ways to Make Salad Shine
Salad lovers agree. In fact, tap into the minds of the people who actually love their lettuce (and other types of salads), and you'll hear some reoccurring advice about thinking outside the box of the expected and mixing up your salad routine. Turns out, salad really can be super.
Here's how.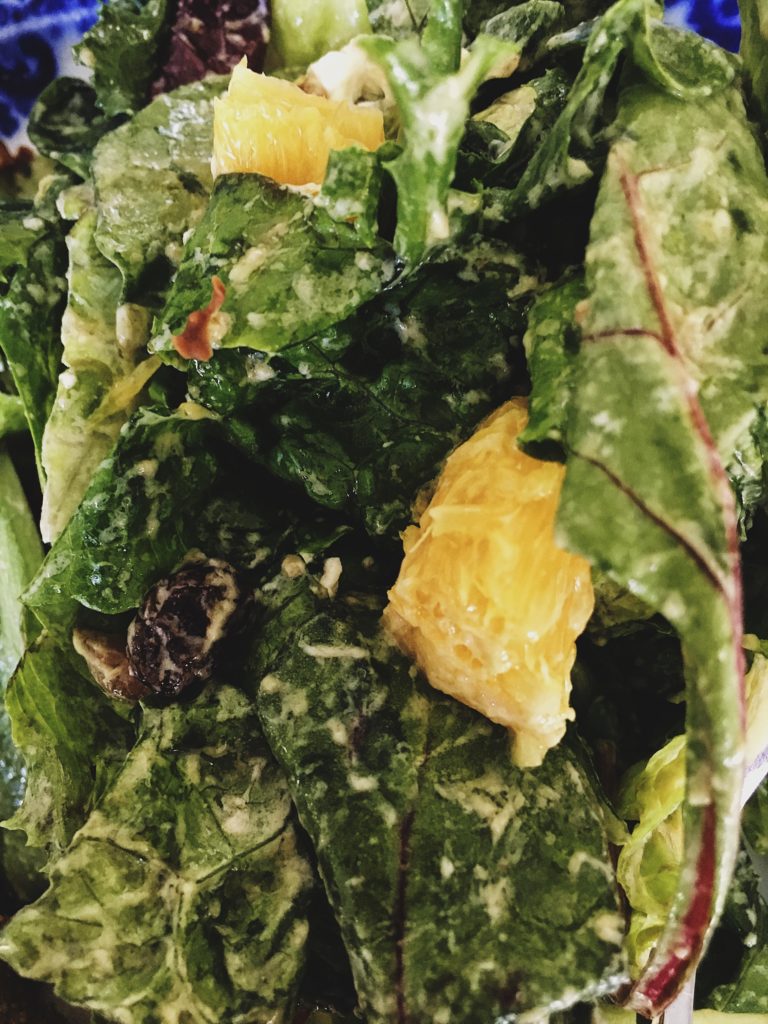 Secrets to Making Salads Something to Look Forward to, Says Instagram and the Internet
Below, in no particular order, are some of the top tips of Instagram and Internet salad fans. If you're looking to dress up your salad game, here are some great ideas for where to start.
Make homemade dressing. If you're in for the slightly extra effort of making your own dressing, you can experience what many people call a game changer. You can go basic by shaking vinegar and oil together to emulsify them in a closed mason jar, or you can get creative by adding in yogurt, cream, nut butter, herbs, spices, etc. Instagram sources recommend checking out versions from Sprouted Kitchen, Shutterbean and Pinch of Yum.
Use fresh, seasonal ingredients. The fresher the produce, the better the taste, so says more than one salad connoisseur. "What makes a great salad? Fresh, crisp produce," writes JeanMarie Brownson at the Chicago Tribune. "Salads prove best when composed with in-season produce."
Add hearty and satisfying components. As at least one toddler I know likes to say, salad is more exciting when it has "a lot of yummy stuff" inside. Multiple respondents recommended a version of "fill your salad with a bunch of foods you like." Also, when possible, incorporate different textures, fats and proteins. Consider nuts, cheese, fresh or dried fruit, chopped veggies, sprouts, grains, meat, beans, crushed chips and/or toasted bread cubes, for example.
Try cutting ingredients differently. Shake up your salad routine by shaving carrots instead of chopping them or finely dicing broccoli instead of dicing it. Sometimes it's the way you cut your ingredients that makes the salad—watch this Jennifer Garner Instagram video for inspiration!
Recommended Recipes from Readers
Want even more specific advice than what's listed above? All of the below options were favorites from Instagram respondents–note all the kale!–the kinds of recipes that make them excited to eat salad again!
Bonus: Recommend Salad Combinations from Readers
If you're more of a "feel your way" cook, here are a few basic combinations readers also loved, open to your interpretation on proportions:
Romaine + beets + goat cheese + pears + pecans + chicken / dressed with olive oil and balsamic (PS! Curious about the best olive oil to buy at the grocery store? Don't miss this post!)
Spinach + macerated strawberries + good cheese + pecans / dressed with a balsamic vinaigrette
Baby spinach + strawberries + feta + pecans + grilled chicken / dressed with a raspberry vinaigrette
Spinach + walnuts + bacon pieces + hard-boiled egg + feta / dressed with balsamic dressing
Romaine + zucchini + pan-seared chicken / dressed with a sun-dried tomato vinaigrette
In Conclusion
This fresh spring season of green and growth is the perfect time of year to celebrate salads. So as you're planning meals or looking for last-minute inspiration in the kitchen, consider trying one of the ideas above! I'll join you. Follow along for salads I'm excited to try on Pinterest–and stay tuned for some more salad-themed content on the blog to come.
---
disclaimer: this site uses Amazon affiliate links, through which it may earn tiny commissions on products purchased.