Published this past November, the cookbook "Extra Helping: Recipes for Caring, Connecting & Building Community One Dish at a Time" is an artfully illustrated paperback with a simple goal: to give you real tools for responding to the "endless opportunities to hone the craft of feeding those too taxed to feed themselves," along with "the art of gratefully receiving this attention" in those situations when the person who is too taxed is under your roof–or you. Food, Elsbach says, is one of the most foundational and meaningful ways to help one another. In this book, she shows how.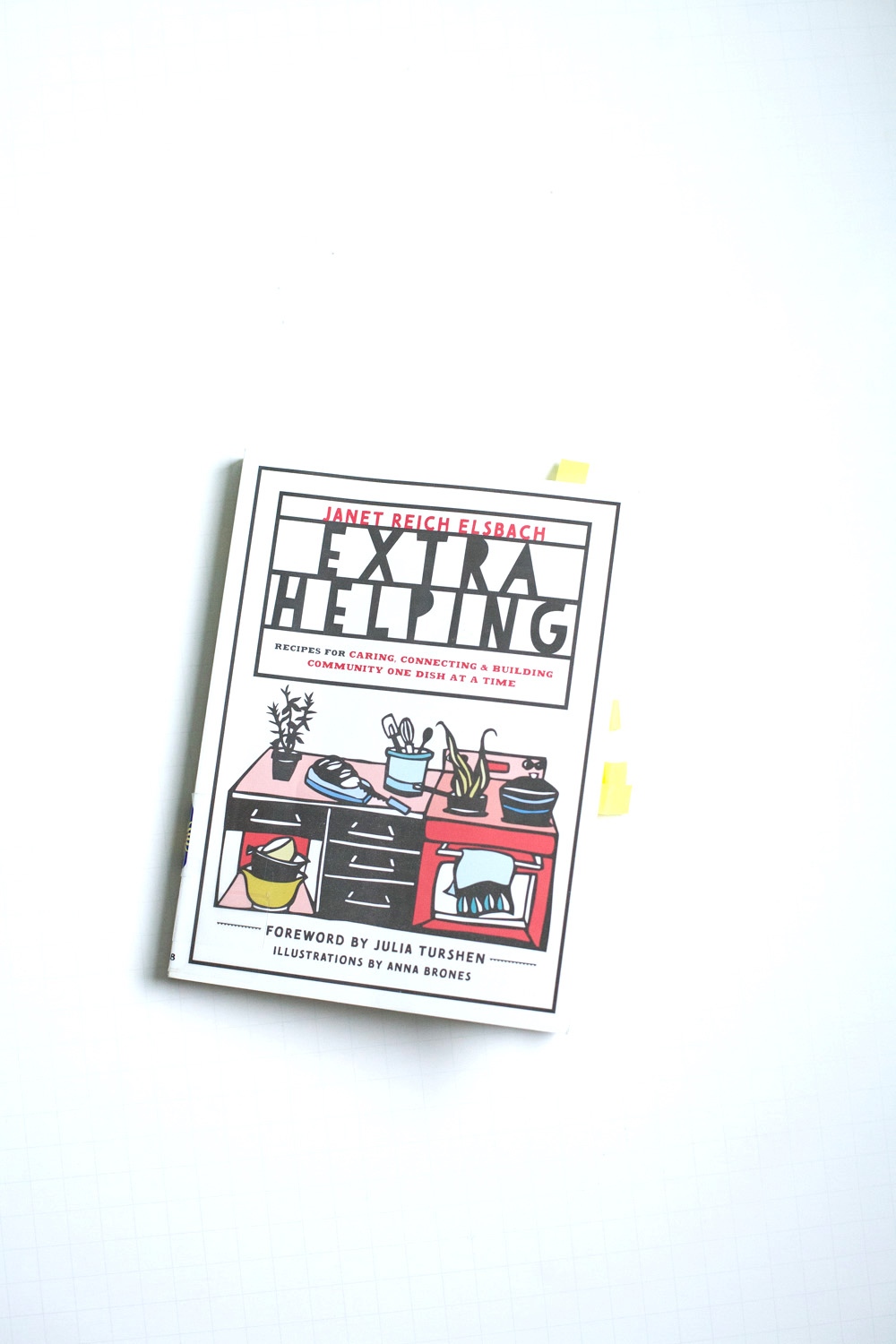 According to Janet Reich Elsbach, Massachusetts-based author of the recently published cookbook, "Extra Helping: Recipes for Caring, Connecting & Building Community One Dish at a Time," caring for people with food is essentially the same as caring for people in any other way. Whether someone's just brought home a new baby or is grieving the sudden loss of a spouse, to be able to offer the kind of help that is truly help, what's required is less cooking skills, more listening skills.
In other words, what you need to know is how to be curious.
How Curiosity Enables Us to Care
"People ask me, 'What's the one thing that everybody needs to know?'" Elsbach explains in a January interview with Wisconsin Public Radio.
"The recipes are secondary just to that willingness and curiosity," she says. "I think those are the two things that you kind of need to have. The curiosity about what someone is really hungry for, what do they detest–you know, what are they missing most. If they're going through an illness, sometimes certain things are off limits. How could you offer them something that's satisfying, that [speaks to that] same hunger but maybe conforms to what they're able to eat?"
But Something Is Better Than Nothing!
In a society where many people have food intolerances, allergies, illnesses or preferences, Elsbach recognizes the idea of making a home-cooked meal can be intimidating. You might be scared to ask, to try–and freeze up.
But what hurting people consistently reveal is that they need help, not silence. Consider the words of Michele Cushatt, a tongue cancer survivor recently interviewed on author Margaret Feinberg's The Joycast.
In an episode titled "Here's How to Escape the Prison of Shame," she explains, "One of the most painful things is people ignoring my reality. They're afraid to say the wrong things, so they say nothing. That is [actually] more painful to me at times than saying the wrong thing."
Elsbach, having herself been the recipient of care, as a new parent, a cancer caregiver and in grief, also affirms that something is better than nothing: "[When you show] up in this way with a meal, even if, worse-case scenario, it isn't something they can eat, you've still done something nice. You've demonstrated you were thinking about them as long as it took to prepare or procure a meal—and that's great."
The Meat of the Book: Practical Strategies for Making Meals for Others
Organized into six separate chapters, "Extra Helping" addresses various life experiences that might warrant the bringing over of something for someone to eat (A new baby! A move! Illness! Celebration!). Paying careful attention to the needs of each situation (with a reminder to still, always, consider the particular recipient you are bringing something to), Elsbach gives both warm-hearted tips and her own trustworthy recipes.
So, for new parents, for example, she says to bring nourishing food that's easy to eat with one hand. There are recipes for carnitas and skewers and Sun Salutation cookies (with sunflower seed butter!). For friends on moving day: it's always good to bring meals that won't require anything (i.e., pot holders, silverware) from all those boxes yet to be unpacked. Or, for the person who's nursing a cold: look for healing comforts such as Slippery Soup, Wellness Truffles or, say, Garlic Lemonade.
Example Recipe: Garlic Lemonade to Soothe a Sore Throat
To make a batch of Elsbach's sore throat elixir, you start by combining eight cups of water with a handful of peeled garlic cloves and an inch of peeled ginger root. Once it's boiling, reduce the mixture to a simmer, and cover the pot for an hour. Afterwards, pour everything through a strainer and into a pitcher. Then add the juice of two lemons and a quarter cup of honey.
The resulting brew is golden in color, like a deeper lemonade, and it tastes tart and sweet as summertime—but with a kick from the garlic and ginger. It burns slightly on the way down. The garlic's not at all overpowering. It's a familiar, yet healthified, drink that's legitimately a comfort, made to soothe those sharp, scratchy beginnings of a cold. File it away under Natural Remedies to Use! Or better, yet: Natural Remedies to Bring a Friend!
Garlic lemonade, easy to package up in mason jars, is just one example of the helpful solutions Elsbach offers in "Extra Helping." Also tested and worth noting: the wild rice soup (thick and creamy comfort food!) and the un-meatballs (did you know you could make savory vegetarian meatballs without beans, soy or nuts? I'm here to tell you, along with another adult and two toddlers who ate them eagerly, you can).
While "Extra Helping" is a cookbook, described as "for the soul, hold the chicken soup," in a December Bon Appetit gift guide, it's more than that, too. What Elsbach offers is a heartwarming, inspiring, useful set of tools. With them, you can confidently care for the people hurting, healing or happy near you.
Conclusion: Making People Meals Is Meaningful, and This Book Shows You How to Do It
Wherever you are in life, do you ever wonder what you can do to make a difference? Do you ever feel unsure where to start? Here's the answer: look around at who's in your life and ask yourself, "Who's hurting? Who's in need?"
Whether that hurting person is grieving the loss of a loved one, home again after surgery or just overall discouraged or cast down, take a tip from "Extra Helping" and reach out. If there's anything this book communicates, it's why this simple gesture is such a significant thing.
Get inspired with more ideas for feeding the people in your life by ordering this book here:
If You Liked This Post…
You may also want to check out the series on new-mom meals, published last June. Read Instagram survey findings, an interview with seasoned meal-maker Amanda Waddell and a roundup of 14 great freezer meals to try!
disclaimer: this blog uses Amazon affiliate links, through which it may earn tiny commissions on purchased made. if you want to support this site, check out our Amazon store of recommendations!