Winter weather doesn't have to destroy your skin. Consider this: the same oil you cook with can be a great way to rehydrate! Here's why using olive oil as a moisturizer is such a smart solution this season.
Save your skin by tapping into an ancient beauty secret: use olive oil as a moisturizer. It's available, it's accessible and it works! According to an Instagram poll last week, 98% of you already rely on this ingredient for everyday cooking. So while you're using it in the kitchen, why not drizzle a few drops onto your hands and rub them in? The people behind Pompeian Olive Oil say you'll be glad you did.
"As you know, the winter weather can be extremely rough on your skin. One lifesaving trick to boost moisture and hydration is by using Extra Virgin Olive Oil," says Pompeian. "Yes, EVOO!"
Benefits of Using Olive Oil As a Moisturizer
So here's the deal. Rubbing olive oil into your hands before, during or after you cook is great for your skin. Because of the natural components found inside olive oil, it is able to penetrate your pores deeply and prevent scaling and cracking. In fact, people have already been using it for centuries to do just that. So consider some of the reasons why you might want to reach for this pantry staple–but for your skin!
1. Olive oil is good for you—it's loaded with antioxidants.
"Doctors are finding olive oil can do wonders for dry or damaged skin," reports Susan Hendricks in a 2012 story for CNN that calls olive oil "God's moisturizer." The video credits the moisturizing power to antioxidants, which are in high supply in olive oil. Hendricks says, "[Antioxidants] can help prevent and repair damage to your skin's tissue." In other words, when you use olive oil as a moisturizer, you nourish your skin with nutrients it needs.
2. Olive oil makes your skin soft—it's the squalene.
According to Chloe Metzger at Marie Claire, olive oil is "naturally high in squalene, an oil that mimics your skin's natural sebum, so it'll leave your skin barrier extra smooth and soft." Squalene is one of the three chief active components found in olive oil and has been shown to have anticancer effects, according to a 2007 study.
Pompeian also adds, "Squalene has emollient properties, restoring healthy suppleness and flexibility. It reduces free radical oxidative damage to the skin, helps alleviate skin irritation and has been successfully used for local treatment of burns due to its antibacterial properties."
3. Olive oil is a time-tested moisturizer.
Using kitchen oils as moisturizers may be on trend today, but it's also timeless. The practice dates back hundreds or thousands of years, according to most sources. "Mediterranean women have used [olive oil] as a moisturizer for centuries," says writer Emily Main, in a 2013 article for ABC News that lists olive oil among four of the best pantry solutions for dry skin. High in vitamin E and naturally anti-inflammatory, it's been a convenient choice for generations.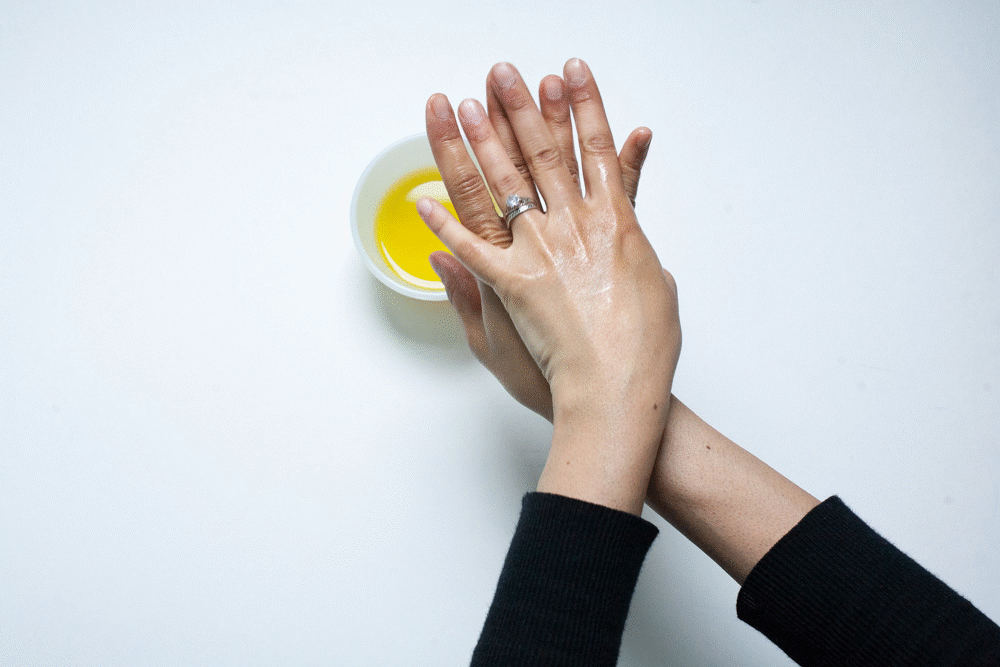 Does It Matter What Kind I Use?
When it comes to olive oil that you rub into your skin, the best results come from the best quality. Brands like Pompeian emphasize that their USDA-certified organic extra virgin olive oil is carefully handled and produced in a way that protects nutrients. This, the company says, only enhances moisturizing benefits.
"Pompeian Organic Extra Virgin Olive Oil is made from olives grown under conditions that protect the fruit and its natural healthy properties," says the brand.
What Other Ways Can I Use Olive Oil in My Beauty Routine?
Google around a little for olive oil beauty secrets, and you'll see people are using olive oil for everything from a makeup remover to a body balm. In addition to rubbing it in damp skin and blotting any excess with a cloth, Pompeian Olive Oil recommends the following:
Making a DIY face mask or scrub
Mixing it with lavender and peppermint essential oils for a calming moisturizer
Combining it with sugar for a lip scrub
Running it through your hair before a hot shower, putting on a shower cap, leaving it on during the first 10 minutes of your shower and then rinsing/shampooing as usual
Try This Easy Moisturizer and See What You Think!
The best part of using olive oil as a hand moisturizer is you can try it today. There's no need to order fancy ingredients or equipment. Just go to your kitchen, rub some in your hands and see how it feels! I'd love to hear what you think if you do.
Special thanks to Pompeian Olive Oil for sending some of its organic extra virgin olive oil, as well as information on its benefits, for this post. I didn't intentionally use olive oil on my skin before, but I am doing it now.
PS! If You Liked This Post…
Don't miss the results of the olive oil survey posted Monday. You may also enjoy this comparison of canned tomato sauces or this post about Marcella Hazan's super simple pasta recipe!
disclaimer: this site uses Amazon affiliate links, through which it may earn tiny commissions on any products purchased. If you want to see items recommended by Go Eat Your Bread with Joy, go to our Amazon store.