If you live in Nashville and shop either Produce Place or Whole Foods, you've probably seen the artisan loaves of sourdough that feature 615 (our area code) in flour on the tops. These locally made breads are an example of the work of William Kruse, a Nashville sourdough baker with more than two decades of experience. Come learn more about him here!
While I was gathering feedback from experienced sourdough bread bakers for the last Q + A, Nashville sourdough bakery William Kruse of Goldfinch Bakery was kind enough to give me his thoughts, too. What I love about his perspective is the breadth of experience–he's been baking sourdough since before there was Google! Based off Trousdale Road in South Nashville, his bakery, Goldfinch Bakery, specializes in locally made, naturally fermented breads. Kruse says he uses minimal ingredients, slow-process fermentation and wild yeast.
So if you've ever wondered what a professional sourdough baker–one with products in Music City's own grocery stores–would have to teach you, you'll love scrolling through this interview as much as I did. Keep reading below!
---
William Kruse, Goldfinch Bakery Nashville
Age: 45
Location: Nashville
Occupation: Sourdough Bread Baker/Pizza Maker
Length of Time Baking Sourdough: 22 years
Instagram handle: @gold_finch_bakery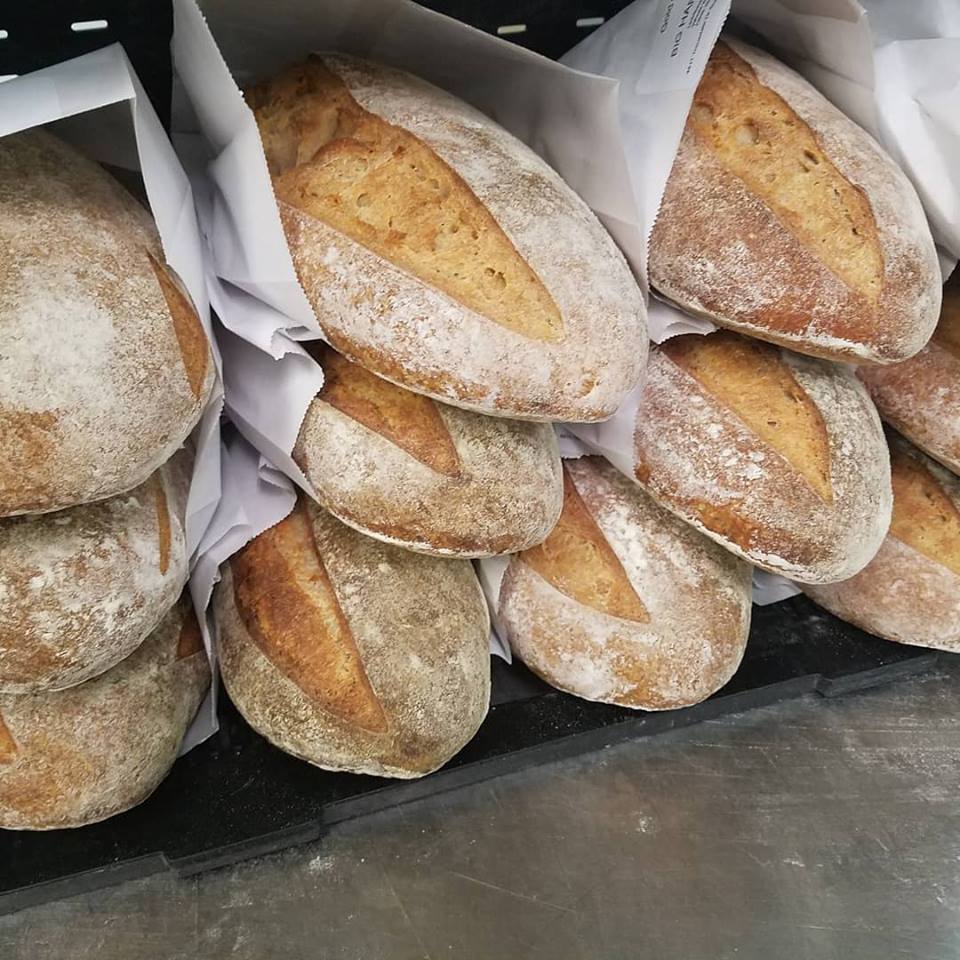 Q: When and how did you get started baking sourdough?
I started playing with sourdough while going to culinary school in San Francisco in the 90s. I collected as many starters as I could find and made some really terrible bread.
[Editor's note: Kruse shared a recipe for sourdough starter on Local Table recently. Check it out here!]
Q: Was it love at first bake, or did you have to grow into comfort with the process?
I was in love with eating sourdough bread, and I was determined to figure out how to make it. There wasn't Google back then, so you had to find bakers and find bread books.
Q: Do you still tend to mostly follow established recipes (if so, which ones)? Or, at what point did you start adapting or developing your own?
All of my recipes are my own; they have been developed one at a time.
Q: What advice would you give to newer bakers who haven't ventured off existing formulas yet?
Get ready to throw a lot of bread away (or feed it to the birds). There is just no way around it; that is how development happens. Take lots of notes with each bake, keep track of everything: rain, temp sticky flour, PH of the starter, temp of the starter, temp of the preferment etc. Patterns will show up.
---
"Get ready to throw a lot of bread away (or feed it to the birds). There is just no way around it; that is how development happens." William Kruse, Goldfinch Bakery, Nashville, TN
---
Q: What's one of the most challenging sourdough projects you've taken on, and what happened when you did?
The 615 bread continues to be a challenge, it has an inherent problem in that it has a high percent of semolina, and semolina tends to deflate bread if anything goes amiss such as an weather/barometer change. That never happens in Nashville, right? I have reached a point where it is almost always what I consider a good bread, but it changes with the weather.
Q: Tell me about your professional experience baking bread.
I started making bread in Nashville because I was having trouble finding the bread I wanted to eat in the stores. I started making in at the pizza shop and found that more folks around me wanted it. Eventually I had a bread that I though was good enough to offer to stores, and the great folks at The Produce Place were willing to give me a little shelf space. Selling sourdough bread in biscuit country is a challenge. There really are not as many people as I would think that think of bread as its own food and not just a handle for other foods. Being in the right market is really important.
Q: This one's from a reader: do you have any advice for the baker who's hearing she should sell her bread, but she just has a home kitchen? How do you scale your baking up for bake sales, giving away, parties, etc.? Do you freeze them? Any tips?
Sourdough bread can be hard to scale up as so much of it is hand work; also things just change a little in larger batches (I don't know why). I'm not saying don't do it; just go slow. There are places around that have kitchens that are only used part of the time, I recommend looking for a place that only uses its ovens some of the time and see if the kitchen can be rented out on occasion. Giving samples is a big start in building clients; just make sure you are ready to produce what they need.
Q: Who are some sourdough bakers you currently admire, online or off?
One of my very favorite bakers is Eli @revolution_bread. He has been one of my biggest inspirations.
Also I highly recommend The Village Baker by Jo Ortiz, and Bread by Jeffery Hamelman. These are two books that are full of techniques and ideas that always make me want to try new stuff.
Q: What's on your agenda to try next? What are you sourdough-dreaming about?
Right now I am really into working with new grains and new processes for grain that I have been using already. I love the depth of flavor that adding more variety gives.
Q: Anything else you'd like to add?
Buy good flour; it makes all the difference.
---
"Buy good flour; it makes all the difference." William Kruse, Goldfinch Bakery

---
In Conclusion
What William Kruse confirms for home bakers is a message echoed by amateur and experienced individuals alike: practice, practice, practice–and have fun! (Also, if you're in Nashville: try his bread!)
You can follow along with Goldfinch Bakery on Instagram @Gold_finch_bakery and/or buy some of Kruse's loaves at Produce Place or either of the Whole Foods Markets, in Green Hills or Franklin.
Special thanks to William Kruse for sharing his thoughts here! All answers are published as provided, except for a few small edits or the addition of links.
If You Enjoyed This Post…
Don't miss the interviews with experienced sourdough bakers or the roundup of feedback from six newbie bakers! You might also enjoy scrolling through the Sourdough category of this site–or come follow along on Instagram to chat!

disclaimer: this site uses Amazon affiliate links, through which it may earn tiny commissions on products purchased.