Deep in the throes of cold season, who doesn't need a healthy tonic you can blend up at home? Whether or not drinking this will help you ward off germs (or recover from them) is up for debate–but still: sipping it is a fun way to experiment.
Listen, it's 2019. You don't need me to tell you about the wonders of kale, that leafy green vegetable that's high in fiber, antioxidants, calcium, vitamin K, vitamin C, iron and other minerals. Kale's on restaurant menus; kale's in juice bars. Your favorite hipster is eating it, but so are your parents (or grandparents!). You can have kale salads, kale smoothies, kale pesto and kale pasta. People put kale on sandwiches, use it in side dishes and add it to their pizzas.
Part of this is because, legitimately, the green's got a lot going for it. According to Megan Ware, RDN, LD, at Medical News Today, regularly consuming kale may protect against: diabetes, heart disease, cancer, irregular digestion and bone problems–an impressive resume, to say the least. Leo Benedictus at The Guardian, however, says that's just as true of eating other nutrient-dense foods, such as cabbage, broccoli, brussels sprouts, spinach or carrots, though, he clarifies, you'll need "more of them [to]… get you to the same place."
So, real talk, will kale make you healthier? Keep colds at bay? Is there power in green drinks?
Honest answer: maybe, maybe not, who knows.
What is certain, though, is that kale packs a lot of nutrients into every ounce–more than any other food, according to the aggregate nutrient density index (ANDI) devised by Joel Fuhrman, MD. In other words: if you're looking to maximize health-boosting ingredients in what you eat, when you're sick or otherwise, kale's an efficient choice.
Drinking Your Kale
As I've been nursing a head cold since this weekend, I've been making a certain kale drink on repeat. It's dark green, earthy, grassy, refreshing, slightly spicy and kissed with sweetness. It's also made up of simple ingredients I've got on hand. Making it is as easy as chopping a few ingredients and blending. I puree it in my Vitamix like a smoothie, but the resulting drink is thinner than a milkshake. It's like a frothy, pulpy green juice.
Here's why I like that: Unlike juice, this everyday kale drink maintains all the pulp and fiber of its ingredients, which means "the slow, even release of nutrients into the blood stream [that] avoids blood sugar spikes," as the website Food Matters puts it. Drinking the whole foods can also be more satiating than juice alone, helping you feel fuller longer.
Anyway, the world may not need another kale drink, but I've needed this one. If you're looking for a new go-to green drink to start your mornings, perk up your afternoons or pack in a few more nutrients each day, here's one worth trying soon!
RECIPE: An Everyday Kale Drink to Try
Serving size: Makes a little more than 40 ounces (or 5 cups) for 2.5 full-size (2-cup/16-oz) servings
Ingredients:
2 stalks of kale, stems removed*
2 stalks of celery
a small handful of cilantro (or parsley or mint)
The juice of a lemon
1 apple, cored and quartered
1 mango, peeled and cored
A hefty dash of ginger
Cayenne pepper (start small and adjust to taste)
3 cups of water
a big handful of ice
Directions:
Combine all the ingredients besides ice in a high-powered blender until pureed, pausing to scrape down the sides or use your Vitamix tamper if needed. Add ice and reblend. Pour into glasses and enjoy!
*You do not need to remove the kale stems; they are good for you, too. I prefer the taste without them. Don't feel like you have to throw them away, though! Save them to use in stock or to chop up and throw in thicker, easier-to-hide-ingredients smoothies later on.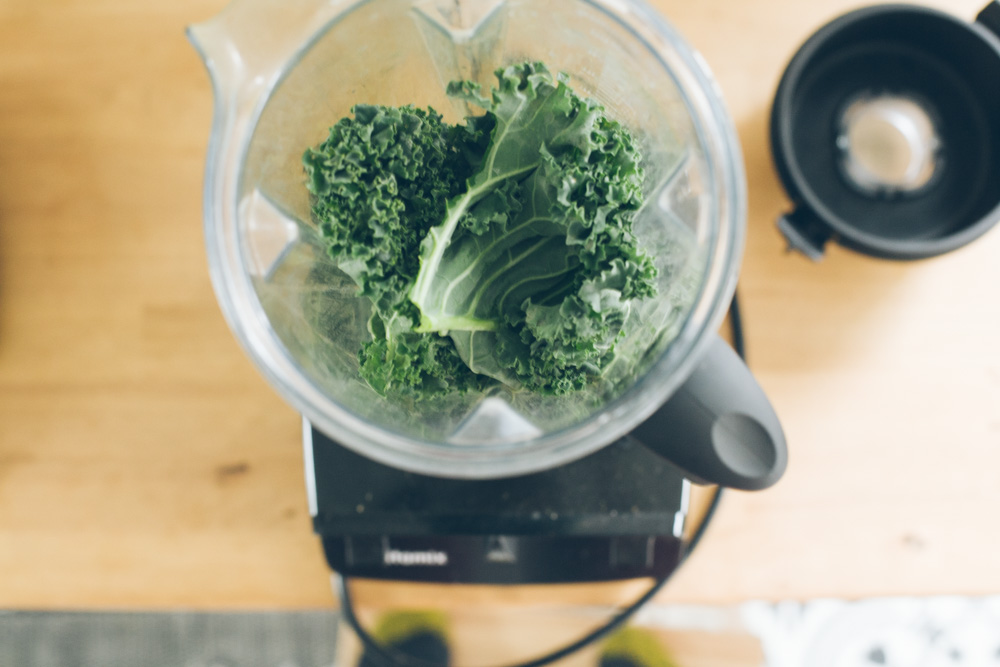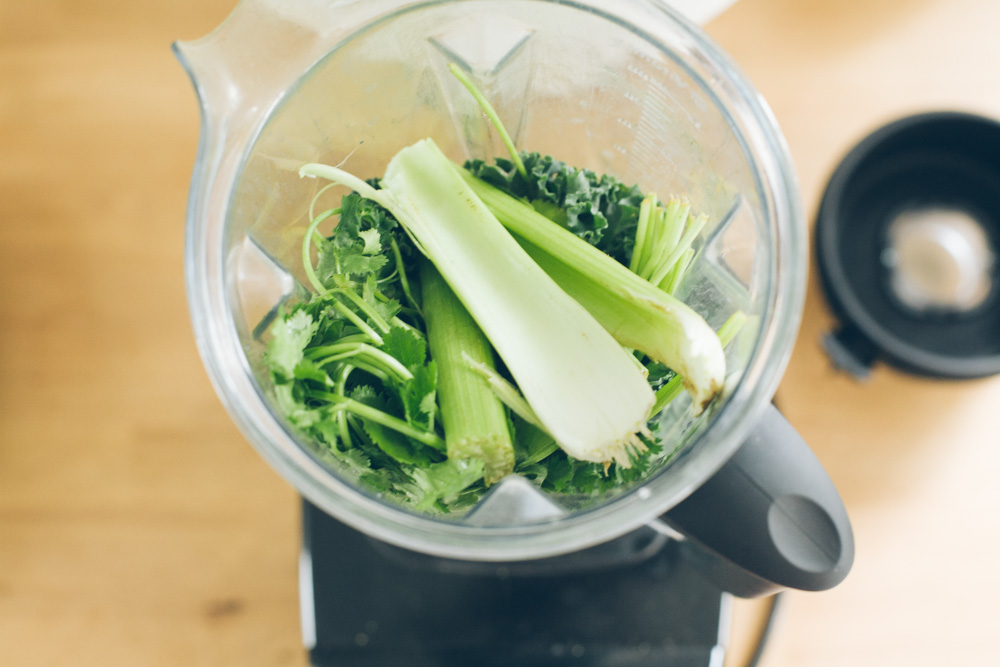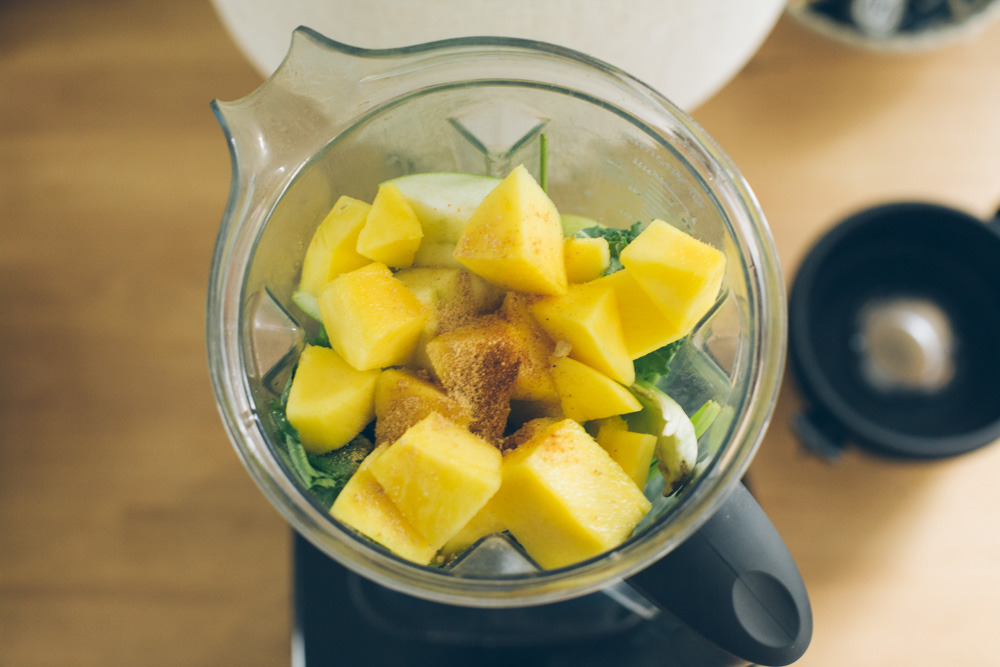 disclaimer: Go Eat Your Bread with Joy sometimes uses affiliate links, through which it may earn tiny commissions on products purchased. Likewise, any and all content and media on Go Eat Your Bread with Joy is created and published online for informational purposes only. It is not intended to be a substitute for professional medical advice and should not be relied on as health or personal advice.